MADISON – The University of Wisconsin System today presented Veterans Education and Transition to Success (VETS) certifications to six institutions at the Board of Regents meeting.  All UW institutions are continuing to enhance their support to student veterans by providing a wide range of critical supportive services, including counseling, a welcoming campus environment, and giving student veterans a voice in university life.
"VETS certification is designed to recognize campuses that go above and beyond in helping student veterans succeed," said UW System President Ray Cross, adding that he hopes and expects all UW institutions will eventually be certified. Cross, who served in the U.S. Army in Vietnam, launched the VETS program shortly after he became president in 2014.
Recipients of the inaugural VETS certifications included UW-Green Bay, UW-Madison, UW-Milwaukee, UW-Stevens Point, UW-Superior, and UW-Whitewater.
Student veterans represent approximately 3% of the total students on UW campuses, but they are also a growing segment of the campus population. Since the Wisconsin G.I. Bill was implemented in 2005, the number of student veterans served by UW institutions has nearly doubled to more than 5,500 annually.
Dan Buttery, Assistant Deputy Secretary with Wisconsin's Department of Veterans' Affairs, commended the VETS certification program, and said he looked forward to working with the UW System on mental health issues, including suicide prevention.
"Veterans' suicide is real, and in greater numbers and significance than people understand," said Buttery, adding that providing proactive suicide prevention training to all campus community members can help address the problem "upstream before the crisis occurs."
In a salute to Veterans' Day on Nov. 11, Thursday's meeting opened with a presentation of colors by the University of Wisconsin ROTC Joint Color Guard, commanded by Midshipman Evan Lallensack.
Regents take closer look at Operational Excellence
Operational Excellence is the fourth main focus area in the UW System's 2020FWD strategic framework. In previous meetings, Regents have discussed the Educational Pipeline, the University Experience, and Business and Community Mobilization.
"The UW System has a longstanding commitment to administrative excellence and to an efficient, effective academic process. We also have a longstanding track record of successfully achieving both," President Cross said.
Calling it one of the UW System's guiding principles, Cross said, "We provide maximum value for minimal investment."
"As a system of public higher education, we are known and respected for our efficiency, for our accountability, for our transparency, and for being responsive to changing needs. The initiatives outlined in our 2020FWD framework reflect that," Cross said.
David Miller, Vice President for Administration and Fiscal Affairs, addressed the UW System's Commitment to Operational Reform and Excellence (CORE), which was first introduced at the June 2016 Board meeting.
Miller told Regents that the CORE project's goals are three-fold: to reallocate administrative staff time to more critical priorities; control administrative costs to reinvest in instruction; and improve decision-making ability through enhanced data quality.
Continuous process improvement is necessary in all organizations and has been consistently undertaken throughout the UW System, Miller said, adding that "the CORE project is taking it to a new level by targeting collaboration standardization, and streamlining."
Miller said several key factors are driving the accelerated project, including budget pressure, staff attrition and recruitment challenges, institutions requesting assistance, the need to improve inefficient and redundant processes, and the need for consistent data for reporting and analysis.
"What's unique about the CORE project is not a single initiative, but rather it's the breadth and scope of projects undertaken simultaneously," Miller said.
Jim Henderson, Vice President for Academic and Student Affairs, briefed Regents on UW System's annual Strategic Framework Report Card, which will track progress on the initiatives and performance metrics identified for and through the 2020FWD framework.
Henderson said that new performance metrics will be integrated into the UW System's current Accountability Dashboard, as appropriate. The first annual report card will be presented to the Board next fall.
Henderson also described UW System efforts to reduce time to degree, a key factor in reducing college debt.
"Over the last 20 years, we have helped shave down the time to degree, on average, by nearly a full semester," Henderson said, adding that more remains to be done. Additionally, the UW System is addressing the numbers of credits attempted to degree.
Henderson reminded Regents that time to degree can also be affected by factors such as students attending college part-time or changing majors, family or financial issues, or students opting to take advantage of educational opportunities like study abroad, internships, or double majors.
As part of the 2020FWD framework, Henderson said the focus is on several important areas to help students achieve academic excellence with optimal efficiency: ensuring seamless transfers, reducing the need for remedial education, considering credit requirements to degree, and increasing opportunities to get a head start on college credit while still in high school.
Student Regent James Langnes cautioned that focusing on reducing time to degree should not limit or restrict student choices.
"I believe we need to provide opportunities for students to find their passion and succeed," Henderson said.
Lisa Erickson, the Non-traditional Student Regent, emphasized that students need to be aware of the consequences of their academic decisions – and be aware of the full range of options open to them.
Dr. Anne Basting in the Faculty Spotlight
For his Faculty Spotlight, President Cross introduced Dr. Anne Basting, a theater professor in UW-Milwaukee's Peck School of the Arts. Basting was recently named a 2016 MacArthur Fellow – commonly known as the "Genius Grant" – for her creative work with the elderly and those suffering from some form of dementia.
See UW System news release of Nov. 10
"What I do is actually not a single academic field. You can't major in what I do," Basting told Regents, noting that her work crosses at least 10 different fields. "That is becoming more normal. And if it isn't now, it will be."
This is where innovation happens, Basting added. "Business models are eroding and evolving faster than we can possibly ever design education… So, what my colleagues and I do in that moment, in that space, is we train thinkers, we train makers, we train designers, planners, communicators, and they are fearless."
Training to apply her creative approaches to forging renewed communication paths with people who have dementia has just started at 50 nursing homes across the state, Basting reported. "It quite literally connects you with a loved one you thought was lost," she said.
Basting also oversees students in a newly designed arts and social entrepreneurship certificate, with the goal of embedding artists in an agency or organization, identifying a social challenge, and then collaborating to use the arts to design a sustainable solution.
"Innovation comes from diversity, bringing people together who don't speak the same language, who come from different world-views, and they look at the same problem and collaborate to find that sustainable solution," Basting said. "We need to incentivize that."
Student Affairs is Significant to Student Success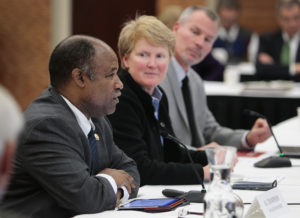 A panel of senior Student Affairs officers provided an in-depth look at how Student Affairs contributes to the student experience within UW institutions.
Lori Berquam, UW-Madison's Vice Provost for Student Life and Dean of Students, told Regents that Student Affairs is focused on developing five senses in students: a sense of belonging, of self, of place, of passion, and living a life of purpose.
"We want the student experience to be transformative. We want them to be world leaders and engaged citizens," Berquam said. "We also know we can prepare them to tackle some of life's biggest problems."
Current issues on the radar for Students Affairs include: emotional wellness and mental health, financial well-being, disability accommodations, alcohol and other drugs, and sexual misconduct.
Al Thompson, Jr., Vice Chancellor for Student Affairs and Chief Diversity Officer at UW-Stevens Point, spoke to Regents about the role Student Affairs plays in improving the campus climate and creating opportunities for students to engage with the world around them, at the local, national and even global levels.
"At the core, our work is helping each student most out of his or her unique college experience," Thompson said. "Classroom teaching is what's in their head; student affairs is teaching them the heart."
Several students also shared their experience with student affairs.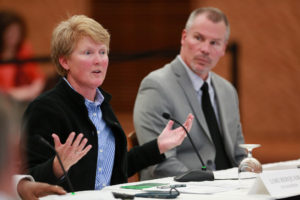 "If we care about inclusivity, about student safety and student well-being, about student recruitment and retention, about creating the next generation of leaders, then we must also care about Student Affairs and the role it plays in the lives of almost 180,000 students," said Chris Morgan, a senior at UW-River Falls.
Carol Vang, a junior at UW-Stout, told Regents that her interactions with Student Affairs, especially Multicultural Student Services, helped her "understand more about my identity and who I am." In particular, she said she has developed skills in the areas of leadership, communication, delegating responsibility, problem-solving, and how to be personally accountable – all "soft skills that we will keep with us even after we finish our degrees."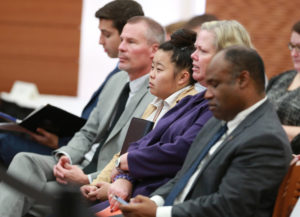 Gregg Heinselman, Assistant Chancellor for Student Affairs at UW-River Falls, told Regents that Students Affairs personnel and offices are dealing with a variety of ever changing dynamics, including ensuring the emotional well-being of students, bias responses, and addressing achievement gap issues.
"We know the learning that occurs outside the classroom is increasingly important in ensuring a high-quality and successful university experience," said Regent President Regina Millner.
Presidents' Reports
As part of her regular report to the Board, Regent President Millner provided an update on ongoing budget advocacy activities, noting that several newspapers have published editorials in the last month supporting UW System's budget request. Millner also announced that a new, searchable online database of all Board of Regents resolutions dating back to the birth of the UW System in 1971 has been completed.
In his report on news from around the UW System, President Cross told Regents that UW-Oshkosh is responding to a regional shortage of nurse anesthetists by offering the first doctoral-level nurse anesthetist program in Wisconsin. The program is accepting applications now for its inaugural class set to begin in June 2017.
In other business, the Regents:
Approved the new post-tenure review policy submitted by UW-La Crosse. On March 10, 2016, the Board of Regents adopted Regent Policy Document (RPD) 20-9, "Periodic Post-Tenure Review in Support of Tenured Faculty Development." That RPD states that within nine months, each UW System institution submit an institutional policy to the Board. Once the institutional policy is approved, the Chancellor, with the advice and counsel of the faculty, is responsible for implementing the policy and operating the institution consistent with its provisions. UW-La Crosse's policy is the first of this type to be considered by the Board;
Approved revisions to Board bylaws to create a Subcommittee on Investments. The proposed new subcommittee would enhance oversight of trust funds and provide a forum for more robust and focused discussions of trust fund issues.
See more photos from the meeting.
The next meeting of the UW System Board of Regents will be Dec. 8, 2016, in Madison.