Report by President Ray Cross to the Board of Regents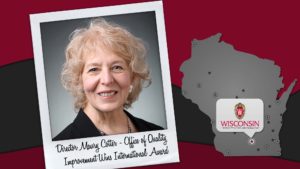 UW-Madison's Office of Quality Improvement has won an international award for facilitation. The office received a silver Facilitation Impact Award from the International Association of Facilitators. It serves as an internal consulting service providing services including strategic planning, project management, restructuring, process improvement, and change management. The award recognizes more than two decades of "achieving positive and measurable impact through excellence in facilitation." Congratulations to Director Maury Cotter, Chancellor Blank, and all of the office's exceptional staff.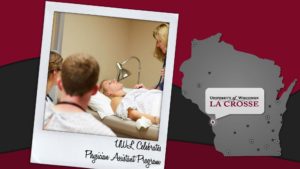 The UW-La Crosse Physician Assistant Program celebrated National PA week in October by highlighting its successes. That includes a 100-percent pass rate on the Physician Assistant National Certifying Exam among graduates and small class sizes. The program maintains partnerships with two leading healthcare institutions — Gundersen Medical Foundation and Mayo Clinic School of Health Science. Congratulations, Chancellor Gow.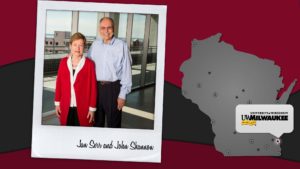 UW-Milwaukee has raised $114 million in the quiet phase of  its Made in Milwaukee, Shaping the World campaign. Its most recent $1 million gift came from Milwaukee-based artist Jan Serr [SAIR] and her husband, John Shannon, who made the lead gift for the creation and operation of a multidisciplinary arts studio at the Peck School of the Arts. The studio will be used for performances, screenings, exhibitions, filming and serve as a resource for community arts organizations.
A new approach to teaching remedial math at UW-Milwaukee has twice as many students completing needed classes twice as fast. UWM's math department reorganized its classes so students could complete their remedial work in two semesters rather than three and start taking courses for credit sooner. The changes also improved students' performance once they get to the for-credit courses. The result is that more UWM first-year students are staying in school and the achievement gap between minority disadvantaged students and others is closing. Well done, UWM and Chancellor Mone.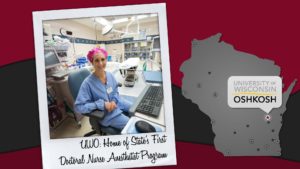 UW-Oshkosh is responding to a regional shortage of nurse anesthetists by offering the first doctoral-level nurse anesthetist program in Wisconsin. The program is accepting applications now for its inaugural class set to begin in June 2017. With 30 percent of all CRNAs set to retire in the next five years, UW Oshkosh's College of Nursing developed the program to help alleviate the shortage in Wisconsin and beyond.
The Stout University Foundation awarded a record amount in scholarships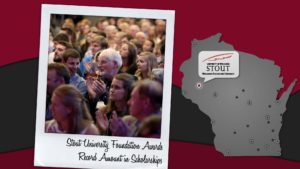 to students during its annual ceremony. More than $760,000 was awarded to 380 students at the Sept. 15 reception and program. The scholarship program has helped more than 8,700 students receive a college education since its beginning in 1962. Chancellor Bob Meyer himself was a scholarship recipient when he was an undergraduate student at UW-Stout. Well done!
UW-Whitewater's Research Apprenticeship Program – or RAP, for short – is the winner of the 2016 Diversity Program Achievement Award from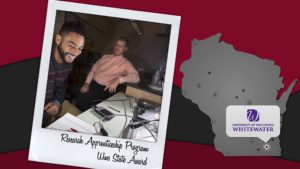 the Wisconsin State Council on Affirmative Action. Members of the Warhawk family accepted the award on Oct. 27 at the State Capitol. The student retention rate after the first year of participation is 96 percent compared to 78 percent for the campus as a whole. Congratulations, Chancellor Kopper!
UW-River Falls has been named a "2017 Top 100 Best Value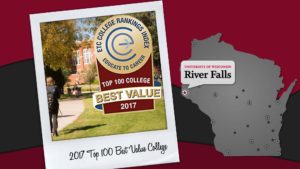 College" in the most recent Educate to Career College Rankings Index. The index analyzes the profile of students when they enter a given college, the total costs related to attending the college, and the outcomes of the students when they enter the labor market. Congratulations, Chancellor Van Galen!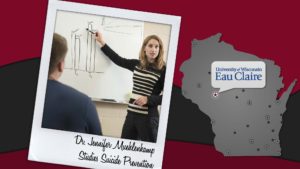 UW-Eau Claire has received a grant funding research to reduce suicide risk among college students. Dr. Jennifer Muehlenkamp, a UW-Eau Claire associate professor of psychology, and a team of student researchers will use the $300,000 federal grant from the National Institute of Mental Health to advance the field of suicide prevention, while also helping clinicians better and more quickly identify young people moving toward suicide in their thoughts or actions. This is an important and impactful project, and we are glad you are pursuing it, Professor and Chancellor Schmidt.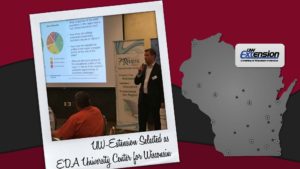 Also, UW-Extension has been selected by the U.S. Department of Commerce Economic Development Administration (EDA) to be an EDA University Center for Wisconsin. The Wisconsin EDA University Center will work across the state, aiming at historically underserved small, rural and medium-sized communities and inner city neighborhoods. It will link applied research and action to building sustainable economic development efforts in areas that have lagged thus far in economic recovery. Congratulations, Chancellor Sandeen and partners.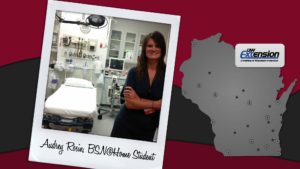 UW-Extension's Division of Continuing Education, Outreach and E-Learning is proud to announce that its BSN@Home program is marking 20 years of helping the state's registered nurses earn a Bachelor of Science in Nursing degree at their own pace. The BSN@Home program, an online bachelor's degree-completion program that provides a flexible distance learning option to busy registered nurses (RNs), is celebrating its 20-year anniversary. In 1996, UW-Extension partnered with nursing programs at five UW institutions—UW-Eau Claire, UW-Green Bay, UW-Madison, UW-Milwaukee and UW-Oshkosh—to launch the BSN@Home program. A sixth—UW-Stevens Point¬—joined the collaborative program in 2013. Over the last two decades, 1,804 graduates have earned their BSN degrees through one of these UW campuses, helping to increase the educational levels of nurses in Wisconsin.
In addition, the BSN@Home program earned the 2016 Celebration of Excellence Award for Mature Program from the University Professional and Continuing Education Association. UPCEA is the leading association for professional, continuing and online education and serves more than 400 institutions. The Mature Program award recognizes established credit or noncredit programs that have demonstrated sustained innovation.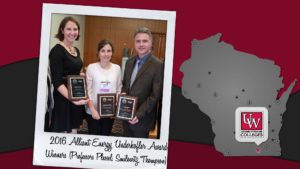 UW Colleges' Kristin Plessel, associate professor of chemistry at UW-Rock County, was a recipient of the 2016 Alliant Energy Underkofler Excellence in Teaching Awards, which recognizes outstanding commitment to student success. Dr. Plessel uses a teaching method called Process Oriented Guided Inquiry Learning (POGIL) which she employs in all of her classes. In a classroom, students work in small groups on specially designed activities, learning not only the material, but also skills such as working in a team and analyzing data. Congratulations to Dr. Plessel, and to the other 2016 Alliant award winners as well — Dr. Jennifer Smilowitz at UW-Madison and Dr. Keith Thompson at UW-Platteville.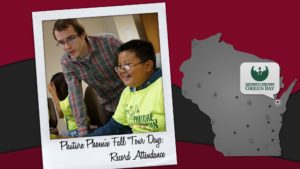 UW-Green Bay's award-winning Phuture Phoenix program hosted its annual Fall Tour Days in October, welcoming a record 1,500 fifth-graders to campus for the start of a lasting relationship forged around the importance of education. Students toured UW Green Bay and were invited into dozens of classrooms and lab areas for various experiments and activities. The Phuture Phoenix program partners with schools with high percentages of students from low-income families and encourages students to graduate from high school and pursue a college education. Hundreds of UW Green Bay students provide 9,000 hours of tutoring and mentoring in the middle and high schools, annually. Well done, Chancellor Miller.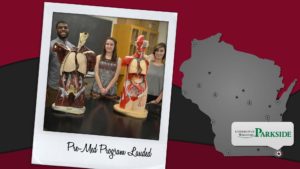 UW-Parkside was featured in a recent story in the Racine Journal Times titled "Parkside's Pipeline," which highlighted the university's pre-med program and students from the Racine Unified School District who are succeeding in the program. Many of you know about the incredibly successful pre-med program at Parkside. Since 2001, 90 percent of graduates have been accepted to the medical schools of their choice, including many at the UW School of Medicine and Public Health. Congratulations to Dr. Bryan Lewis and his team at UW-Parkside, and to the Racine Unified School District.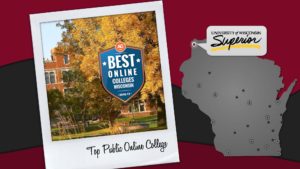 UW-Superior has been named the top public online college in Wisconsin for 2016-2017 by Affordable Colleges Online. UW-Superior earned high marks for student-teacher ratio and percentage of students receiving financial aid. With 15 programs available online that range from certificates through graduate level, UW-Superior has recently added three Master of Science in Education (M.S.E.) programs to its list of online offerings. Congratulations, Chancellor Wachter!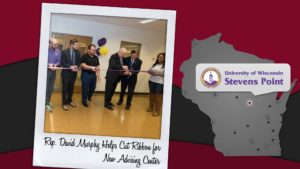 UW-Stevens Point is employing a student-centered advising approach, with the opening of five new Academic and Career Advising Centers, including the one in Albertson Hall (library), which you see on the screen. The centers are helping students chart their paths toward graduation and career success. Twelve advising positions are funded through differential tuition, which students voted to approve last year. Past and present Student Government Association leaders joined Chancellor Bernie Patterson and state Rep. David Murphy, chair of Committee on Colleges and Universities, in a ribbon cutting on Oct. 17. Congratulations, Chancellor Patterson!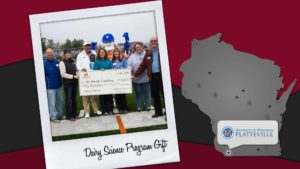 UW-Platteville's Dairy Science program has received a gift of $50,000 from Badgerland Financial. While the Dairy Science program is not new to UW-Platteville, this is the first year a dairy science major is being offered. Dr. Michael Compton, director of the School of Agriculture, explains that gifts like these are important because it takes some financial stress off of the students. Great news for our Dairy State, Chancellor Shields!
And that concludes my report for today. However, you can always find more examples of the impact UW System institutions make on lives, organizations and communities at our website.