FOND DU LAC – The University of Wisconsin System is launching a long-range plan to increase the number of college degree-holders in the state by 30 percent over the next 15 years.
Addressing the Board of Regents, UW System President Kevin P. Reilly called the plan "an opportunity to create a more educated citizenry that will 'drive and thrive' in the innovation economy."
Under the plan, the number of UW undergraduate degrees would increase from the current rate of about 26,000 a year to 33,700 degrees by 2025 – for a cumulative increase of 80,000 more degree-holders. The long-range goal is for half of all Wisconsin adults to have some college degree. Currently, about one-third of Wisconsin residents have either an associate or bachelor's degree.
"This is a significant goal. Achieving it will require hard work and persistence, especially when you consider that the number of traditional-aged high school graduates is forecasted to decline in coming decades. Bucking those demographic trends will require creative approaches," Reilly said.
The benefits of a better-educated state population generally include higher-paying jobs, an overall higher standard of living, and a healthier and more engaged citizenry, Reilly added.
To reach the goal, UW will focus on three main internal strategies: increasing enrollments, improving retention and graduation rates, and employing more innovative course delivery and credentialing protocols.
Reilly reiterated that the plan's success also depends upon adequately preparing more young people for college, through programs such as the Wisconsin Covenant. The UW Covenant Scholars package, which includes both pre- and post-admission assistance, is a vital element in increasing the pool of successful college students, he said.
"Together, the impact of this work will be expanded access to college and greater success for the students we enroll," Reilly said.
Reilly added that the success of the More Graduates initiative also depends on state reinvestment in higher education, greater administrative freedom to use better business practices, and better networking to encourage more residents to get into the higher education pipeline.
Jim Thomas, president and CEO of Society Insurance in Fond du Lac, told the Board that one of the biggest challenges in business is to develop leaders.
"We need those who can train, supervise, and manage at ever higher levels. We need problem-solvers and innovators. And, in the end, we need people who can think strategically and with vision. … They must be people who have learned how to learn, learned to challenge ideas and have their ideas challenged, interacted with diverse groups of people and achieved success at intellectually challenging endeavors. That's more likely to have happened at an academic university than anywhere else," Thomas said.
Regent Tony Evers, superintendent of the state's Department of Public Instruction, acknowledged the critical role of the K-12 system in producing students who are ready for higher education.
Evers noted that while 89% of Wisconsin kids graduate from high school – one of the higher graduation rates in the country – there are also some areas of concern. He said that 65,000 students graduate from high school annually in the state, but 7,000 others do not. He pointed out that a disproportionate percentage of students of color fall into that latter group, with African-American students six times more likely than white students to drop out, and American Indian and Hispanic students four times more likely to drop out.
Addressing these at-risk populations is vital if the UW's plan is to succeed, Evers noted.  "We are very excited about the opportunities of working with UW System," he said.
Senior Vice President Rebecca Martin, in presenting the plan in greater detail, called its long-range goals both "aspirational and possible."  Martin identified several "populations of opportunity" to be targeted in growing the number of additional degree-holders: adult students, students of color, first-generation college students, and students from lower-income families.
See UW System PowerPoint presentation pdf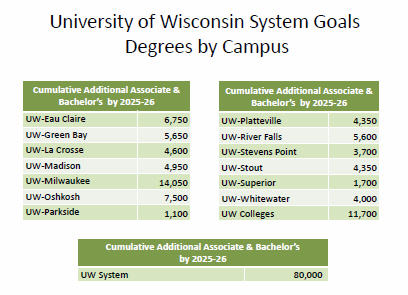 Martin also showed the Board the breakdown of projected degree-holder increases by campus, noting that the relatively higher numbers at UW-Milwaukee, for instance, reflect that region's current undereducated population.
"These are not new concerns, but have been the focus of a number of initiatives in the UW System over the past several years," Martin said. She reiterated that achieving the plan's goal would require multi-pronged strategies that include increasing enrollments as well as improving graduation and retention rates.
Regent Judy Crain called the plan for more graduates "very exciting," but emphasized that its success would require working in cooperation with the K-12 system and others. "In order to make a real difference for the next generation, we need to start at the very beginning and support education at the lowest level, including kindergarten," Crain said.
Several regents expressed concern about how the plan would be paid for.
UW-Milwaukee Chancellor Carlos Santiago noted that to date, increasing enrollments at the campus and improving graduation and retention rates has been done by reallocating resources. Future success, he said, will be "predicated on new resources, capital dollars and operating dollars to make this happen."
U.S. Representative Tom Petri (Rep.) addresses Board
Rep. Tom Petri, Wisconsin's only member on the House Education and Labor Committee, told Regents that his position in Washington, D.C. has given him greater appreciation for the role that UW System and its various campuses play in the state.
"It is truly an asset that is much greater than you'd realize in terms of making our state nationally and internationally competitive," Petri said.
"The partnership between the University and the state is almost unique, driving new economic development in our state," he said.
Chancellor Wilson advocates leading locally for statewide impact
UW Colleges and UW-Extension Chancellor David Wilson kicked off the day's session with a presentation before the full Board on "Leading Locally for Statewide Impact pdf ."
UW-Fond du Lac philosophy professor Eric Boos, a former Fulbright Scholar, told Regents that shared educational opportunities – such as his own long-term involvement with on-the-ground socioeconomic development in Tanzania – embody the Wisconsin Idea. "When I teach philosophy, the experience of having lived in a different culture that sees things differently brings credibility, brings confidence. Students grab onto that, they sense it, they feel it, they grow with it," Boos said. "If you can help students see the reality of theories beyond the classroom, they will take it home with them."
Paul Dyk, a dairy and livestock agent with Cooperative Extension in Fond du Lac County, told the Board that the changing dairy industry has also meant changes at UW-Extension. Instead of the traditional small family dairy farms, for example, just 16 herds – with more than 500 cows each – now provide more than 40 percent of the state's milk production. Such changes make diverse new demands on UW-Extension, such as a focus on larger-scale corporate strategies or the need for Spanish-speaking moderators to work with a changing dairy workforce.  "It's important for us to bring the research that's done by the great specialists in UW to the farmers here in Fond du Lac County."
Student Sarah Oehm shared her own story of returning to college as an adult, after previously suspending her education due to a serious family illness. "That was the hardest part, filling out the application and finding the confidence to start again," said Oehm, who enrolled at UW-Fond du Lac and will be transferring to UW-Milwaukee this fall. "I'm very grateful to UW for the chance to redeem my academic standing and for giving me the opportunity to honor my grandfather through doing cancer research." Oehm's research will be on display at UW System's Posters in the Rotunda event in May.
"I have been very fortunate to work with many dreamers and builders here at UW Colleges and UW-Extension," Wilson said. "We like to say we are institutions embodying the Wisconsin Idea."
Education Committee
UW System reports on sexual assault prevention initiatives at UW campuses
The committee heard a presentation pdf and discussion on the national context and the wide variety of initiatives undertaken at UW institutions, to address both the incidence and under-reporting of sexual violence on college campuses.
Statistics indicate that one in four women in America will experience some form of sexual assault in her lifetime, said Susan LaFlash, of the Wisconsin Division of Public Health. "If this was any other disease, it would be considered an epidemic…We know we can change social norms. We did it around tobacco. But we need to be able to pull everyone together to change those norms."
Regent Danae Davis suggested that the state's alcohol culture makes addressing sexual assault that much more challenging.
April Nozomi Goodwin, a budget and policy analyst with UW System, told the Committee that in addition to the work outlined in the annual report, the UW System and institutions are engaged in a variety of other endeavors which seek to address the problem of sexual violence on UW campuses more broadly as issues of climate, safety, and equity. These include research-based activities such as the Alcohol and Other Drug Abuse (AODA) Survey, given systemwide to students every two years since 2005, and the Campus Climate Survey, which every UW institution will have conducted by the end of 2010-11.
Carmen Hotvedt, student services coordinator with UW-Madison's University Health Services, told the Committee that addressing sexual assault includes prevention education, providing victim services, and ensuring perpetrator accountability.
"Twenty years we ago we handed women rape whistles and called it a day," said Hotvedt, noting that efforts now are more likely to be geared to both women and men. Hotvedt said that a 2009 survey at UW-Madison indicates more work is needed to help address popular misconceptions about sexual assault. That survey indicated, for example, that 83% of students believe you can tell when someone is too intoxicated to give consent. "What about the other 17%?" she asked.
UW Colleges and UW-Extension share mission to expand access
In a joint presentation, UW-Extension Provost Christine Quinn and UW Colleges Provost Greg Lampe spoke with the Committee about their mission to maximize access to the UW System.
Lampe told Regents that access is at the core of UW Colleges' and UW-Extension's value structure. "What we provide is hope, hope for transformation, hope for better lives, hope for building communities," he said.
Lampe pointed out that the two institutions "position students for success whether they go out in community and work, or transfer to a four-year institution." He noted that their programs are increasingly attractive to students of color and non-traditional students.
Quinn said innovative and targeted programs like the Adult Student Initiative, GEMS – Girls in Engineering, Math and Science – or 4-H can help to expand the higher education pipeline to people who may be potential UW students. UW-Extension also brings lifelong learning to life, Quinn said, through opportunities like Continuing Education, public broadcast, entrepreneurship and economic development, as well as Cooperative Extension.
Electronic textbooks and the Core Concepts Project at UW-Oshkosh
UW-Oshkosh senior Alex Abendschein, vice president of the Oshkosh Student Association, provided Regents with a brief report on the Core Concepts Project at UW-Oshkosh.  The project is being piloted at UW-Oshkosh as a new way to deliver textbook information electronically, one that has the potential to save students hundreds of dollars each semester.
See presentation on Core Concepts. pdf
Such a rental program might be described as a scholarship for all students, Abendschein said. "If you can save one student $100, that is a significant amount of money," he said.
To address professorial control – a major selling point, Abendschein noted – appendix topics will be inserted through the core concepts e-text in the order and locations desired by the specific professor.
In other business, the Committee:
Approved the proposed B.F.A. in Interior Architecture at UW-Stevens Point;
Approved the annual request to the Trustees of the William F. Vilas Trust Estate in support of scholarships, fellowships, professorships and special programs in arts and humanities, social sciences, and music;
Approved items presented by UW-Milwaukee's Office of Charter Schools, including a contract extension for the YMCA Young Leaders Academy and a new charter contract for the Urban Day School; and
Heard a first reading of a revised mission for UW-Eau Claire.
Business, Finance, and Audit Committee
UW Colleges and UW-Extension talks about local philanthropic efforts to increase impact
Chancellor David Wilson discussed local fundraising efforts by the 13 UW Colleges campus foundations and UW-Extension 4-H county associations in all 72 counties.
Several individuals shared their experiences with the Committee. Cindy Shesky, a local 4-H leader, told how she has signed thousands of cards to 4-Hers over the years telling them to "reach for the moon, because even if you miss, you're among the stars."  Other presenters included Christa Williams, the development director of the UW-Fond du Lac Foundation, Jar Xiong, a UW Colleges pre-med student and campus foundation scholarship recipient from UW-Sheboygan, and others.
Committee recommends approval of revised differential tuition policy
The Committee will recommend approval of a revised Systemwide differential tuition policy, with an amendment expected regarding a process of periodic review of expenditures.
Status Update on Office of Operations Review and Audit project
Director Julie Gordon presented a status report on major Office of Operations Review and Audit, including five current projects: 1) Student Evaluation of Instruction; 2) Prior Learning Assessments; 3) Service Learning; 4) NCAA Division III Athletic Departments; and 5) Enterprise Risk Management (ERM) Pilot Projects.  She also provided information on the Legislative Audit Bureau's (LAB) audit activity.
Status report on Human Resources System (HRS)
In reporting on the current status of the UW System Human Resources System project, Senior Vice President for Administration and Fiscal Affairs Tom Anderes told the Committee the project is on time, in good shape regarding the budget, and on task.
Report of the Senior Vice President
Looking at how to fund the More Graduates initiative, Tom Anderes said the numbers are evolving and will define how the budget is built.
"Each campus has to look at what they are going to do. We're going to need state money, tuition dollars, become even more efficient, and look at capital costs to create a financial structure to accommodate more graduates," Anderes said.
In other business, the Committee:
Formally accepted four bequests with a total value of $1,062,000, which included funding from the following donors: Norma Benninger Trust, $550,000, UW-Madison; James Nelson Humphrey Trust, $62,000, UW-Madison; Cecil H. Royce Family Trust, $400,000, UW-Madison; William D. Wiener Trusts, $50,000, UW-Madison;
Heard a report by Senior Vice President Tom Anderes on 2010-11 annual distribution adjustments related to the 2009-11 biennial budget;
Approved the non-routine shareholder proxy proposals; the dominant social issues for the 2010 season include the environment and sustainability, health care issues, human rights, and corporate political contributions; and
Heard a report by Trust Funds Director Doug Hoerr presenting highlights from the annual benchmarking studies; annualized annual returns for UW Trust Funds exceeded those of peers (managing funds in the $100M to $500M range) in the one-, three-, five- and ten-year periods ending June 30, 2009.
Capital Planning and Budget Committee
Fond du Lac County Executive Allen Buechel spoke to the committee about how the county benefits from the investments it makes in the local campus and extension offices.
"Twenty thousand students have gone through this campus since 1968. The graduates return to Fond du Lac and contribute greatly to our community. They are our teachers, bankers, community leaders. The business community relies on this facility and UW Colleges/UW-Extension maintains a very positive relationship with the community," Buechel said.
Associate Vice President's report
Associate Vice President Miller reported that the building commission approved about $60 million for projects at its December and January meetings.  The funding breakdown for those projects is $13 million general fund supported borrowing, $45 million program revenue, and $2 million gift/grant funds.
Miller also updated the committee on the status of project delivery legislation and the legislation to enumerate projects for UW-Whitewater and UW-Milwaukee.
In other business, the Committee:
Approved UW-Eau Claire's request for the New Student Union Project and authority to seek a waiver to allow single prime contractor bidding;
Approved a request by UW-Green Bay to construct the Rose Hall/Wood Hall remodeling project;
Approved a request by UW-Platteville to purchase a 0.19 acre parcel of land with improvements in the city of Platteville to develop an expanded parking area;
Authorized a request from UW-Stout to increase the scope and budget of the Hovlid Hall Renovation and Addition project to cover additional construction costs that resulted from unanticipated site conditions and a decision to do more extensive improvements than originally planned;
Approved the construction of five All Agency Maintenance and Repair Projects, including improving energy conservation in five UW-Madison buildings (Atmospheric Oceanic and Space Sciences, Biochemistry Addition, Engineering Centers Building, Genetics-Biotechnology, and Rennebohm Hall); and
Authorized the allocation of the 2009-11 Classroom Renovation/Instructional Technology Improvement funds and grant authority to construct various Classroom Renovation/IT projects; the total for these projects is $5.3 million, a portion of which will be distributed to each UW System institution.
The committee then adjourned into a closed session to discuss the naming of facilities.
Photo Credit: Flasch Imaging, Inc.
---
The Board of Regents will resume its April 2010 meeting on Friday, April 9 in the University Center, UW-Fond du Lac/UW-Extension Fond du Lac County, at 9 a.m.
---
Related: April 9 (day 2) news summary