GREEN BAY, Wis. – Board of Regents President Regina Millner called Friday for the creation of a University of Wisconsin System task force to evaluate the overall college experience of UW students – with a particular focus on underrepresented minority students. The task force will also be asked to provide recommendations for improvements, as needed.
Millner's call for a task force followed a student panel presentation at the Board's meeting hosted by UW-Green Bay.  Five students of color from five different UW institutions addressed the Regents, sharing their experiences, insights, and concerns about their campus experiences.
Following the meeting, additional discussions continued at a "listening luncheon" that included Regents, Chancellors, and student representatives from all 13 four-year UW institutions, as well as two students representing UW Colleges.
"Our challenge and opportunity now and in the future is to convert what we learn through these interactions into constructive changes and transformations that will enable campuses to adopt practices that have a positive impact on campus culture and climate," Millner said.
Task force membership will include Regents, Chancellors, student representatives and student affairs professionals.
During the meeting, student panelists shared their own on-campus experiences with Regents. They talked about what it's like to be the only student of color in a room, to be the target of hate/bias activities or speech, or to feel compelled add advocacy into their "job" as students.
Regent José Vásquez commended the students' strength, creativity, and innovativeness. "Can you imagine waking up every single day and having to face what they face? Think about the strength that it takes," he said.
Regent Eve Hall added that the students' perspectives pointed to the need for "additional support, additional protection, additional perspectives to understanding what you're facing so you can be successful in your academic endeavors."
"It's far more important that we look at this issue from a human perspective," said UW System President Ray Cross. "It's not just how to change minds but how to change the hearts of the people with whom we live and work."
Regents present Academic Staff Excellence Awards
Regents honored two individuals and one program as this year's recipients of the Academic Staff Awards for Excellence.
"This year's award winners represent the outstanding commitment of academic staff across the UW System," said Regent Janice Mueller, chair of the selection committee. "We are honored to recognize the many ways that they have gone above and beyond the call of duty to help our students succeed and our Wisconsin communities become stronger."
This year's award winners included:
Linnea Burk, Director, Psychology Research and Training Clinic, UW-Madison.
To be successful in her work requires "persistence and flexibility," Burk said. "In my role, I am held accountable to a number of different groups and individuals, all with their own ideas of what we should be doing. I am guided by what I consider to be a strong commitment to the real mission of the clinic, and that is graduate training and service to the community."
Michael Martin, Senior Advisor/Administrative Specialist, College of Education and Professional Studies, UW-River Falls.
In accepting his award, Martin urged others to remember that each student is unique, with their own goals, dreams, and desires. "It is our responsibility to listen and learn their stories," he said. Furthermore, students' issues and concerns should command respect and compassion, he added. "Nobody starts college planning to struggle, or expecting to experience setbacks or losses or tragedies…or intending to fail," Martin said. "Every day we have an opportunity to impact our students' lives."
David A. Cofrin Library, UW-Green Bay.
Director Paula Ganyard credited the library's "bright and talented people who have passion for what they do" for helping to make the library the heart of the UW-Green Bay campus. She also noted that the UW libraries are "a shining example" of the power of teamwork and collaboration that the UW System offers, all while saving millions of dollars by sharing resources.
Regent President's Report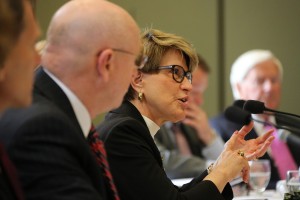 As part of her report, Regent President Millner provided an update on the Tuition-Setting Policy Task Force, of which she is a member. The task force is addressing how the needs and priorities of the state should influence the tuition-setting process, she said, including a recent discussion on the work of the Governor's Council on Workforce Investment which considers Wisconsin's aging workforce and implications for the state's economy.
She reported that the task force will meet again later this month to continue its work reviewing and analyzing various tuition strategies, affordability, and how tuition policy can be used to address affordability.
UW System President's Report
UW System President Ray Cross told Regents that the Strategic Planning Steering Committee is making progress on development of a final strategic plan, while noting it's expected the committee "will spend the better part of our summer actually stitching together all the content we've gathered." He said the goal is to have a draft strategic plan ready to share with the Board and the public later this year.
As part of his regular report on news from around the UW System, Cross noted that UW-Milwaukee physicists led one of the key teams in a multinational effort to detect gravitational waves, a phenomenon Albert Einstein predicted a century ago.
For his Student Spotlight, Cross introduced UW-Green Bay senior Lorenzo Lones, who is double majoring in human biology and psychology. He expects to graduate next month and will pursue a Ph.D. in neuroscience.
Lones, who admitted that he wasn't a particularly good student in high school, told Regents that support from advisors, mentors, professors and others made all the difference. He particularly cited a high school counselor. "She turned my life around, and I wanted to do that for other students," Lones said.
Lones shared his appreciation for UW-Green Bay's focus on interdisciplinary studies. "When you bring in expertise from different fields, it increases your effectiveness at solving problems … looking at things from different perspectives," he said. "You have to be able to collaborate with people, especially in doing research."
In other business, the Regents:
Approved amended UW-Madison Faculty Policies and Procedures (FPP) relating to faculty layoff;
Approved UW-Eau Claire's request for authority to construct the Garfield Avenue Corridor Improvement project and adjust the campus boundary accordingly;
Approved UW-Madison's request for authority to adjust the project budget and construct the Music Performance Building Project;
Approved UW-Madison's request for authority to enter into a temporary land use agreement to allow the Sustainable Resources Institute, Inc. to construct a 4,500 GSF Education and Outreach Center at the Kemp Natural Resources Station, and to accept the completed facility as a gift-in-kind;
Approved UW-Madison's request for authority to enter into a new lease to provide office space for the College of Letters and Science Center for Healthy Minds;
Approved UW System's request for approval of five All Agency Maintenance and Repair projects totaling approximately $2 million at three campuses: UW-La Crosse, UW-Madison, and UW-Manitowoc. These projects address utility repair and renovation, programmatic remodeling and renovation, and energy conservation;
Approved UW-Oshkosh's request for authority to increase the budget of the Reeve Union Entrance and Expansion project, which addresses the accessibility of the building, its visual appearance, and space needs for student organizations;
Approved tuition changes for certain non-resident and graduate programs at La Crosse, Milwaukee, Platteville, Stout, and Whitewater;
Approved a one-time transfer of $200,000 from the Tripp Trust Fund Income account to the Tripp Trust Fund-Brittingham House Maintenance account;
Approved a Fee for Service agreement between UW-Madison and Agilis Biotherapeutics, LLC;
Approved an agreement between UW-Eau Claire and Sodexo Operations, LLC to provide dining services at the institution;
Approved a request by UW-Superior for a proposed School of Business and Economics, which represents a name change with no change in existing functions and units within the existing Department of Business and Economics at UW-Superior;
Approved a Master of Social Work and Master of Science in Computer Science at UW-Whitewater;
Approved a Bachelor of Science and Bachelor of Arts in Geospatial Analysis and Technology at UW-Eau Claire;
Approved a Master of Science in Health and Wellness Management, a collaborative degree involving UW-Parkside, UW-Green Bay, UW-River Falls, UW-Stevens Point, and UW-Superior with support from UW-Extension;
Approved a Bachelor of Science in Data Analytics at UW-Stevens Point;
Approved a Bachelor of Science in STEM Middle Childhood-Early Adolescence Education at UW-Platteville;
Approved a Bachelor of Science in Secondary Education; Bachelor of Science in Early Childhood Education; and Bachelor of Science in Special Education at UW-Parkside;
Approved a request from UW-Madison and UW-Milwaukee to the trustees of the William F. Vilas Trust Estate for $7,966,082 for fiscal year 2016-2017 in support of scholarships, fellowships, professorships, and special programs in Arts and Humanities, Social Sciences, Biological Sciences, Physical Sciences, and Music; and
Heard a resolution of appreciation for UW-Green Bay's hosting of the April 2016 Board of Regents meeting.
***
Photos by Daniel Moore/UW-Green Bay | More photo highlights from Day 2 meeting
The UW System Board of Regents will next meet on June 9-10, 2016, at UW-Milwaukee.