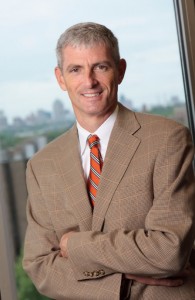 MADISON, Wis. – Dr. Michael Lovell, former Dean of the College of Engineering and Applied Science at the University of Wisconsin-Milwaukee, has been recommended as that university's next Chancellor. Lovell has served as Interim Chancellor since October 2010.
University of Wisconsin System President Kevin P. Reilly and a special committee of the UW System Board of Regents announced their recommendation today. Lovell will officially step into the new role following approval by the full board at its next meeting.
Lovell joined UW-Milwaukee (UWM) in 2008, after serving as Associate Dean for Research at the University of Pittsburgh's School of Engineering for five years. He previously directed two multi-university research centers, working with hundreds of faculty members, graduate students, and private companies. He was a faculty member at the University of Pittsburgh and the University of Kentucky, after starting his career at a private firm that develops engineering simulation software.
"During his tenure as dean, Mike demonstrated strong leadership in key areas. He recruited talented new faculty to strengthen the College of Engineering and Applied Science, and led the effort to compete aggressively for more outside research funding," said Reilly. "Under Mike's leadership, we saw a similar spike in private contributions. We all have great expectations for UW-Milwaukee, and its role as an economic engine for Southeast Wisconsin. Mike is an accomplished engineer who has a genuine appreciation for the role of the humanities and the arts in student development. He has the skills to help the campus thrive, and that success will create positive ripple effects across the state."
Reilly praised Lovell's efforts to cultivate partnerships with private businesses, including his role in establishing the Wisconsin Energy Research Consortium (WERC), a historic partnership between UWM, Marquette University, Milwaukee School of Engineering, UW-Madison, and eight regional energy companies. Lovell currently serves as vice chairman of the consortium.
Lovell earned his Ph.D., M.S., and undergraduate degrees in mechanical engineering from the University of Pittsburgh.
As UWM's Interim Chancellor, Lovell helped finalize the acquisition of Columbia St. Mary's Hospital, increasing the main campus footprint by 20 percent, and completed an agreement to establish the new School of Public Health facility in the former Pabst downtown site. Lovell worked closely with UW System staff to move forward with a $75-million Integrated Research Complex – the first marquee academic building constructed in the heart of campus in more than a decade.
"I am deeply honored to be recommended as the next Chancellor of UW-Milwaukee. I would like to thank President Reilly, the campus search committee, and the Regent search committee for their confidence in me," said Lovell. "It has been a great pleasure to serve the university as interim Chancellor over the last seven months and witness firsthand all the great things that our students, faculty, and staff are accomplishing."
"I deeply value UWM's commitment to a dual mission of being a major research institution while also providing access to a diverse population of Wisconsin residents," said Lovell. "UWM has made tremendous strides over the last decade with respect to both enrollment and research growth. Now, UWM is poised to reach even greater heights. As Chancellor, I will do everything in my power to keep us moving forward, even during difficult financial times."
A 23-member search and screen committee, chaired by Distinguished Professor Mark D. Schwartz from UW-Milwaukee's Geography Department, conducted the national search and recommended Lovell as one of five finalists to Reilly and the Regents. All finalists participated in a series of meetings and receptions on the campus, interacting with faculty, academic staff, classified staff, students and community members.
"I am pleased that Mike Lovell has been selected as our new Chancellor," said Schwartz, who also chairs the UW-Milwaukee University Committee. "Our search was fortunate to attract a number of highly qualified candidates; however Mike clearly distinguished himself within that group, and has made a tremendously favorable impression on the campus community during his short time as interim. I am ready to continue working with him to guide UW-Milwaukee forward during these critical times."
"Dr. Lovell brings an authentic, collaborative leadership style to the Chancellor position, and I think that's exactly what our city and our university need right now," said UW System Regent Danae Davis, who chaired the special committee of Regents that interviewed all finalists. "Through his communication style and personal interactions with colleagues, Mike demonstrates a deep understanding of our broad campus community. People who meet him come away with the impression that things are only going to get better."
Other special committee members include Regent Judith Crain of Green Bay, Regent Tony Evers of Madison, Regent Michael Spector of Milwaukee, and Regent José Vásquez of Milwaukee.
If confirmed by the full Board of Regents, Lovell will succeed UW-Milwaukee Chancellor Carlos Santiago, who is now CEO of the Hispanic College Fund in Washington, DC.
UW-Milwaukee is one of two doctoral universities in the UW System, with a total enrollment of approximately 30,500 students. The university enrolls more Wisconsin resident students than any other UW campus, and the largest number of U.S. military veterans. The Chancellor is responsible for leading more than 3,600 faculty and staff employees, and managing an annual budget of approximately $680 million.
###
Resources