The University of Wisconsin System strives to follow sustainable principles, practices and values.
Here are some tips to help you travel sustainably:
Consider if the trip is essential, or if the trip can be done virtually. Limiting unneccesary trips is the best way to eliminate the carbon footprint that you leave.
While typically airfare is the most logical method of transportation for a route over 400 miles – if your schedule allows, consider using rail. Rail generally is the most cost-effective as well as a more carbon-friendly option.
If driving, choose an electronic vehicle, hybrid, or small model car that can significantly cut down carbon emissions. Our contracted partner, Enterprise, offers these vehicles for rental.
When possible, walk or bike instead of using a cab. Utilize rideshare with other passengers.
Use Public Transportation such as a bus or train.
Pitch the plastics! Instead of spending money on bottles of water and straws, bring reusable ones. Nearly every airport and hotel have free water stations for you to fill up quickly.
Eat plant-based foods and avoid dairy products when possible. According to the EPA, agriculture accounts for 10 percent of greenhouse gas emissions, skipping meat has a massive positive impact on sustainability.
Buy local and fair-trade items when possible and bring a reusable bag for your shopping trips.
Industry Guides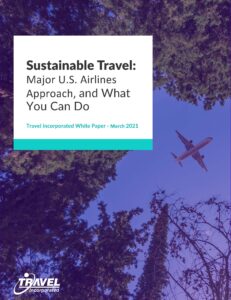 Airline Sustainability Goals
Delta Airlines
Key Steps towards Sustainability:
Over 200 aircraft retired early
6% better fuel efficiency year-over-year from new, more efficient fleet
Verified carbon offsets to mitigate 13 million metric tons of Delta's 2020 emissions
Investing in Sustainable Aviation Fuels (SAF) which can reduce emissions by up to 80%



Carbon Neutral from March 2020 Onward

Delta's commitment to sustainability is about joining arms to create a better world. The airline's ambitious commitment to carbon neutrality from March 2020 onward is coming to fruition with swift impact through immediate actions, coupled with long-term investments to combat climate change. These investments will drive innovation, advance clean air travel technologies, accelerate the reduction of carbon emissions and waste, and establish a path to a more sustainable future.

As a company driven by purpose, we hold ourselves to a high standard of producing sustainable, responsible financial results while investing in healthy communities, maintaining a diverse and inclusive workforce, and protecting natural environments. These values drive our overall approach to Environmental, Social, and Governance (ESG) sustainability and responsibility. Learn more about how we measured against this purpose while facing a global pandemic and the most dire financial situation in the history of our airline.
Delta is focusing these efforts on three areas: carbon reduction and carbon removal, stakeholder engagement and coalition building. 
Jet fuel is the No. 1 contributor to Delta's carbon footprint and the chief focus of our efforts to reduce our emissions and manage our environmental impact.
BUILDING A MORE EFFICIENT FLEET
We focus on building our fleet to have the longest, most sustainable life possible to make the most of our planet's resources. Over the past year, we've retired more than 200 aircraft and are replacing them with aircraft that are 25 percent more fuel-efficient than the models that are being replaced.
REDUCING EMISSIONS THROUGH CARBON OFFSETS
Carbon offsets reduce the amount of CO2 in the atmosphere, which lowers greenhouse gas levels – the primary culprit for global warming and climate change. To ensure we are fully carbon neutral since our commitment was announced, Delta is addressing 13 million metric tons of its carbon dioxide emissions from March 1 to Dec. 31, 2020 through verified offsets.
OFFSET YOUR FLIGHT
Partner with us to offset the environmental impact of your flight by protecting forests and supporting communities. 
ALTERNATIVE FUELS, SUSTAINABLE FUTURE
Delta's medium-term goal is to replace 10 percent of its jet fuel refined from fossil fuel with sustainable aviation fuel by the end of 2030. Delta has even started executing industry-leading
sustainable fuel agreements with corporate customers
 to support a future of more sustainable business travel.
Improving Our Environment by Reducing Our Impact
Delta continually assesses all aspects of our operations to minimize what we send to landfills and identify opportunities for material reuse and recycling.
REDUCING SINGLE-USE PLASTICS
We use compostable stirrers onboard and removed wrappers from cutlery and amenity kits, eliminating 30K lbs. of waste annually. We're evaluating changes to more single-use plastics through lifecycle analyses.
MAKING THE MOST OF RECYCLABLE MATERIALS
Since 2007, we've recycled more than 3 million pounds of aluminum onboard and, with the rebates, have funded  
the construction of 12 homes
 through Habitat for Humanity.