Capital Planning and Budget is the UW System Administration partner and point of contact for sustainability initiatives at UW System universities and campuses. Our office has responsibility for leadership in long-range and biennial facilities planning and assists in developing sustainability and energy related policies and standards for the University of Wisconsin System. We lead system wide initiatives, coordinate broad energy planning and work with all campuses to assist in meeting their energy and sustainability goals.
Institution Links
As they implement sound environmental practices and pursue innovative sustainability solutions, UW System university sustainability programs enrich campus life and provide models and laboratories for teaching and research in emerging fields.
UW Institution Sustainability Links
Select a University

Use the dropdown box to begin.

Use the map or dropdown box to begin.

UW-Eau Claire

UW-Green Bay

UW-La Crosse

UW-Madison

UW-Milwaukee

UW-Oshkosh

UW-Parkside

UW-Platteville

UW-River Falls

UW-Stevens Point

UW-Stout

UW-Superior

UW-Whitewater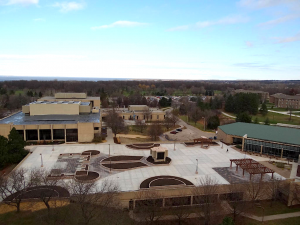 Connect
Sustainability is a collaborative effort across UW System universities, as staff, students and faculty from across the state share knowledge and expertise in a range of sustainability-related topics. Leaders from UW System universities organize an annual meeting, meet in working groups, and share information through a statewide listserv to strengthen sustainability efforts across UW System.
UW System Sustainability Annual Meeting
Hosted each year by a different UW System university, this annual meeting features a day of training and planning for sustainability staff, and a second day of sustainability talks and activities of interest to UW System students.
Statewide Working Groups
Working groups meet regularly to share best practices and to coordinate sustainability efforts across UW System in key areas of university sustainability. Staff, faculty and students are welcome to join working groups focused on Academics; Climate, Energy and Resiliency; New Building Design and Construction; Transportation; Procurement; and the STARS university sustainability assessment, tracking and rating system.
UW System Sustainability Listserv
Join this email group to make and receive general announcements and inquiries related to UW System Sustainability and upcoming meetings. Anyone is welcome to join and utilize this email group including staff, faculty, students, alumni, and public associates of UW Sustainability. You must be a member of the group in order to use it. Outlook users can manage their membership settings for the group "UW-Sustainability" in Outlook Groups; emails will still go to your inbox and can be sent from your inbox even if you do not use Outlook. To join the group, email
hhendersen@uwsa.edu
or
click here
.
Annual Meetings
UW SYSTEM SUSTAINABILITY MEETING 2023
The 2023 UW System Sustainability Retreat will be hosted by UW-La Crosse on October 12 & 13, 2023. Please click here to register for the retreat. Registration ends October 1st 11:59pm.
AGENDA
 
Thursday, October 12, 2023
Friday, October 13, 2023
8:30am-9:00am
Arrive/Breakfast
Arrive/Breakfast
9:00am-9:15am
Intro/Welcome
Intro/Welcome
9:15am-11:00am

Session 1-1:

Decarbonization: General Ideas (from Trane) and Campus Central Plants (from Eau Claire Study)

Session 2-1:

Wisconsin Clean Energy Updates and Panel

11:00am-11:15am
Break
Break
11:15am-11:30am
More Break/Optional Activity
More Break/Optional Activity
11:30am-12:30pm

Session 1-2:

Roadmap to UW System Energy Conservation and Renewables

Session 2-2:

Student Panel

12:30pm-1:30pm
Lunch
Lunch
1:30pm-2:15pm

Session 1-3:

Q & A with Sean Nelson and Alex Roe

Session 2-3:

Updates from UWSA Sustainability Coordinators (Sustainable Building Standards and Virtual Power Purchasing Agreement)

2:15pm-2:30pm
Break
Break
2:30pm-2:45pm
More Break/Optional Activity
End of Day Wrap-Up
2:45-3:45pm
Session 1-4:

Working Group Goal Setting Workshop

Session 2-4:

UW-La Crosse Tour

3:45pm-4:00pm
End of Day Wrap-Up
Return from field trip
4:00pm-4:15pm
Break
End of conference 4pm.
4:15pm-5:30pm
Session 1-5:

Western Technical College Tour (optional or break)

 
5:30pm-6:30pm
Break
 
6:30pm-on
Dinner and Happy Hour
 
MEETING AGENDA
DAY 1: THURSDAY, NOVEMBER 10
| | |
| --- | --- |
| TIME | ACTIVITY |
| 8:30 AM – 9 AM | Registration + Breakfast |
| 9 AM – 9:30 AM | Welcome / Opening Remarks |
| 9:30 AM – 10:30 AM | WORKSHOP 1: Identify our Strengths and Partnerships |
| 10:30 AM – 11 AM | – Rest Break / Networking / Mindful Moments – |
| 11 AM – 12 PM | WORKSHOP 2: Establish our Vision for UW-system sustainability |
| 12 PM – 1 PM | – Lunch – |
| 1 PM – 2:30 PM | WORKSHOP 3: Set SMART Goals + Targets within Current Context and Form 2023 Working Groups |
| 2:30 PM – 3 PM | – Rest Break / Networking / Mindful Moments – |
| 3 PM – 4 PM | WORKSHOP 4: Setting Objectives + Tactics for the year ahead |
| 4 PM – 4:30 PM | End of Day Wrap-Up |
|   | – Break – |
| 6 PM | Optional: Happy Hour + Dinner |
DAY 2: FRIDAY, NOVEMBER 11
| | |
| --- | --- |
| TIME | ACTIVITY |
| 8:30 AM – 9 AM | Breakfast + Registration |
| 9 AM – 10:30 AM | TRAINING 1: First Nations Fusion |
| 10:30 AM – 10:45 AM | – Rest Break / Networking / Mindful Moments – |
| 10:45 AM – 11:45 AM | TRAINING 2: Developing student leaders + effective organizing |
| 11:45 AM – 12:45 PM | – Lunch – |
| 12:45 PM – 2 PM | UWGB SUSTAINABILITY TOUR |
| 2 PM – 2:30 PM | Closing Remarks + Exit Evaluation |
Schedule and Session Descriptions
UW SYSTEM SUSTAINABILITY 101
Join UW-Stevens Point Sustainability Coordinator, Dave Barbier, and UW-Whitewater Sustainability Coordinator, Wesley Enterline, as they revisit the beginnings and explore the current state of UW System's collaborative sustainability efforts. This presentation is great for those interested in learning more about who we are as professionals, what we do together, and how you can get involved.
WORKING GROUPS UPDATES
During this time we'll get updates from the chairs of the 2021 UW System Sustainability Working Groups to learn more about what was accomplished and what is still left to accomplish in 2021. This may include successes and struggles over the last year and recommendations for how this working group should continue or dissolve in 2022.
WORKING GROUPS DISCUSSION
All participants will have an opportunity to visit with current Working Group chairs in areas of interest to discuss their presentation and learn more or contribute to the work of this group. Participants will be encouraged to circulate between different working groups and contribute to a shared document capturing notes and ideas about this discussion period.
UW SYSTEM PLANNING
This session will continue the discussion of the UW System Sustainability working groups, and offer an opportunity for discussion about working group progress over the last year, and what involvement from UW System Administration is required to make more meaningful contributions to System-wide sustainability endeavours. Facilitators: Kate Nelson, UW Milwaukee; Working Group Leads; Maria Redmond, Office of Sustainability and Clean Energy.
WISCONSIN SALTWISE: THE HIDDEN COSTS OF OVERSALTING
For decades, road salt has been a cheap and effective tool for keeping roads and sidewalks clear of ice and snow. However, much of the salt that we apply to pavement ends up in our lakes, streams, and drinking water. In response, municipalities and private contractors across Wisconsin are reducing their salt usage by 30-70% after adopting practices highlighted in the SaltWise program. This session will inform how UW System campuses can also implement best winter maintenance practices to protect public safety and our freshwater resources.
CAMPUS UPDATES AND DISCUSSION
Each campus's primary sustainability contact in attendance will offer a brief update to address the following questions, with a discussion period to follow for participant Q&A.
What is one accomplishment that you are proud of?
What is one project or initiative you are currently working on that is going well?
What is one thing that you are finding challenging?
KEYNOTE: TOWARDS AN EQUITABLE AND RESILIENT URBAN FOREST (DR. CARLY ZITER)
Healthy urban forests provide countless social, economic, and environmental benefits to our communities – including cleaner and cooler air, improved mental health, and habitat for wildlife. However, the benefits of urban trees are inequitably distributed throughout our cities, and many of our urban forests are highly vulnerable to global change (e.g., climate change, insect outbreaks). In this talk, I will discuss recent and ongoing research assessing the biodiversity of, and benefits provided by, our urban forests, drawing in part on empirical work from Madison, Wisconsin, and Montreal, Quebec. I will also discuss the importance of tree equity – ensuring that trees are accessible in every part of every city.
ENERGY DASHBOARDS
This session will be a discussion facilitated by Brad Spanbauer from UW Oshkosh, but with multiple campuses offering input about their experiences with various energy dashboards and energy management platforms. The session will focus on the pros and cons of the platforms (cost, ease of use, audiences served, data representation and granularity, analysis capabilities, etc.) The goal will be for the group to compare the various platforms, and potentially explore multiple campuses moving forward with a single platform that meets all of the needs, practical and educational.
Schedule and Session Descriptions
Campus Updates
UW SYSTEM SUSTAINABILITY 101
Join UW-Stevens Point Sustainability Coordinator, Dave Barbier, and UW-Whitewater Sustainability Director, Wesley Enterline, as they revisit the beginnings and explore the current state of UW System's collaborative sustainability efforts. This presentation is great for those interested in learning more about who we are as professionals, what we do together, and how you can get involved.
CAMPUS UPDATES DISCUSSION
Discover the latest sustainability initiatives from around the UW system.
UW SYSTEM SUSTAINABILITY REPRESENTATIVE'S GOALS
UW-Milwaukee's Chief Sustainability Officer, Kate Nelson, will provide updates and facilitate a discussion on setting goals for this working groups efforts in UW System.
UW SYSTEM STARS: SHARED RESPONSES AND PEER REVIEW
The STARS Working Group will provide a history of their shared approach to STARS, share the STARS Shared Response Repository, highlight some of their favorite STARS credits, explain the peer review process/ proposal, and identify what they've learned this past year, and finally invite meeting attendees to discuss STARS and ask any questions they might have.
WORKING GROUPS CHECK-IN AND UPDATES
During this time the group discusses the UW System Sustainability Working Groups that were formed at last year's meeting (Climate Change/Advocacy, Energy, STARS, System Goals, Annual System Meeting, and System Sustainability Position). We will utilize this time to talk about the group's successes and struggles and explore opportunities to dissolve, reorganize, or establish new working groups including joining or leaving working groups.
CLIMATE CHANGE AND CLEAN ENERGY WITH MARIA REDMOND
In 2020, Maria Redmond came on as the state of Wisconsin's Director of Sustainability and Clean Energy. Maria will share her thoughts on taking on this new role and what the future holds.
HOW WILL CLIMATE CHANGE IMPACT WISCONSIN?
Climate scientist and professor of UW-Whitewater, Dr. John Frye, will discuss the reality of recent climate events occurring throughout the country as well as in the state of Wisconsin. UW-Whitewater's professor, Dr. Eric Compas, and student researcher, Eric Passler, will also join to assess the future of agriculture and winter recreation in Wisconsin using surveys and downscaled climate change models.
PLASTICS RECYCLING: WHERE DO WE GO FROM HERE?
Plastics dumped in the ocean?! Recycling going to the landfill?! In this session, we'll be breaking down facts vs fiction in the current recycling market and present action steps to move your recycling programs forward.
2017:  UW-Milwaukee
2016:  UW-Platteville
2015:  UW-Whitewater
Policies, Guidelines and Procedures
Physical Development
Board of Regents
State of Wisconsin Building Commission
Department of Administration
Procurement
Department of Administration
TRAVEL