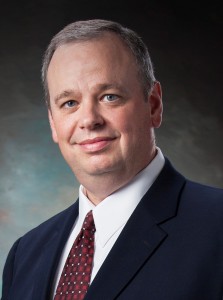 MADISON, Wis. – Dr. James C. Schmidt has been recommended as the next Chancellor of the University of Wisconsin-Eau Claire. He currently serves as Vice President for University Advancement at Winona State University (WSU) and Executive Director of the WSU Foundation Board of Trustees.
UW System President Kevin P. Reilly and a special committee of the UW System Board of Regents announced their recommendation today.  Following action by the full board, scheduled for April 5, Schmidt will step into his new leadership role in July.
Schmidt joined Winona State University in 1998, overseeing development, government relations, marketing, and other functions. Working with the WSU Foundation's president and other community leaders, Schmidt led efforts to secure significant new investments from the state and federal governments, as well as private benefactors, and assets grew significantly. He previously served as Vice President for Student Affairs at Riverland Community College, where he was responsible for admissions, financial aid, diversity, career placement, and other programs. He has also held leadership positions at Austin Community College and Minnesota Riverland Technical College.
"Drawing on his experience in forging meaningful connections with the campus community and beyond, Dr. Schmidt will be a powerful advocate for UW-Eau Claire, sharing and growing its robust traditions of a liberal arts mission and academic excellence," said Reilly. "Along with a keen understanding of university priorities, Dr. Schmidt clearly has the skills and desire to help the campus thrive, and that success will create a positive ripple effect across the state."
Schmidt holds an Ed.D. from the University of Minnesota. He earned a Master's in Business Administration from the University of St. Thomas, and a B.A. in Political Science from Winona State University.
"The excellent reputation and the powerful vision of UW-Eau Claire drew me to this university – a university which clearly evidences the very best in higher education. The commitment of faculty and staff to engage students in a 'rigorous, integrated, globally infused liberal education' resonates deeply with me, and grew to be my greatest attraction," said Schmidt.
"UW-Eau Claire graduates are well prepared to lead in every facet of society. They are our teachers, nurses, social workers, and business owners. They are enriching our school boards, city councils, church boards, and arts boards. They coach our youth athletic teams, lead our civic organizations, and organize efforts to help those in need. Our graduates are essential ingredients in the success formula for our communities and our state," said Schmidt.
"My wife, Kim, and our family join me in eagerly looking forward to making this our home and becoming a part of the community," said Schmidt.
"The UW-Eau Claire chancellor position attracted high quality candidates from around the country; the caliber, qualifications, and experience of applicants were extraordinary.  Dr. Schmidt clearly impressed campus and community stakeholders with his energy, enthusiasm, and passion for UW-Eau Claire's mission.  We are looking forward to Dr. Schmidt mobilizing community resources, engaging our campus, and building trusting relationships," said Rama Yelkur, UW-Eau Claire Professor of Marketing and Coordinator of International Business Programs, who chaired the 21-member search and screen committee.
"UW-Eau Claire is a key player in the Chippewa Valley region, and it is vitally important that its chancellor has strong relationships with both the local community and broader state and federal interests. Dr. Schmidt shows a firm understanding of this dynamic, and through his open communication style and personal interactions, we expect those mutually beneficial relationships to be enriched," said Regent Edmund Manydeeds of Eau Claire, chair of the Board of Regents committee that interviewed all of the finalists with Reilly.
If confirmed by the full board, Schmidt will succeed former UW-Eau Claire Chancellor Brian Levin-Stankevich, who stepped down last spring to accept a new job as president of Westminster College in Salt Lake City, Utah. UW-Madison's Gilles Bousquet has served as UW-Eau Claire's Interim Chancellor since July.
UW-Eau Claire enrolls more than 11,000 students in more than 80 degree programs. UW-Eau Claire is among U.S. News & World Report's top five public regional universities in the Midwest for 2013; is named by The Princeton Review  as a 2013 Best Midwestern College and among its Best Value Colleges for 2013; and is designated a 2013 Military Friendly School by G.I. Jobs magazine.
# # #
Resources