MADISON – The University of Wisconsin System Board of Regents on Friday honored two professors and one academic program for their outstanding career achievements in teaching, as they bestowed the UW System's highest recognition for members of its faculty and academic staff.
The 2012 recipients of the 20th annual Regents Teaching Excellence Awards are:
Donald Hanlon, Professor of Architecture, UW-Milwaukee
Jennifer Kosiak, Associate Professor of Mathematics Education, UW-La Crosse
First-Year Interest Groups (FIGs) Program, UW-Madison
Regent Chuck Pruitt, who chaired the selection committee, told the Board that this year's winners are shining examples of the powerful impact that excellent teachers can have on students' lives.
"They are engaged in that most important, almost sacred task of teaching our students not what to learn, but how to learn," Pruitt said. "They are red-blooded examples of the traditional forces of the sifting and winnowing process that supports the pillars of academic freedom that any great university needs to advance and protect."
Pruitt added that the winners would likely be the first to acknowledge that they did not get here on their own.  "While their work is extraordinary, it is not unusual. When it comes to teaching excellence, these are not the exceptions, they are the examples. They are not the outliers, they are the representatives. Honoring them, we honor all their colleagues, and we say thank you to each of the 9,800 teachers in this System," Pruitt said.
Regent Tony Evers introduced Donald Hanlon, who has taught architecture at UW-Milwaukee for 25 years. Noting that Hanlon has called architecture "a powerful emotional and intellectual instrument for interpreting the world," Evers told Regents that Hanlon's innovative approach to the field incorporates techniques such as meditation, Laban movement analysis, and specific methods of enhancing creativity in his design studio. He added that Hanlon provides leadership to student groups outside of the classroom, including teams of students and community members who provide architectural services to Milwaukee non-profit organizations.
In accepting the award, Hanlon called it "a phenomenal honor and pleasure. It just knocked me down when I learned about it." He credited the extraordinarily open and tolerant environment at UWM, in which he was allowed to experiment, to be successful and also to make mistakes. "I think what's really significant here is not what I've done, but rather the fact that the university as a whole recognizes and encourages quality in teaching," he said.
Regent Pruitt then introduced Jennifer Kosiak, who has been actively involved in improving the mathematical preparation of PK-12 teachers since she arrived at UW-La Crosse in 2004. In preparing educators for future classrooms, Kosiak blends traditional and innovative strategies – including rap performances – to help her students learn, and infuses the latest technology into most of her courses. He also noted that Kosiak had been awarded the 2010 Teacher Educator of the Year Award by the Student Wisconsin Education Association.
"I remember flying into La Crosse in 2004, wondering how I could inspire my students, the next generation," Kosiak recalled. "It's really amazing to think that I've been inspired by my students to do better things in my classroom, to find ways to engage them so when they go out and become mathematics teachers, they're going to be engaging the next generation of students."
Finally, Director Greg Smith accepted the program Teaching Excellence Award on behalf of UW-Madison's First-Year Interest Groups (FIGs) program. Regent Katie Pointer, a UW-Madison student, presented the award, explaining to Regents that the program was developed as a first-year seminar to help students transition successfully to the university, improve their academic performance, and connect with peers and faculty. Pointer noted that two of her close friends at UW-Madison had participated in the FIGs program, and had very positive things to say about it.
"In their FIGs, students explore areas of learning they might not otherwise consider in ways that stretch their imagination and hone their critical thinking skills," Smith told Regents. He cited a student letter of support that stated, "Being part of this FIG has helped me grow as a person … and has changed the course of my education. Being part of this FIG also taught me what I want to be and what I want to do with my life.'"
"By recognizing FIGs with this award, you are communicating to all of us and all of our colleagues across the System that you value the work we're doing not just in our FIGs program but in similar learning community programs across the System," Smith said.
Board recognizes WIAC's century of success
As part of his regular report of news from around the System, President Kevin Reilly applauded the Wisconsin Intercollegiate Athletic Conference on its "exuberant" celebration of its centennial anniversary.  Gary Karner, WIAC commissioner for 16 years, told Regents that nine of the 13 four-year UW System campuses currently compete in the Division III conference.
"Our student athletes compete without the benefit of athletic scholarships," Karner said. "To use an old cliché, they really play for love of the game. It is really the true essence of college athletics when these student athletes compete at our level."
Overall, the WIAC has earned 94 NCAA national championships – 23 more than its closest competitor.
He noted that with the exception of UW-Milwaukee, which left the conference in 1964, the membership of the conference has been stable since 1917. "That kind of stability is found nowhere else in college athletics," Karner said.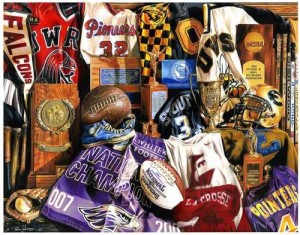 Looking at a timeline of WIAC history, Karner shared several instances where the Board of Regents played a significant role in the conference. In 1906, he said, the River Falls president called for the abolition of football, which the Board turned down. He also noted that in 1914, the Board authorized the athletic association at each of the normal schools to collect a $2 annual athletic fee from each student.
"That's the fee that we are still very much dependent on at the Division III level for the support of our athletic programs today, and it started way back in 1914," Karner said.
Karner also noted that Gov. Scott Walker has proclaimed the 2012-13 academic year as the "Year of the WIAC," and displayed a limited edition commemorative print by artist Tim Cortes.
Legislative Task Force update
Regent Mike Falbo provided an update on the Legislative Task Force on UW Restructuring and Operational Flexibilities, a task force which he chaired. The Task Force submitted its final report to the Legislative Fiscal Bureau on Aug. 13.
Falbo cited several highlights from the report and noted that some of the task force's recommendations can be implemented under the Board of Regents' current authority, while others require statutory changes or action by other state agencies.
In other business, the Regents:
Approved UW-La Crosse's request for authority to adjust the scope and budget of the Parking Ramp and Police Building Project;
Approved UW-Madison's request for authority to adjust the budget of the Memorial Union Renovation-Phase I Project;
Approved UW-Whitewater's request for authority to adjust the budget of the Multi-Sport Facility-Phase III Project;
Approved a UW System request for approval of six all-agency maintenance and repair projects on five campuses, including projects that focus on energy conservation and exterior development;
Approved a UW System request to release funds to prepare Campus Master Plans for UW-Parkside, UW-Superior, and UW-Whitewater;
Approved four proposed academic programs: the Bachelor of Science in Athletic Training at UW-Madison; the Bachelor of Science in Radiologic Science at UW-Oshkosh; the Master of Clinical Science at UW-River Falls; and the Online Master of Science in Sustainable Management offered collaboratively at UW-Green Bay, UW-Oshkosh, UW-Parkside, UW-Stout, and UW-Superior;
Approved the dissolution of the Consortial Doctor of Physical Therapy (DPT), and corollary action authorizing independent DPT programs at UW-La Crosse and UW-Milwaukee;
Approved a revised Regent Policy Document which clearly establishes the roles moving forward for the Board of Regents, UW institutions, and UW System Administration in planning, reviewing, and approving new academic programs;  and
Approved a four-year data analysis agreement with Amgen Inc.
###
The UW System Board of Regents will hold its next meeting October 4-5, 2012, at UW-Stout
---
Related: Read August 23 (day 1) news summary