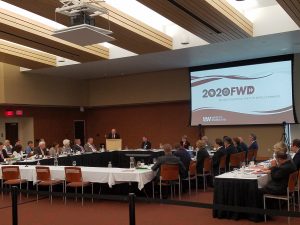 MADISON – The University of Wisconsin Board of Regents on Thursday unanimously approved the UW System's new strategic framework, "2020FWD: Moving Wisconsin and the World Forward."
"The boldness of 2020FWD is rooted in its simplicity," said UW System President Ray Cross. "We have crafted a framework for the future of the University of Wisconsin System that is focused on how the university can most directly and effectively help the state find ways to prepare for the future."
The 2020FWD framework is designed to provide strategic direction for the UW System in four key areas: the educational pipeline, the university experience, business and community mobilization, and operational excellence.
It is the product of a year-long development process, which included gathering input from the public and university community through listening sessions and surveys, and also involved a variety of stakeholder and expert groups. In all, about 5,000 people participated.
"The UW System's 2020FWD strategic framework represents the input of thousands of voices from all across the state, a chorus of people who have shared their concerns, ideas, and dreams for a better future. Every sentence of the framework holds an echo of those voices," Cross said.
"This is an amazing undertaking," said Regent Margaret Farrow.
UW-Parkside Chancellor Debbie Ford, who served on the strategic planning task force, called it "an inclusive and comprehensive process. "One of the things that resonated from me is we heard over and over about the value of the University of Wisconsin across our state," Ford said. "I look forward to taking this vision into action at UW-Parkside."
"The thing that's most clear from this process is the state needs the University of Wisconsin to play a leadership role, that we are going to be a big transition for this state forward by preparing the kind of talent necessary to drive industry, to drive our communities, and the civic well-being of the state as a whole," said UW-Eau Claire Chancellor Jim Schmidt.
The Board then approved the UW System's 2017-19 biennial budget request, which includes a request for $42.5 million in state general purpose revenue (GPR) to fund the 2020FWD initiatives.
Regent Vice President John Behling called the approved budget "a reasonable request," and added that he believes "we've sent a strong message regarding taking good care of taxpayer dollars."
Regents also approved the UW System's $713.3 million Capital Budget request for the 2017-19 biennium, a request which heavily favors renovation and maintenance of existing facilities over new projects.
"We are in a critical time for the University's future and I feel very strongly that Ray has led a collaborative process to outline a conceptual vision and a budget that address the pressing needs of the System and the State, as well as the unique challenges and opportunities that exist," Regent President Regina Millner said.
The Board-approved biennial budget proposal will now be sent on to Gov. Scott Walker for consideration as part of the biennial budget package his office will begin preparing this fall.
Regent President Millner told the Board that tuition and compensation, issues that figure prominently in the university's overall budget, will be addressed in upcoming meetings. Tuition is expected to be on the Board's October agenda; compensation will be discussed in either November or December.
Career Connect portal previewed
President Cross previewed the September launch of the UW System's new Career Connect web portal for the Research, Economic Development and Innovation committee. The portal is designed to provide convenient access for employers seeking talent and for students looking for internships and work experiences that expand their career and workforce readiness.
"Roughly 60 percent of our students already get business experience, but we think we can do more," Cross said. "We know the advantages are huge both for students and the companies they intern with."
"This is a real step forward," said Regent Tracy Klein, who also encouraged the involvement of UW alumni networks.
Presidents' Reports
Regent President Millner updated Board members on a recent meeting between UW leadership and Gov. Scott Walker that included an advance presentation of the 2020FWD strategic framework.
Discussions included several areas of agreement, she said, such as the need to help students get college credit while still in high school; connecting students with employers through internships; and ensuring UW graduates have the talent and experience to fill the jobs Wisconsin critically needs.
"We both recognize the incredible importance of maintaining affordability without sacrificing quality," Millner said.
She also updated Regents on UW briefings with legislators and staff from both parties. "Overall, the response has been very positive and the key word we keep hearing back is 'reasonable,'" she said.
As part of his report, President Cross shared with Regents the news that UW-Extension's division of Continuing Education, Outreach & E-Learning has launched an online Master of Science in Health and Wellness Management degree in conjunction with five UW System institutions.
In other action, the Board of Regents:
Approved UW-Madison's agreement with Amazon Pickup Points, LLC, to locate and operate a facility on campus where students, faculty and staff can pick up merchandise ordered through Amazon on-line;
Approved UW-Whitewater's agreement with Bottling Group, LLC, Pepsi Beverages Companies to provide exclusive rights to soft drink pouring and vending at the institution;
Approved UW-Oshkosh's agreement with Bottling Group, LLC, Pepsi Beverages Companies to provide exclusive rights to soft drink pouring and vending at the institution;
Approved a Master of Science in Sport Management at UW-Parkside;
Approved an accelerated Bachelor of Science in Nursing for second-degree candidates at UW-Madison;
Approved a Master of Science in Athletic Training at UW-Stevens Point.
Approved two reappointments to the Natural Areas Preservation Council: Dr. Sharon Dunwoody, Professor Emeritus of the Department of Journalism and Mass Communication at UW-Madison, and Dr. Kenneth Rhoads Bradbury, Director and State Geologist of the Wisconsin Geological and Natural History Survey; and
Approved a School of Engineering at UW-Stout. The School of Engineering is being established as a result of a substantial pledged gift from a currently anonymous donor;
###
The University of Wisconsin System Board of Regents will next meet on Oct. 6-7, 2016, at UW-Eau Claire.