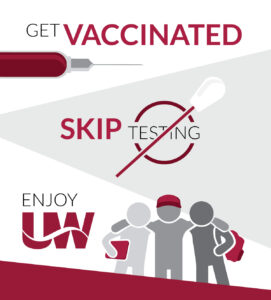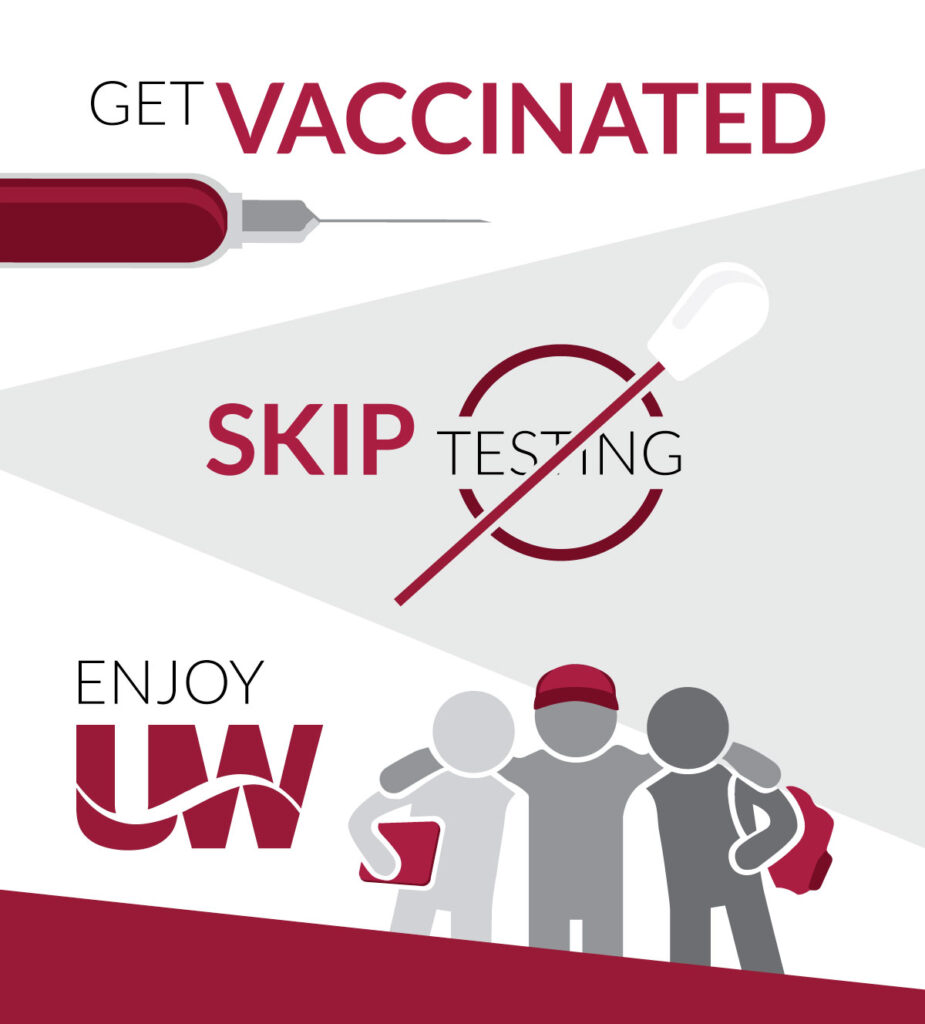 MADISON – The University of Wisconsin System will not mandate that students are vaccinated against COVID-19 to enroll next fall, but students – and all members of the university community – will be "strongly encouraged" to do so.
That was the clear message from UW System President Tommy Thompson Thursday as he provided the Board of Regents with an update on the University's ongoing response to the pandemic.
With all Wisconsinites age 16 and over now eligible for vaccination, Thompson urged people to take advantage.
"Vaccinations are our ticket back to normal, and ensuring we hit pre-pandemic, in-person instruction levels," Thompson said.
Students who demonstrate they are fully vaccinated will be exempt from the university's regular COVID testing, Thompson said. "That saves us money, you time, and keeps our universities more safe," he added.
UW System currently has vaccination clinics open at nine campus locations, with more on the way. To date, about 115,000 shots have been administered at these clinics.
COVID testing across the System continues to be aggressive, Thompson said, adding that UW System has now administered more than 1 million tests overall, including both campus and public testing. Positivity rates remain very low, with a 0.2% Systemwide positivity rate for April 7 with 10,815 tests administered. For the Spring semester to date, the UW System overall has had a 0.3% positivity rate with 686,448 tests administered.
In his report to the Board, Regent President Andrew S. Petersen shared the latest numbers on the financial impact of COVID on the UW System. Through the end of the Spring 2021 semester, UW institutions have incurred $534 million in COVID-related costs and lost revenue, he said. This includes state budget cuts of almost $95 million over FY20 and FY21.
Petersen said some of these losses have been covered by federal funds. Of the total federal funding provided, about 45% — or $232 million – is being passed directly to students for emergency grants, with the remaining $290 million going for institutional aid.
The UW System also has had several additional sources of federal funding, including $54 million in CARES funding through the State of Wisconsin's Department of Administration to support fall testing and COVID-related costs; an estimated $35 million from the federal government for community surge testing; and an expected $22 million through DOA to support spring semester testing.
"This financial assistance is vitally important, and we deeply appreciate the support," Petersen said. "I want to make it clear, however, that these federal funds are one-time dollars and nobody really knows how long COVID will have an impact on our operations."
Through the spring semester, the UW System is left with an estimated net loss of nearly $170 million.
UW System called for employee furloughs and restricted travel to help offset losses.
UW-Stout keeps focus on polytechnic mission
In her host campus presentation, "UW-Stout: Planning Through the Lens of COVID," Chancellor Katherine Frank told Regents that UW-Stout's designation as Wisconsin's polytechnic institution gives them the opportunity to differentiate themselves, and provides the foundation for the university's new 10-year strategic plan, FOCUS 2030.
"While the COVID pandemic has been challenging from both an operational and financial perspective, Stout was well-positioned to transition to virtual and hybrid models due to the fact that we are the only laptop campus in the UW System and have more than 20 years of experience as leaders in online education," Frank said.
She noted that Stout's approximately 1,600 students enrolled in 12 undergraduate, 15 graduate, 23 certificate, and four certification programs leading to Wisconsin DPI state licensure did not experience any disruptions with regard to instructional delivery during the pandemic, and the university was able to leverage the expertise across the campus.
"At the center of everything we do at Stout is student success," said Frank, adding that the university achieves this by investing in students from the point of entry through graduation and ensuring that 100% of students graduate with at least one experiential learning opportunity.
"At Stout, we aim to produce what is becoming known as 'triple-threat graduates:' students who possess a university degree, have an academically-linked experiential learning opportunity, and carry an industry-recognized professional credential," she said. Half of current students already meet this goal. The strategic plan calls for 100% 'triple-threat' graduates by 2030.
Frank said UW-Stout is honored to be part of UW System's URM (Underrepresented Minorities) Pipeline Project, which was recently launched to create seamless and supportive pathways for traditionally underrepresented student populations and first-generation students into UW schools. She added the university is also grateful for System support for expanding UW-Stout's long-standing summer bridge program, Stoutward Bound.
Regent President's Report
In his regular report to the Board, Regent President Petersen offered early congratulations to the 22,000 students who are expected to receive their UW System degrees next month.
Total degrees awarded for the 2020-21 academic year will top 36,000 overall – the ninth consecutive year that UW System has topped that marker.
"One thing I am very clear on is how important our graduates are to the State of Wisconsin and beyond. And never more so than now. We need you," Petersen said.
Offering an update on the UW-River Falls chancellor search, Petersen reported that semifinalist candidates have been interviewed and the Search and Screen committee, chaired by Regent Scott Beightol, expects to announce finalists later this month.
Petersen also called Regents' attention to a new set of video shorts produced by "Discover Wisconsin" that feature the UW System. The video shorts focus on several key UW initiatives that benefit the people of Wisconsin, including COVID response, the Freshwater Collaborative of Wisconsin, the Dairy Innovation Hub, and cybersecurity efforts with small businesses.
"Their productions echo our 'All in Wisconsin' campaign and help to carry our message to an even broader audience," Petersen said.
"Discover Wisconsin" is an award-winning television program that highlights the people, places, and stories of Wisconsin. Its episodes are broadcast in eight states across the upper Midwest. In addition, "Know Your Wisconsin" segments featuring UW System will be distributed to local news affiliates in coming months.
Petersen also presented a "News Around the System" video, highlighting the many ways UW campuses have brought people together throughout the spring semester despite the pandemic. Petersen said the ingenuity and persistence of students, faculty and staff inspire expectations of a Fall 2021 semester with even more in-person connections.
UW System President's Report
President Thompson told Regents the UW System will launch next week its new Procure-to-Pay project – known as ShopUW+ – which is a significant step in helping the university be more efficient and cost effective.           
ShopUW+ will improve processing workflows, eliminate paper transactions, and make accounts payable processes more efficient and transparent across the entire System, he said.
"The goal has been to create one systemwide platform to replaced outdated systems to modernize and standardize our procure-to-pay environment," Thompson said. "This is long overdue and a big step in the right direction."
Thompson also told Regents he will be hitting the road in coming weeks to advocate for the UW System's biennial capital budget around the state. He noted that the large slab of concrete façade at Van Hise Hall on the UW-Madison campus that fell to the ground last weekend is a graphic illustration of the many buildings around the System that are aging and in disrepair.
"That's why 83% of our capital budget ask is for repair and replacement," Thompson said. He noted that Van Hise Hall is not even on the short list of proposed building repairs in the current budget request, but Albertson Hall at UW-Stephens Point and Cofrin Library at UW-Green Bay are on the list, and face similar exterior issues. "Improving them is critical," he said.
Thompson also offered several updates on the government relations front. He told Regents that he'd recently provided a "State of the UW System" report to the Senate Committee on Universities and Technical Colleges at a hearing in Green Bay, and several Joint Finance listening sessions are coming up, including two hosted by UW universities (UW-Whitewater and UW-Stout).
Thompson commended recent legislative support for the work done by county-based agriculture experts within the Division of Extension at UW-Madison. He also expressed concern over recent legislation introduced that would remove the statutory requirement that the Wisconsin Technical College System seek permission from the UW System Board before creating associate degree programs.
"WTCS is our No. 1 transfer partner, and we don't want this legislation to undo the excellent work in recent years by UW System, WTCS, and the legislature to improve the transfer of credits between the systems," Thompson said.
Business & Finance Committee
Vice Chancellor Laurent Heller updated the Committee on UW-Madison's continuing efforts to seek innovative opportunities to fund its public mission. He reviewed the importance of the university's pursuit of additional long-term revenue strategies as informed by the guiding principles set forth by UW-Madison's Revenue Innovations Study Group.
Interim Associate Vice Chancellor Rob Cramer provided insight into the real estate opportunities as well as legal and regulatory considerations guiding the university's next steps. University Research Park (URP) Executive Director Aaron Olver shared his team's perspective on the opportunity, the fit with URP's mission, and alignment with the university's strategy.
"We're really well positioned," Heller said. "We think we can do this."
The committee also discussed the possibility that other campuses around the UW System could pursue similar opportunities.
In other business, the Business & Finance Committee:
Approved a clinical trial agreement for UW-Madison with Context Biopharma, Inc. and the Medical College of Wisconsin. The company will provide drug supplies and financial support for a breast cancer clinical trial that will enroll patients who have experienced disease progression while on other approved therapies. The Medical College of Wisconsin's participation involves analysis of blood and tumor tissue samples. The agreement has an estimated dollar value of over $1.5 million;
Approved a contractual agreement between UW-Madison and Stanley Convergent Security Solutions, Inc. to replace the electronic door access system on campus. The replacement of the access system is necessitated by the End of Life of UW-Madison's current product, for which the vendor will no longer provide security patches or support;
Approved revisions to RPD 13-4, "Institutional and Employee Relationships with Educational Loan Lenders." The current policy was adopted in 2007 in response to reports of higher education institutions in other states soliciting benefits from private lenders in exchange for placement on "preferred lender" lists. The proposed amendments update and align the policy to comply with current federal regulations;
Heard a report by Rob Thornton, State of Wisconsin Investment Board, and Charles Saunders, Executive Director for the UW System Administration Office of Trust Funds, with highlights of the Investment Reports for the period ending December 31, 2020. As of that date, UW System Trust Funds assets totaled $682.8 million, comprised of $532.1 million in the Long Term (endowment) Fund and $150.8 million in the Income Cash Fund. The Fund's public equity investments increased +15.60% during the quarter, while the bond investments returned +0.84% and the inflation sensitive investments gained +3.20%. The private markets portfolio returned +8.75%. For the quarter, the Long Term Fund increased in value +9.83% (before fees), while the UW Fund Custom Benchmark increased +9.77%. The Income Cash Fund gained +0.03% for the period; and
Heard an update from Sean Nelson, UW System Vice President for Finance, on federal COVID-19-related assistance.
Education Committee
The Education Committee approved rescinding RPD 4-15, "Excess Credit Policy except for UW-Madison." Among other provisions, RPD 4-15 requires institutions to charge resident undergraduate students who accumulate more than 165 credit hours or 30 credits more than required by a degree program, whichever is greater, an additional fee of 100% of resident tuition. Although the amount of revenue institutions collect from the Excess Credit Hour (ECH) surcharge is minimal, the surcharge could be significant for students who are assessed the fee.
While this proposal recommends rescinding the ECH surcharge fee for all UW universities except for UW-Madison, the proposal also recognizes the importance of implementing effective approaches for ensuring students graduate in a timely manner. This proposal directs the UW System President and UW Chancellors to continue efforts to: (1) review the number of credits required of degree programs and implement approaches to reduce time- and credits-to-degree, and (2) identify and counsel students who are at risk of accumulating excess credits.
UW-Madison requested authority to continue to use the excess credit surcharge and implement an institutional policy if the Regent policy is rescinded. UW-Madison officials note that the surcharge provides an incentive for students to complete degrees in a timely manner and provides a push to those students who might be avoiding completion of their studies.
In other business, the Education Committee:
Approved UW-Madison's request to establish a Bachelor of Science in Environmental Engineering. The degree program will elevate and replace an Environmental Engineering option within the B.S. in Civil Engineering. It is complemented by available programs in environmental studies, environmental science, and other areas of engineering. Students will enter an environmental engineering profession having job growth of 5% to 10% per year;
Approved UW-Stout's request to establish a Bachelor of Science in Arts Administration and Entrepreneurship (AA&E) that integrates the array of well-established Bachelor of Fine Arts and Business and Management programs at UW-Stout. Graduates will be equipped to hold careers as administrators in arts organizations, art education organizations, community nonprofit organizations, or as business entrepreneurs. UW-Stout's newly launched pre-BFA program has drawn the largest number of incoming first-year art and design students on record;
Heard a presentation by UW-Stout's Interim Provost and Vice Chancellor Glendalí Rodríguez and Dean of Students Sandi Scott on the university's commitment to its polytechnic mission throughout the COVID-19 pandemic and how it creatively adapted instructional delivery methods to engage students virtually. The presentation will showcase program examples from each academic college; and
Heard an update from Executive Director Marissa Jablonski on the status of planning for the Freshwater Collaborative of Wisconsin.
Audit Committee
Director of Compliance and Integrity Katie Ignatowski provided the Committee with a demonstration of its compliance matrix tool, which was one of the key initiatives identified for the Office of Compliance and Integrity when it first came into existence in 2019.
The compliance matrix is a SharePoint database that includes over 500 compliance obligations from federal law, state law, Board of Regents and System policy. Each obligation contains a summary and link to the relevant regulation, a description of any reporting requirements and deadlines, and other relevant information or guidance. All UW System institutions have identified responsible employees for these obligations at three levels: primary manager, responsible office, and institutional lead.
In other business, the Audit Committee:
Heard a report by Chief Audit Executive Lori Stortz on Fiscal Year 2021 audit plan progress to date. She provided summarized results of audits recently issued as well as a report on the progress her office is making on closing audit comments;
Heard an update from Lori Stortz on the UW System's anonymous Waste, Fraud and Abuse hotline system. For the period of March 15, 2019 through December 31, 2020, 64 incidents were reported. As of December 31, 2020, 62 of the incidents have been closed. Forty-eight of the incidents did not require an investigation or the Office of Internal Audit concurred with management that no corrective action was necessary. Fourteen of the incidents resulted in corrective action being taken; and
Heard an update from Title IX and Clery Administrator Sarah E. Harebo, including a review of next steps related to RPD 14-2 ("Sexual Violence and Sexual Harassment") and Title IX-related resource development. An overview of the Office of Compliance and Integrity's involvement with Title IX investigations on campuses was provided.
Capital Planning & Budget Committee
Senior Associate Vice President Alex Roe updated the Committee on recent State Building Commission actions related to the UW System's 2021-23 capital budget request. She noted that the full commission voted 4-4 on every project. The Department of Administration has forwarded meeting notes to the Joint Finance Committee and the Governor's recommendation but there was no building commission recommendation included.
In other business, the Capital Planning & Budget Committee: 
Approved UW-Madison's request to Extend a Lease of Space for a Research Laboratory in the University Research Park. The continuation of this lease will support sensitive grant-funded research taking advantage of the existing BSL-2 and BSL-3 capable laboratories that already exist in this facility and are not available anywhere on campus;
Approved UW-Madison's three-part request to transfer ownership of the Department of Public Instruction (DPI) building to the Board of Regents and to construct two gift-funded projects to consolidate, co-locate, and strategically re-think space utilization across campus in accordance with the university's master plan. The Committee also approved UW-Madison's request to construct the DoIT Digital Publishing & Printing Services Relocation project to move that unit from the Environmental Health and Safety Building to the former DPI building; and the Facilities Planning & Management, Physical Plant Relocation Project that relocates the Physical Plant shops, administrative staff, and other smaller business units from the Service Building and Service Annex Building to the 30 North Mills Street, 45 North Charter Street, and 30 East Campus Mall buildings.  These projects are sequential, interdependent, and are the initial enabling phases of planned space reconfigurations; 
Approved UW System's request to construct two Minor Facilities Renewal projects. The first repairs the exterior masonry, limestone, sandstone, and metal facade elements; and replaces the exterior windows, screens, and storm window units in Mitchell Hall at UW-Milwaukee. The second project repairs the south entrances of McGraw Hall at UW-Whitewater and improves ADA accessibility connections with adjacent pedestrian routes. This project also repairs deteriorated elements of the concrete plaza area and refinishes related interior spaces;
Approved UW System's request to construct three All Agency Maintenance and Repair projects. The first project renovates the southwest area of the third floor of the UW-Milwaukee Golda Meir Library to provide a consolidated location for the archive collections, staff, and public services and gain efficiencies that address current and anticipated future needs. The second project makes structural repairs and applies waterproofing to the underground deteriorated utility tunnel from the central Heating Plant at UW Oshkosh. This tunnel supports the high-pressure steam distribution for the campus. The third project at UW-Stevens Point implements four energy conservation measures based on a recently completed investment grade energy audit of 13 residence halls, the 601 Division Street building, and three gymnasiums in Marshfield Clinic Champions Hall. Anticipated annual energy cost savings are approximately $140,280 with a simple payback of 15.8 years;
Approved amendment of Regent Policy Document 19-14, "Naming of University Facilities and Lands," to update the policy, meet the standards for a Regent Policy Document, and clarify the provisions of the policy; and
Heard a UW-Stout presentation, "Planning and Building for the Future (Covid-19 & Beyond)." The presentation highlighted the urgent need for the renovation of Heritage Hall and explained how UW-Stout uses renovation opportunities to promote the cross-institutional collaboration that is critical to its distinct educational experience.
Research, Economic Development & Innovation Committee
President Thompson and the REDI Committee honored UW System's newly selected Regent Scholar award recipients. This program provides prestigious, one-time grants to individual faculty or campus programs that undertake undergraduate research projects having the potential to foster innovation, entrepreneurship, and talent development.
The program, which was introduced in 2014, is designed to stimulate faculty-student collaborative research.
The 2021 UW System Regent Scholar grant recipients are:
Ava Udvadia, Associate Professor and Associate Chair, Department of Biological Sciences, UW-Milwaukee
Haijian Sun, Assistant Professor, Department of Computer Science, UW-Whitewater
Francis Mann, Associate Professor and Co-Chair, Department of Chemistry, UW-Parkside
The submissions were evaluated by a statewide committee of reviewers with technical, scientific, and business backgrounds.
In other business, the REDI Committee:
Heard a presentation from UW-Stout: "How a Polytechnic Applies 21st Century Technology in the Development of Innovative Solutions to Support Wisconsin's Workforce and Economic Growth." UW-Stout faculty, staff, and students will discuss how cross-disciplinary collaboration has resulted in students using applied learning to solve immediate problems in an industry setting. They will highlight the "Buzz Digital Project," an online simulation that incorporates lean manufacturing principles to shift learning that is typically completed in-person to a virtual format.
---
The University of Wisconsin System Board of Regents meeting will resume Friday, April 9, 2021, via Webex Videoconference.