Report by President Ray Cross to the Board of Regents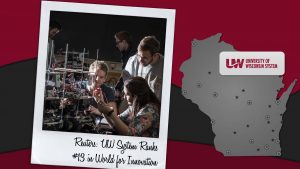 Last week, the international news agency Reuters released its top 100 rankings of the most innovative universities in the world for 2016. I am proud to report that the UW System ranks #13 worldwide. The Reuters list relies exclusively on empirical data – such as patent filings and research paper citations – and it ranks the educational institutions doing the most to advance science, invent new technologies, and help drive the global economy. We have a $15 billion impact on Wisconsin's economy each year, and this report signals why it is critical we invest in the success of the UW System.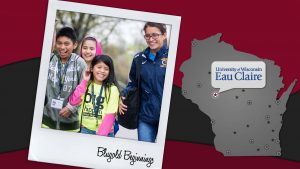 Let's continue with our host campus. Thanks to community partnerships with companies like Xcel Energy, UW-Eau Claire is able to offer programs, financial support, and high-impact practices for students and community members that wouldn't otherwise be possible. The Xcel Energy Foundation has been a steadfast partner since 1961. Its annual gift of $15,000 to the UW-Eau Claire Foundation goes to continued support of student scholarships, key outreach programs – such as Blugold Beginnings – and high-impact practices that truly transform student learning. Well done, Chancellor Schmidt.
At UW-Parkside, a Multicultural Community Conversation was held in September that brought together representatives of businesses, community organizations, K-12 education, and workforce development. It was the second time this group has met with the important goal of identifying opportunities to help students of color participate in higher education, and succeed. Congratulations, Chancellor Ford, and keep us posted on the results of future conversations.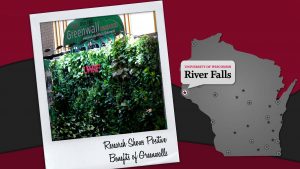 UW-River Falls exhibited its greenwall research at this summer's Minnesota State Fair. The exhibit included activities and a full-size version of the foliage wall, or vertical vegetation system, which was installed on campus in 2015 to study the effects of greenery and plants on student behavior, mood, and classroom performance. Fascinating stuff, Chancellor Van Galen.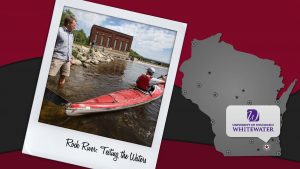 UW-Whitewater associate professor Eric Compas and his students worked with the Rock River Coalition on a 10-day project called "Testing the Waters," a sampling of the Rock River between Horicon and Beloit. Kayaks fixed with scientific equipment provided data on dissolved oxygen level, pH level, electrical conductivity and temperature. You can watch a video at our website. A fantastic endeavor and service to the region, Professor Compas and Chancellor Kopper.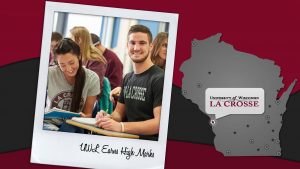 U.S. News & World Report's 2017 America's Best Colleges ranks UW-La Crosse as the state's best and the No. 4 public university in its list of Best Regional Universities in the Midwest. It's the 16th year in a row that UWL has remained the state's top-ranked among UW System comprehensives and the top 4 in the Midwest. Outstanding work, Chancellor Gow and congratulations to all of our institutions earning high marks and regional and national accolades in this and other rankings.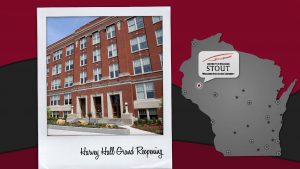 UW-Stout's Harvey Hall, which opened in 1916, celebrated a grand reopening in September, after a $28.3 million renovation. The renovation process preserved the historic architecture and character of the academic building, while adding much-needed modern amenities. I was pleased to attend the grand reopening ceremony. Congratulations Chancellor Meyer on this successful project.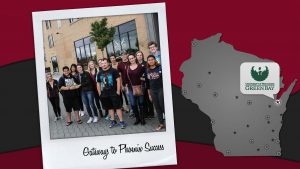 UW-Green Bay kicked off the 4th year of its innovative Gateways to Phoenix Success (GPS) program this month. The program is designed to help 160 new freshmen—most from underserved populations—navigate through their first year of college. More than 70 percent of this year's cohort comes from a historically underrepresented background — first-generation, low-income, and/or students of color. GPS is a free, high-impact, year-long experience for first-year students that provides a fast path to college success. The goal is to eliminate gaps in academic achievement, engagement and graduation for these groups. This is 2020FWD in action, and we wish you all the best, Chancellor Miller.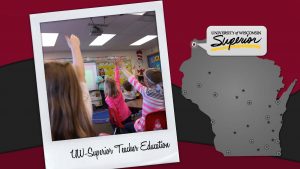 UW-Superior and Wisconsin Indianhead Technical College announced a new articulation agreement in Early Childhood Education. Any student enrolled in the Wisconsin Technical College System with an Early Childhood Education Associate of Applied Science degree can make a seamless transition to UW-Superior by transferring the credits they earned in that program to UW-Superior for a Bachelor of Science degree in Elementary Education with an Early Childhood minor. UW-Superior's Elementary Education program is available both on campus and online. Well done, Chancellor Wachter.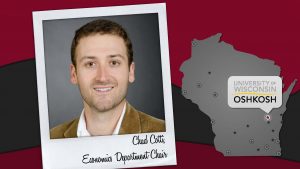 UW-Oshkosh and Marquette University have partnered to offer an accelerated path to an economics master's degree. Through the partnership, Marquette accepts certain upper-level UW-Oshkosh "econ" electives for graduate credit for students accepted into the program, which ultimately reduces the time requirement in the graduate program at Marquette to one year. UW-Oshkosh is the only public university in the country that currently has this partnership with Marquette, according to Chad Cotti, economics department chair at UW-Oshkosh.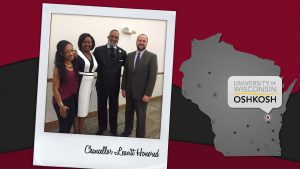 And I want to add one more note for UW-Oshkosh: Chancellor Leavitt recently received the Fit Oshkosh Inc. inaugural "Racial Literacy Hero Award" for his —"visible leadership and commitment to increasing the racial literacy of the residents of Winnebago County; within the University of Wisconsin Oshkosh; and in all places of influence." Bravo, Chancellor Leavitt.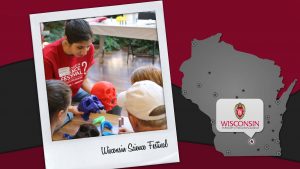 UW-Madison and many partners will celebrate the 2016 Wisconsin Science Festival later this month.   Now in its 6th year, the festival will feature 200-plus events Oct. 20-23. The festival continues to grow, and now spans 34 cities and towns in Wisconsin. Activities including arcade games, storytelling, and stargazing are designed to interest people who may not think they are interested in science. Congratulations to Laura Heisler, director of the festival and director of programming for the Wisconsin Alumni Research Foundation and the Morgridge Institute for Research. Thanks for your commitment to this, Chancellor Blank.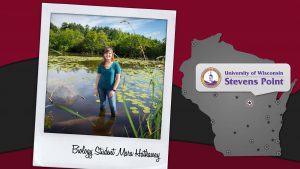 UW-Stevens Point sophomore Mara Hathaway is majoring in biology, minoring in chemistry, and dreams of working in veterinary science. She also serves as a turtle wrangler. Mara, one of five student turtle wranglers, has worked with biology lecturer Nancy Shefferly since April to keep turtles safe along a stretch of Highway 66 near Jordan Park in Stevens Point. The Wisconsin Department of Natural Resources has identified the turtle wranglers' worksite as one of the state's most dangerous wildlife crossings, so the extra support and expertise is deeply valued. A great partnership, Chancellor Patterson.
UW-Platteville hosted the second annual 21st Century Policing Conference in September to address national policing issues. About 400 people attended. Issues discussed during presentations, panels, and breakout sessions included appropriate police force, building community trust, de-escalation training, the intersection of policing and mental illness, restorative justice, and more. This is an important topic, and we appreciate your leadership role, Chancellor Shields.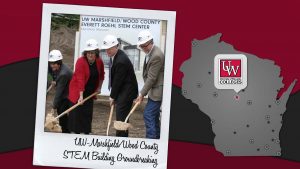 UW-Marshfield/Wood County broke ground on the long-awaited Everett Roehl Science, Technology, Engineering and Math Center on September 13. The 17,000-square foot addition to the campus and will house new chemistry, microbiology, and simulation laboratories. It is funded in partnership between the City of Marshfield, Wood County, and support from trucking magnate Everett and numerous other private donors. The center is expected to open in fall of 2017. Fantastic collaboration, Chancellor Sandeen.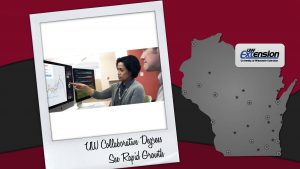 Collaborative online degree programs led by UW-Extension and including 12 UW System campuses have seen rapid enrollment growth. At the start of the fall 2016 semester, course enrollments increased 12.4 percent over fall 2015. This growth exceeds national online enrollment growth of 3.9 percent. The collaborative program experiencing the fastest enrollment growth is the online Master of Science in Data Science. In its first year, course enrollments doubled targets. Twelve UW System campuses are involved in the collaborative online degree programs. Congratulations to all involved, including UW-Extension's Division of Continuing Education, Outreach and E-Learning!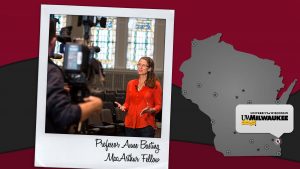 And, last but certainly not least today, we jump to UW-Milwaukee. I want to brighten the already stunning spotlight on Theater professor Anne Basting. You may have heard last month that she was named a 2016 MacArthur Fellow. This is the fellowship and award commonly known as the "Genius grant." Professor Basting is one of 23 new fellows nationally this year – 23! — and the first UWM faculty member to earn the esteemed MacArthur Foundation's highest honor. She earns it for her work and creative focus through UWM's Peck School of the Arts. She is an expert in integrating arts into aging services and long-term care. As UWM has highlighted, she's founder of the Creative Trust, an alliance that fosters lifelong learning through the arts and supports a Student Artists in Residence program connecting students with aging services organizations. This includes her TimeSlips Creative Storytelling initiative, which works with people living with dementia and memory loss. I am excited to report that we will have an opportunity to hear from Professor Basting directly next month, when she joins us in the "faculty spotlight" at our meeting in Madison. Professor Basting is truly helping improve the human condition, and I say hats off to her and congratulations Chancellor Mone and UW-Milwaukee community!
If you want more examples of our impact throughout Wisconsin, we've got them. Just head over to our website. Every single one is a source of pride and a demonstration of our work to improve the quality of life and the prosperity of more people, organizations, businesses and communities in Wisconsin. I hope you are as proud as I am, and I hope you'll share the stories.