Report by President Ray Cross to the Board of Regents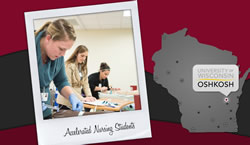 UW-Oshkosh's newly modernized academic building—Clow Social Science Center—has reopened its doors. The building underwent a complete renovation and offers UW-Oshkosh nursing students state-of-the-art, innovative learning spaces, including a simulation suite designed to replicate a hospital setting, new faculty-student collaborative labs, and much more. The building opened to all students, the public, faculty, and staff this week. Pictured are Accelerated Nursing students working in the new space. Congratulations, Chancellor Leavitt. This advancement helps students and faculty, and supplies a high-demand field.
Read more and watch a tour | Photo gallery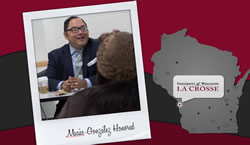 UW-La Crosse Professor of Latin American History and Women's, Gender, and Sexuality Studies Victor M. Macías–González has received the American Historical Association's Equity Award. The honor cites Macías-González, who was the 2014 Wisconsin Professor of the Year, for successfully recruiting and keeping underrepresented racial and ethnic groups in the history profession. Congratulations, Chancellor Gow.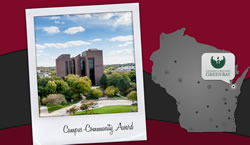 UW-Green Bay has created a 'Community Partnership Award in Business' to recognize and encourage campus-community collaboration. The award is open to students, faculty and staff at UW-Green Bay. Beginning this year, the privately funded award will annually provide a $5,000 scholarship to a selected undergraduate or graduate student and a $5,000 cash award to a faculty or staff member whose efforts are viewed as best exemplifying the university's commitment to regional growth and development. Well done, Chancellor Miller.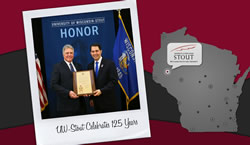 UW-Stout celebrated its 125th birthday last month on Jan. 5. I was pleased to join the standing-room-only crowd of about 500 people at the Memorial Student Center. Gov. Walker proclaimed the day "UW-Stout Day in Wisconsin." We paid tribute to founder James Huff Stout's vision, along with his legacy of nearly 80,000 graduates. Congratulations on this milestone, Chancellor Meyer.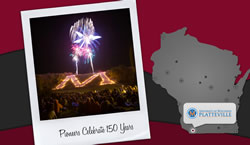 2016 marks another milestone for UW-Platteville, which celebrates its 150th anniversary. The university is marking the founding throughout the year, culminating in an October Homecoming celebration. A website has been established at uwplatt.edu/150 where visitors can chronicle their memories of campus, read about the university's history and special upcoming events, view a vintage photo gallery and order new Pioneer Pete bobbleheads. Congratulations, Chancellor Shields and all Pioneers!
A UW-Milwaukee class made news last spring when students helped find missing pictures of Wisconsin soldiers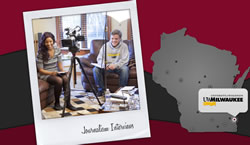 killed in Vietnam for a memorial in Washington. This fall, senior lecturer Jessica McBride asked her students to work with Holocaust survivors in Milwaukee, as part of the Advanced Integrated Reporting Class in Journalism, Advertising, and Media Studies. Students in the class hone their reporting skills by conducting in-depth interviews and completing print and multi-media projects telling their subjects' stories. The students' articles have been published on Media Milwaukee, and the completed projects also will be given to the Nathan and Esther Pelz Holocaust Education Resource Center.
You may have also caught some other UW-Milwaukee news: It will be the site of the February 11 Democratic presidential debate. PBS NewsHour will produce the debate scheduled for 8 p.m. in UWM's Helen Bader Concert Hall. It will be the first debate after the Iowa caucuses and New Hampshire primary election.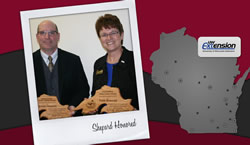 UW-Extension's Robin Shepard, Executive Director of the North Central Cooperative Extension Association, received the Outstanding Achievement Award from the Lake Superior National Estuarine Research Reserve for his work guiding the research reserve's growth since its inception. Shepard helped the reserve gain designation as one of only 28 areas across the country assigned for long-term research and protection as part of the National Estuarine Reserve System. This designation helps bring in approximately $500,000 annually in federal funds for research, education and outreach programs.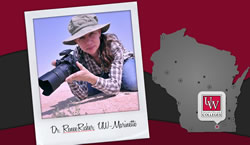 The research of UW-Marinette's Dr. Renee Richer  was recently featured in a breakthrough finding that links exposure to the neurotoxin BMAA to the brain symptoms associated with Alzheimer's. The disease appeared in many military personnel dispatched to the gulf during the First Gulf War, and Dr. Richer found that cyanobacteria, a bacteria that produces BMAA, was also prevalent in many Qatar deserts. She posited that the toxin was an environmental trigger for ALS and Alzheimers. Dr. Richer's discovery is the first research in an animal model that shows BMAA does cause disease. The research is also applicable in Wisconsin, where cyanobacteria blooms have occurred in Lake Michigan. One more example of research that improves the human condition here and throughout the world.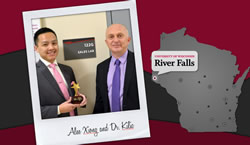 A team of UW-River Falls College of Business and Economics Professional Sales program students earned their shot to compete at the prestigious International Collegiate Sales Competition. The team, consisting of Alee Xiong, Nicholas Schaffer and team coach Professor Ozcan Kilic, advanced to the second round of the competition and were honored with a Rising Star Award, recognizing successful participating rookie teams. The UWRF Professional Sales program was also named a 2015 Top University Sales Program by the Sales Education Foundation. (Pictured: Alee Xiong and Dr. Kilic)
And unrelated but no small footnote: UW-River Falls has also reached the $20-million goal of its first comprehensive fundraising campaign six months ahead of schedule. Congratulations, Chancellor Van Galen!
UW-Madison's Yoshihiro Kawaoka, professor of pathobiological sciences at the UW-Madison School of Veterinary Medicine, has been selected for the 2015 Carlos J. Finlay UNESCO Prize for Microbiology. UNESCO – the United Nations Educational, Scientific and Cultural Organization — selected the prominent influenza and Ebola researcher for his overall contributions to  to the field of microbiology. Dr. Kawaoka developed technology in 2005 that vastly improved flu vaccine production. His work has led to a better understanding of flu viruses and Ebola.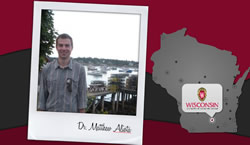 Matthew Aliota, also a research scientist at the School of Veterinary Medicine, has taken a lead role in confirming the spread of the Zika virus to Colombia, and is looking for ways to control the virus. Zika virus, which spreads among humans via mosquitoes, is especially dangerous for pregnant women. In a bit of reassuring news, Zika virus will have a harder time getting a foothold in Wisconsin. Our cold winters are good for something! Congratulations to both of these researchers and Chancellor Blank.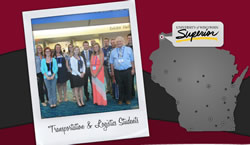 UW-Superior's Transportation & Logistics Program has been awarded an annual educational scholarship of $50,000 for the next three years by the Intermodal Association of North America's Education Committee. Congratulations, Chancellor Wachter. We should also mention that UW-Superior recently launched an engaging new website that shares its story like never before. Looks great, Chancellor.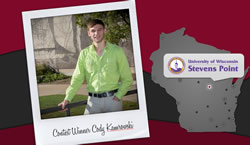 A natural resources student at UW-Stevens Point is in good company, He joined winners from Yale and Boston University in a GreenBiz essay contest about youth leadership in the sustainability movement. Cody Kamrowski is studying natural resources planning and policy and making the most of his opportunities at Point.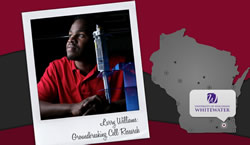 At UW-Whitewater, groundbreaking cell research has landed Warhawks in the journal Science. Science published an article co-authored by a group of Warhawk researchers. Larry Williams, a biology major from Milwaukee, and Christopher Veldkamp, associate professor of chemistry, along with recent grads Gary Chaffee and Andrew Phillips, were part of an international collaboration involving research on immune cells and how they move within the body. Their work could lead to new cancer treatments. Veldkampf said, "Most scientists dream of getting published in Science, and your average scientist would be extremely thrilled to be published in Science just once. This is a really big deal for the researchers that contributed to this work as UW-Whitewater undergraduates."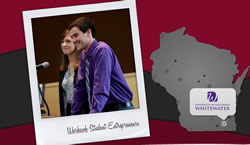 UW-Whitewater has also been honored by the United States Association for Small Business and Entrepreneurship, which named the campus a finalist in its annual Excellence in Entrepreneurship Education Awards. UW-Whitewater finished second in the undergraduate category, which featured many of the top entrepreneurship programs in the country. Only the University of Tampa placed higher. Congratulations, Chancellor Kopper and UW-Whitewater.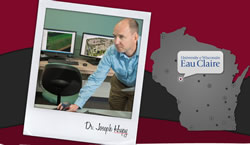 This spring, UW-Eau Claire faculty and students will partner with private businesses to launch an innovative project to help Wisconsin's mining industry use unmanned aerial system technologies to improve efficiencies and reduce costs. The initiative, led by Dr. Joseph Hupy, associate professor of geography, will help Wisconsin continue to establish itself as a leader in finding market niches for unmanned aerial systems, while at the same time giving students real-world experiences that will prepare them to meet the growing demand for workers with geospatial skills. The initiative has earned Hupy a 2016 Regent Scholar award from the UW System Board of Regents' Research, Economic Development and Innovation Committee.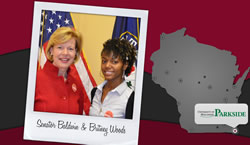 UW-Parkside communication major Britney Woods attended President Barack Obama's final State of the Union address in January as a guest of U.S. Senator Tammy Baldwin. Since returning, Britney has made the media rounds, and you can find the interviews on UW-Parkside's homepage.
Well done, Britney, and I should note that she was one of at least a couple of excellent student ambassadors for the UW System who were at the State of the Union.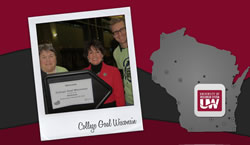 I want to thank the many UW System staff, predominantly from financial aid and admissions offices, who willingly contribute their time to College Goal Wisconsin, which links volunteers with prospective college students to assist in the completion and submission of the Free Application for Federal Student Aid – or FAFSA. College Goal Wisconsin makes the process of completing a FAFSA less of an arduous task for students and their families.
While events are open to all students, the program targets students who are underrepresented minorities, come from low-income families, or are first generation college students. Last year almost 2,000 people participated with over half from targeted populations. Over 450 volunteers, many from UW System campuses, assisted students and their families. The event locations are all over the state during the month of February.
College Goal Wisconsin has been a successful event that wouldn't take place without a lot of commitment from the statewide committee, volunteers, and sponsors. The UW System supports the program with an annual contribution of $1,000. Other sponsors include WAICU, WTCS, DPI, Forest County Potawatomi. Great Lakes, USA Funds, and the Wisconsin Association of Student Financial Aid Administrators. Without the generous support of sponsors, College Goal Wisconsin could not afford to make the events happen. It's a great initiative, and we're proud to have so many volunteers supporting students and their families.