Report by President Ray Cross to the Board of Regents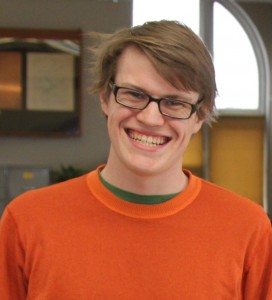 UW-Madison student Colin Higgins is one of only 32 students nationwide to win a Rhodes Scholarship, funding two to three years of study at England's Oxford University. The prestigious honor is the oldest international study program in the world. Higgins, of Middleton, Wis., completed his undergraduate studies in May, triple majoring with comprehensive honors in environmental studies, geography, and history. He is currently a graduate student in the La Follette School of Public Affairs and will complete an accelerated Master of Public Affairs degree in the spring.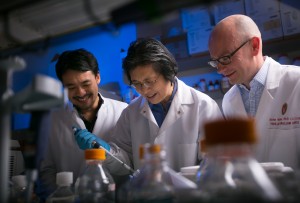 UW-Madison scientists have succeeded in growing functional vocal-cord tissue in the laboratory, a major step toward restoring a voice to people who have lost their vocal cords to cancer surgery or other injuries. Dr. Nathan Welham (pictured far right), a speech-language pathologist, and colleagues from several disciplines, were able to bioengineer vocal-cord tissue able to transmit sound, they reported in a study published recently.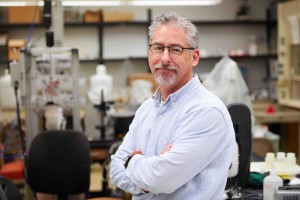 For the fourth time in the last five years, the Wisconsin Professor of the Year comes from UW-La Crosse. Biology Professor Roger Haro received the recognition in Washington, D.C., in November from The Carnegie Foundation for the Advancement of Teaching and the Council for Advancement and Support of Education. Congratulations to UW-La Crosse and Professor Haro!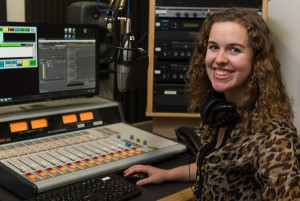 In honor of award-winning journalist Mike Simonson, who passed away unexpectedly last year, Wisconsin Public Radio and the Wisconsin Center for Investigative Journalism are pleased to announce the first Mike Simonson Investigative News Fellow, Bridgit Bowden. Simonson was known for his investigative reporting and documentaries, and also for his dedication to his journalism students at UW-Superior.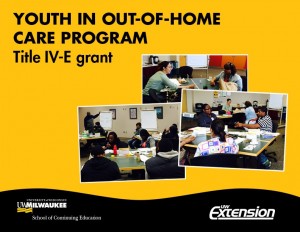 The UW-Milwaukee School of Continuing Education, which is affiliated with UW-Extension, is improving the quality of care for youth who have experienced family crisis. More than 300 practitioners have participated in the professional development training. The program was designed with collaboration by Assistant Professor Cheryl Baldwin, Mary Pick, and Angela Kelber, with support of a grant from the Wisconsin Department of Child and Families Division of Youth Services.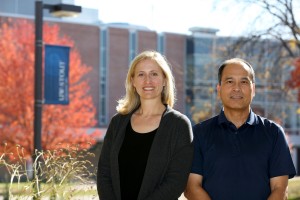 UW-Stout is collaborating with state and national partners on two new initiatives to help people with disabilities obtain employment and become more involved in their communities. The first initiative is intended to help state vocational rehabilitation agencies transform their service delivery models and help determine the most effective services that help people with disabilities find good-paying jobs consistent with their abilities and career interests. In the second initiative, Cayte Anderson and John Lui of the Stout Vocational Rehabilitation Institute are co-principal investigators for a new five-year federal grant that will work specifically with people from economically disadvantaged communities.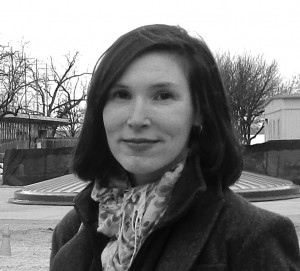 At UW-Manitowoc, an assistant professor of political science has been gaining national and international attention for her scholarly work on refugee crises around the world. Alise Coen has been invited to speak at a January workshop at the University of Leeds in the UK on the "Refugee Crisis and the Responsibility to Protect." She is looking forward to representing UW Colleges and her department at this international conference.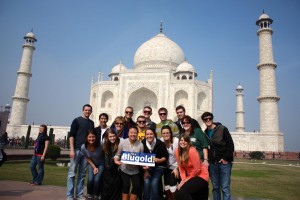 When it comes to sending students to study abroad, UW-Eau Claire continues to be a national leader among master's-level colleges and universities, according to the 2015 Open Doors Report of the Institute for International Education. In a related column that appeared in the Nov. 22 edition of the Eau Claire Leader-Telegram, Provost Patricia A. Kleine made the case that "now, more than ever, our students benefit from experiences that introduce them to new people and ideas, and immerse them in cultures far different from their own."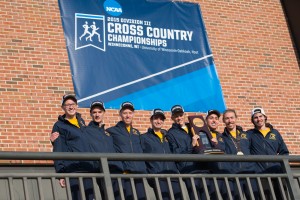 Also, a shout-out to the UW-Eau Claire men's cross country team, which earned its first national title. Congratulations, Blugolds!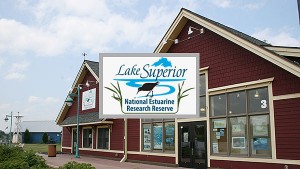 UW-Superior is pleased to announce that the Lake Superior National Estuarine Research Reserve received a federal grant to renovate a new public learning center on Barker's Island in Superior. The award totals more than $300,000, with a match provided by UW-Extension. Anticipated to be open by summer 2017, the facility is expected to be a highly visible resource for the public and an economic stimulus for the city of Superior through increased tourism.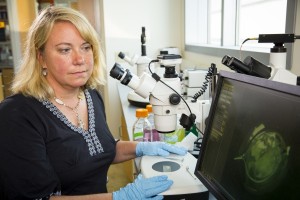 UW-Milwaukee Freshwater Sciences Professor Rebecca Klaper and colleagues at the Center for Sustainable Nanotechnology have received a $20-million National Science Foundation grant to help develop safer, more sustainable nanoparticles. These particles are already used in hundreds of products ranging from sunscreen to sporting goods.
UW-Milwaukee has also helped manufacturing companies save $6.5 million to date, thanks to Department of Energy funding that enables the university to send engineering professors and students to recommend operational efficiencies.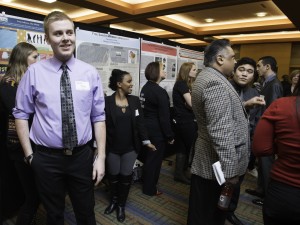 Last week, UW-River Falls held its annual showcase celebrating the research, scholarly and creative activities of more than 200 undergraduates. Participation in this event, which has been held for the past three years, has grown more than 10-fold thanks to the campus's intentional focus on fostering high-impact activities such as these.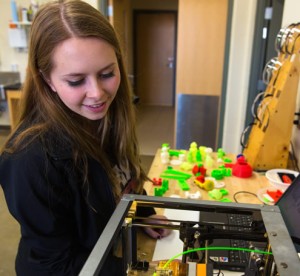 UW-Platteville has seen significant growth in women in the fields of engineering, mathematics, and science. In just the past five years, the number of women enrolled in the College of Engineering, Mathematics and Science has increased by 72 percent, and overall college enrollment has increased by 34 percent. Keep up the good work!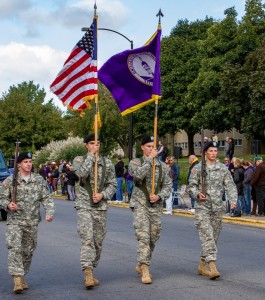 The UW-Stevens Point Reserve Officer Training Corps – or ROTC – program was honored for overall excellence by the 3rd Army ROTC Brigade. The Northwoods Battalion, which includes UW-Stevens Point and partner ROTC programs at UW-Stout, UW-River Falls and UW-Eau Claire, was named the 2015 Overall Top Program for its logistics, administration, recruiting and retention and operations.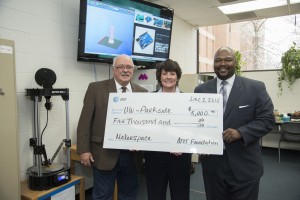 AT&T is investing further in UW-Parkside's "Makerspace," a creative space where students gather to invent and learn. With support from companies such as AT&T, UW-Parkside is able to purchase state-of-the-art technology that allows students to enhance their skills for the workplaces of the future.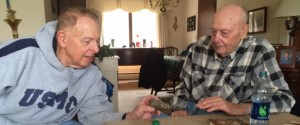 UW-Green Bay student veterans Ashley Wiles and Sean Gleason are capturing the voices of Northeast Wisconsin veterans in a class project. The oral histories will provide a personal narrative so that future generations can understand the sacrifices made and the realities of war. The students hope to expand the project to make it a widely accessible resource for the campus and community.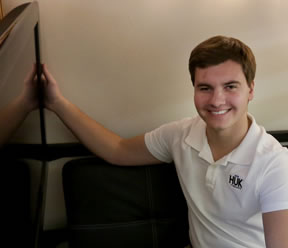 UW-Whitewater sophomore communications major Samuel Lukach won Best Startup at the Collegiate Entrepreneurs' Organization national conference, Nov. 5-7 in Kansas City, Missouri. His startup, Huk TV Mounts, creates metal hooks that fasten to the back of TVs for mounting on lofted beds or other locations. Warhawk entrepreneurs also won national honors in social media and marketing presence, fundraising, and advising. Congratulations!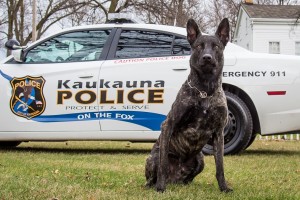 A UW-Oshkosh student's research project has led to improved policing in the city of Kaukauna. With the support of businesses and citizens, Tyler Romenesko helped obtain a K-9 unit for the Kaukana police department. The Dutch Shepherd, named Rocko, and his handler spent six weeks this fall training. Their first day on the job was Oct. 1. Congratulations to Tyler, a 2013 graduate of UW-Oshkosh, for making his research project a reality.
That concludes my report for today.