Report by President Ray Cross to the Board of Regents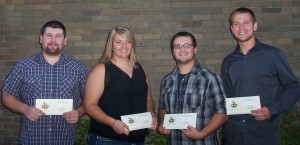 Four UW-Platteville students got to travel "down under," after they earned the right to compete on the U.S. team in the Australian Collegiate Crops Contest in September. This three-day contest was held on the east coast of Australia. The UW-Platteville students, all from Wisconsin, were selected after they each placed high in the 2013 and 2014 contests, sponsored by the American Society of Agronomy and Crop Science Society of America. Congratulations! Pictured: (from left) Rodger Williams, Erica McComish, Nick Theisen, and Austin Underdahl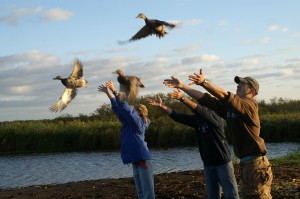 UW-Stevens Point is announcing today that generous gifts totaling $2 million will establish an endowed faculty position in the College of Natural Resources.The endowed chair will significantly enhance waterfowl and wetlands research. It is the second time in 20 months that Dean Christine Thomas and Development Officer Steve Menzel secured a $2-million gift. Pictured: UWSP students release banded ducks at Mead Wildlife Refuge.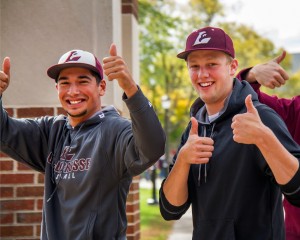 UW-La Crosse
has again received recognition from
S. News & World Report
in its 2016 list of America's Best Colleges. UWL has been ranked
among the Midwest's top four public universities
for the past 15 years. Congratulations to Chancellor Gow, and UWL faculty, staff and students for this honor.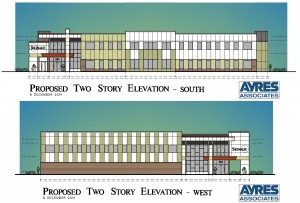 UW-River Falls is pleased to be a key partner – along with the city and the River Falls Economic Development Corporation – in a new regional business incubator. The St. Croix Valley Business Incubator is being funded through a $1.4-million award from the U.S. Economic Development Administration. Once completed, the facility will house 24 small or start-up businesses and offer business incubation, workforce training, and business acceleration services.

UW-Whitewater alumna Annette Schuh has endowed a major visual arts fund with a $1-million gift. Annette, now an accomplished painter, remembers how her art professor brought renowned American pop artist Roy Lichtenstein to campus. Annette described this as a "'wow' experience." She and her husband – both first-generation students – hope this gift leads to similar 'wow' experiences for others.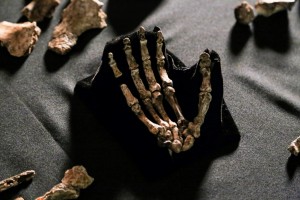 UW-Madison researchers played a significant role in the discovery of a new species – dubbed Homo naledi. John Hawks, a UW-Madison paleoanthropologist, was one of the leaders of the team that painstakingly retrieved the fossils from a barely accessible cave in South Africa. The team included a UW-Madison graduate student and a post-doctoral fellow. Parts of 15 skeletons have been found so far, totaling more than 1,500 bones and teeth. The discovery – which has added a branch to the human family tree – may be the earliest instance of deliberate interment yet found.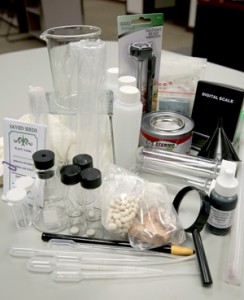 Students taking an online biology class at UW-Stout have been fortunate to have lab kits mailed to them since 2013. Sometimes, however, the glassware in the lab kits broke in the mail. Not to fear. Dean Charles Bomar suggested that better packaging could be created by UW-Stout's renowned packaging department. The students created simple and effective packaging and not a piece of glassware broke during last spring semester's mailing. Good work, all around!
Last month, I had the pleasure of participating in the inauguration of Andy Leavitt, who was installed as the 11th chancellor of UW-Oshkosh on Sept. 18. Hundreds of people from the campus and greater community attended the ceremony. I said at the inauguration that UW-Oshkosh is a University that "gets it," and that goes for Chancellor Leavitt as well. Keep up the good work!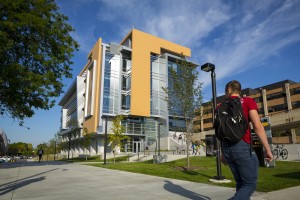 And just last week, Chancellor Mone was installed as UW-Milwaukee's 9th chancellor. He and the UWM community celebrated in style – the campus's $80-million Kenwood Interdisciplinary Research Complex officially opened on the same day. Known simply as KIRC, it is the first new building to open on UWM's East Side campus in 20 years. It provides world-class facilities and state-of-the-art equipment for research in physics, public health and other fields. What a wonderful catalyst for exciting research discoveries. Congratulations, Chancellor Mone!
UW-Green Bay kicked off a year of 50th-anniversary activities last month. At a special breakfast, State Sen. Dave Hansen, a member of UWGB's second graduating class (1971), presented the school a flag that had flown over the Wisconsin State Capitol, and Green Bay Mayor Jim Schmitt presented Chancellor Miller a key to the city. I was delighted to be there, along with Regent President Millner and Regent Higgins.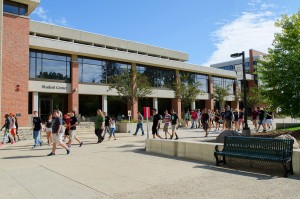 UW-Parkside has received a grant from Aurora Health Care to support the development of community-based sexual assault and domestic violence prevention and treatment programs. UW-Parkside is partnering with Carthage College, Gateway Technical College, and Women & Children's Horizons Inc. The award of more than $400,000 was the largest single award to a college or university.
A UW-Eau Claire research team is trying to save a language from extinction. A visiting assistant professor of French and three UW-Eau Claire seniors are conducting research to preserve the Walloon language, found in eastern Wisconsin and brought by Belgian immigrants in the mid-1800s. About 30 speakers of Walloon remain. The team aims to preserve the language by collecting audiovisual documentation of speakers and creating what the local version has lacked so far — a written format.
UW-Baraboo/Sauk County has some of its first success stories through the Bachelor of Applied Arts and Sciences program. The two-year-old program is growing its enrollment and has three students expected to graduate in December. The combination of professional experience and service-learning has helped the students improve their career path, catapulting one from an intern to a part-time job and finally into a full-time job where she's still able to attend school and attain her bachelor's degree.
UW Flexible Option has another graduate, Eric Stanfield, who received his Bachelor of Science in Information Science and Technology from UW-Milwaukee. Eric dropped out of college after earning a two-year associate degree. He spent nearly 20 years as a network architect, before deciding he wanted to earn a bachelor's degree. In just six months, Eric used his prior learning experience to help him achieve his goal, while not sacrificing time away from work or family.
UW-Superior is proud to announce an international partnership with Kafkas University in Turkey. A delegation joined Chancellor Wachter for a signing ceremony, toured campus, and met with faculty, staff and community leaders. The partnership is a result of the global recognition of UW-Superior's Math and Computer Science Department.

That concludes my report for today.