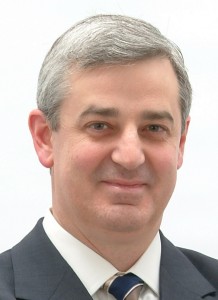 MADISON, Wis. – University of Wisconsin System President Kevin P. Reilly today announced that David L. Miller will be the System's next Senior Vice President for Administration and Fiscal Affairs.
Miller currently serves as UW System's Associate Vice President of Capital Planning and Budget. He will remain in that role while current Senior Vice President Michael L. Morgan completes the remainder of his three-year interim appointment.
On July 8, Miller will become System's chief operating officer, overseeing finance, budgeting, information technology, facilities planning, human resources, legal affairs, and other areas. He will collaborate with chief business officers at all UW System institutions, and will continue serving as a senior advisor to Reilly and the Board of Regents.
"David has earned the trust and respect of people inside and outside the UW System. Because of the far-reaching nature of our capital planning process, he has had to immerse himself in a wide range of legal, financial, and administrative issues, becoming very familiar with individual UW institutions in the process. As a member of my Cabinet, he has offered a rich, valuable perspective, shaped by this broad experience across Wisconsin," said Reilly.
"David is known for his work ethic, his understanding of the many forces that impact higher education, and his many contributions to the success of our public colleges, universities, and extension networks. In this new senior role, he will build upon that record of success and provide long-term stability in this key leadership position," said Reilly.
Since 2003, Miller has been responsible for facilities planning and development across a network of 26 UW campuses, managing biennial capital budgets that typically exceed $750 million. He coordinates the Board of Regents' Capital Planning and Budget Committee, and represents UW System before the Wisconsin State Building Commission. In addition, he recently served as UW System's lead staff representative to the Legislature's Special Task Force on UW Restructuring and Operational Flexibilities.
Miller joined UW System in 1997, previously serving as an Assistant Vice President for University Relations for UW System, managing the University's interactions with the state's executive and legislative offices, as well as state agencies. He served as a legislative aide and policy analyst in the Wisconsin Capitol for five years, after working in Washington, D.C., as a public school teacher.
"The UW System is one of the finest and most respected university systems in the nation because the strength of our individual institutions is magnified when we work together.  Through greater efficiencies, innovative partnerships, and courage to face whatever challenges come our way, our central offices will be able to serve the Board of Regents and the institutions, as well as students, staff, faculty, and all Wisconsin taxpayers.  I am pleased to have this opportunity to help lead the System toward an even brighter and stronger future," said Miller.
Miller was one of four finalists identified through a national search process. UW-Stevens Point Chancellor Bernie Patterson chaired the search and screen committee.
"Michael Morgan stepped in to provide expert leadership for our administrative and financial functions at a very critical point in time, bringing a wealth of experience to the role. I sincerely appreciate his valuable service to the University, and I am most grateful that he is willing to work with us during this transition period over the next few months. This will give us time to undertake a national search to find David's successor in Capital Planning. It will also let Michael focus on the challenges that have arisen related to our Human Resources System, while working with David on a smooth leadership transition in this and other vital responsibilities of the Senior Vice President position," said Reilly.
Miller earned his M.B.A. from UW-Madison, in addition to other graduate coursework at UW's La Follette School of Public Affairs and the Trinity Evangelical Divinity School. He earned a baccalaureate degree in Political Science from East Tennessee State University. Miller is an active member of the Society of College and University Planning (SCUP), having served on the organization's board of directors and earning a Certificate in University Planning.