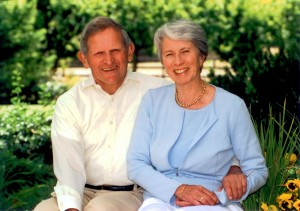 Madison, Wis. – The Board of Regents will honor John and Tashia Morgridge on Thursday with its inaugural Regents' Award for Distinguished Service to the University of Wisconsin System. The award will be presented at the Board's regular meeting in Madison.
The Morgridges, both UW-Madison alumni, will be recognized for their extraordinary commitment and dedication to the advancement of higher education in Wisconsin. Longtime benefactors of the University of Wisconsin, the Morgridges' many contributions include a $175-million endowment to create the Fund for Wisconsin Scholars, which provides several thousand grants each year to public high school graduates to attend a public college or university in Wisconsin.
"The Morgridges' generosity and dedication to the UW System is unparalleled, and it makes them ideal recipients of this new award," said Regent President Brent Smith. "Their contributions impact not only those who attend the UW-Madison, but also those who attend any two- or four-year institution within the UW System."
"Now and for years to come, the Fund for Wisconsin Scholars will broaden the opportunities available to young people here in Wisconsin, by helping to make a quality higher education more accessible and more affordable," said UW System President Kevin P. Reilly. "Their generosity will have a far-reaching effect on the future of Wisconsin and UW System students."
The Morgridges also provided major funding for facilities at UW-Madison, including construction of a new Business School (Grainger Hall), renovation of the School of Education building, and restoration and preservation of the Red Gym. In addition, the couple created the Morgridge Center for Public Service on the UW-Madison campus, which encourages student volunteerism, and they supported the "no-naming" campaign for the UW-Madison Business School.
In 2006, the Morgridges gave $50 million towards the Wisconsin Institutes for Discovery and the Morgridge Institute for Research, the public-private partnership of world-class biomedical research enterprises.
"The Morgridges have been steadfast friends of UW-Madison and care deeply about making college education accessible to all state students, because they understand the transformative power of higher education," said UW-Madison Interim Chancellor David Ward, who also serves on the board of directors for the Fund for Wisconsin Scholars.
Former UW-Madison Chancellor John D. Wiley said that in addition to the Fund for Wisconsin Scholars, the Morgridges' philanthropy has been inspiring across campus.
"Whether it was WID, the School of Education, the Morgridge Center for Public Service, or through their help on numerous other projects, their vision has helped advance UW-Madison's mission in the 21st century," Wiley said.
John and Tashia Morgridge each earned their undergraduate degrees at UW-Madison in 1955. After earning his master's degree in business administration from Stanford University, John went on to become president and CEO of Cisco Systems in San Jose, Calif. With John at the helm, Cisco Systems grew from a company with $5 million in sales to more than $1 billion in sales, and from 34 workers to more than 2,250 workers. In 1990, he took Cisco public, in 1995 was appointed chairman, and in 2006 became chairman emeritus.
Tashia, who earned a master's degree in education from Lesley College in Massachusetts, worked as a special-education teacher and has maintained a lifelong passion for the power of education. She works as a volunteer teacher for the learning disabled, and serves on several boards, including the School of Education's Board of Visitors, and is a past member of the University of Wisconsin Foundation Board of Directors.
Uniquely different from other Regent awards, which honor achievements at individual UW System institutions, the Regents' Award for Distinguished Service recognizes commitment, dedication, contributions or service that have significantly advanced the UW System.
###