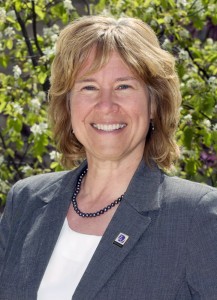 MADISON, Wis. – Beverly A. Kopper has been named the next chancellor of the University of Wisconsin–Whitewater.
The University of Wisconsin System Board of Regents today approved Kopper's appointment, following the recommendation made by a selection committee. Kopper will step into her new leadership post on July 1, 2015.
Kopper has served as provost and vice chancellor for academic affairs at UW-Whitewater since 2010. In that role, she oversees all academic operations and serves as the university's chief operating officer. As provost, she also participates in leadership planning for alumni and activities of the University Foundation Board and college advisory boards, as well as economic and workforce development. Kopper served as interim chancellor at UW-Whitewater from January 1, 2014, to February 14, 2014.
"The Regents and I were very impressed with Dr. Kopper as an experienced educational leader who understands what it takes to help students succeed," said UW System President Ray Cross. "She is clearly enthusiastic about UW-Whitewater, all of its strengths and all of its potential. She has a distinguished record of successful service and senior-level leadership, and I am confident she has the vision and the experience to lead UW-Whitewater to a bright future."
"Being entrusted with the chancellorship of this great university, with its rich tradition of excellence and fine leadership, is truly an honor. I look forward to continuing working with UW-Whitewater's outstanding faculty, staff, and students as together we meet the challenges we face and achieve new heights of distinction," said Kopper.
Kopper came to UW-Whitewater from the University of Northern Iowa, where she had served as the associate provost for academic affairs and previously in other administrative positions.  She is a professor of psychology with her Ph.D. and M.S. in counseling psychology from Iowa State University. She also has her M.S. in social work from UW-Madison and her B.A. in psychology from the State University of New York at Buffalo.
Kopper was elected to and serves on the Walworth County Economic Development Alliance. She has also served on the UW System President's Advisory Committee charged with advising the president on reshaping UW System Administration. She co-chaired the UW System's Accountability Report Working Group, and she has led the implementation of the LEAP (Liberal Education and America's Promise) initiative and Inclusive Excellence to include all divisions on the UW-Whitewater campus.
"At the culmination of a rigorous national search, Bev Kopper stood out amongst an impressive group of candidates," said Regent Margaret Farrow of Milwaukee, chair of the special Regents committee that interviewed all of the finalists. "We are most fortunate to have her leadership at UW-Whitewater and in the UW System."
Other committee members included Regent Vice President Regina Millner, Regent Janice Mueller, and Regent Drew Petersen.
"Dr. Kopper is a strategic thinker with a clear vision for a transformational higher education experience who will respect our culture while looking for ways to enhance it. She will be a visible, caring presence on campus, a wonderful institutional ambassador to our extended community, and a champion for a higher education system that links its curriculum to the needs of the people of Wisconsin as encompassed by the Wisconsin Idea," said Dr. Paul Ambrose, an associate professor of information technology and supply chain management, who chaired the 21-member search and screen committee.
Kopper will be UW-Whitewater's 16th chancellor, succeeding Richard Telfer, who announced last November that he will be retiring as of June 30, 2015.
In line with market-based compensation guidelines approved by the Board of Regents in October 2013, Kopper will earn $238,000 as chancellor.
The University of Wisconsin-Whitewater is a regional comprehensive university with an enrollment of more than 12,000 students. UW-Whitewater has reached record enrollment four of the last five years and offers 47 majors in four colleges. UW-Whitewater also offers 13 master's degree programs and recently added a Doctorate of Business Administration. UW-Whitewater students achieve excellence in the classroom and on the playing field. In 2014, UW-Whitewater was the first university in NCAA history at any level to win national championships in football, basketball and baseball. The campus offers more than 200 student organizations and is a vital economic engine for southeastern Wisconsin. UW-Whitewater is situated on 400 acres of land and has an annual budget of more than $219 million.
Resources