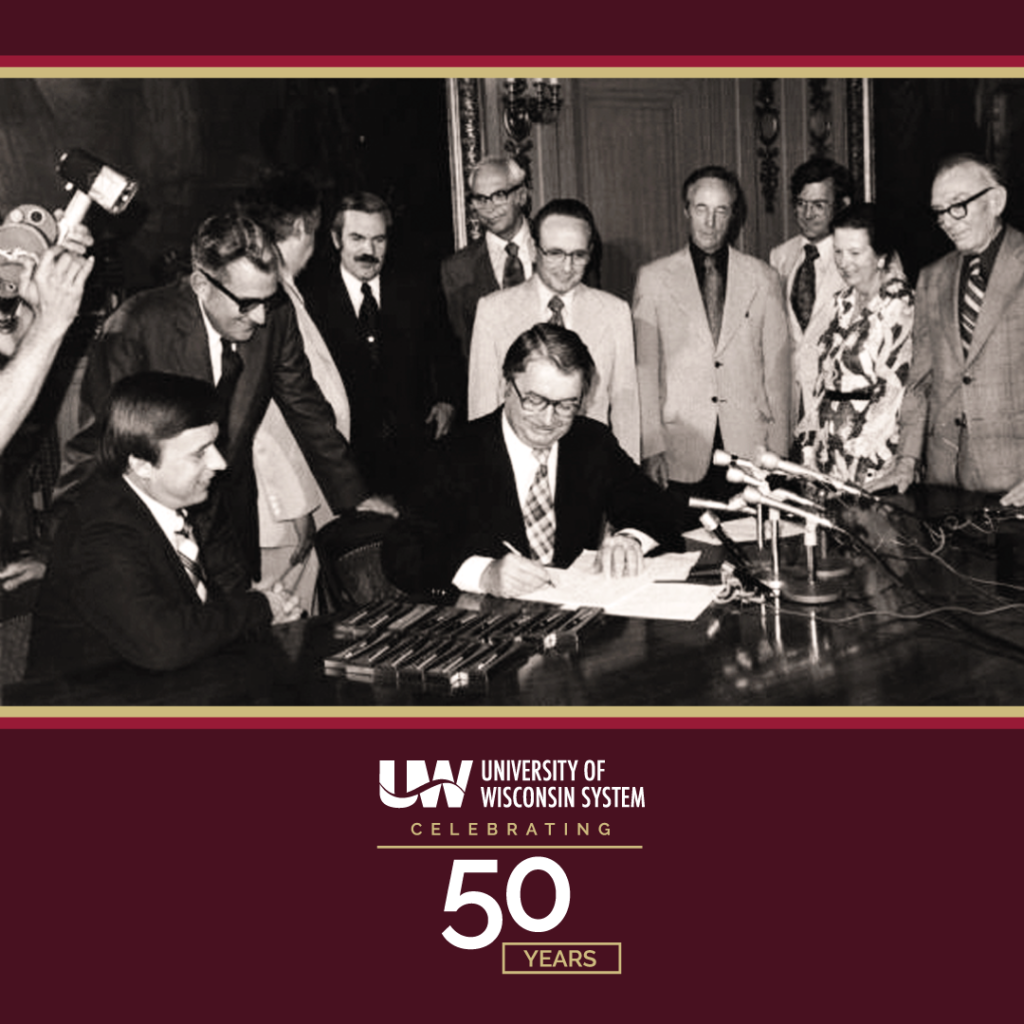 OSHKOSH, Wis. – The University of Wisconsin System is turning 50.
Fifty years ago, on Oct. 8, 1971, Gov. Patrick J. Lucey signed the bill formalizing the merger of Wisconsin's two systems of public higher education into the University of Wisconsin System under a single Board of Regents. That bill was published on Oct. 11 and became the law on Oct. 12, 1971.
Chapter 36 of the Wisconsin Statutes now sets forth the mission and purpose of the University of Wisconsin System.
"For 50 years, the UW System has been delivering on what we've promised to the people of Wisconsin, and I am absolutely certain we will continue to deliver in the years to come," said UW System President Tommy Thompson, as the Board of Regents convened at UW Oshkosh today for its regular meeting.
"With our renewed focus on the Wisconsin Idea, the University of Wisconsin System is more than ready, willing, and able to help this great state find solutions to its biggest issues and challenges, to propel us to a future that is the best it can possibly be," Thompson said.
"Each of our 13 unique universities has its own story to tell, of course, but this is an opportunity to recognize and salute our shared mission and shared commitments as part of a highly respected system of public higher education," said Regent President Edmund Manydeeds III.
The UW System will be sharing reflections on the past 50 years through the month of October on social media.
System President's Report
As part of his regular report, UW System President Thompson told Regents that seven UW universities have now passed the 70% threshold for students vaccinated against COVID-19. He said the Vax Up! "70-for-70" campaign, which gives vaccinated students at universities who've reached 70% an opportunity to win one of 70 $7,000 scholarships, has been very successful to date. With the extension of the campaign deadline to Oct. 31, he said he hopes more universities will reach the vaccination goal and give more students the chance for scholarships.
Thompson has visited seven UW campuses – along with the "high striker" – to promote the campaign and vaccinations. An aggressive social media campaign has $700,000 in earned media exposure to date, and a promotional assist from comedian Charlie Berens has further expanded the campaign's reach.
Thompson said in most cases, vaccination rates on UW universities exceed the rates in surrounding communities – which means the UW is setting a great example. He also noted that UW System continues to offer COVID testing, with a positivity rate last week of just 1.7%.
It's because the UW has been largely successful in keeping its campus communities healthy and safe that the return to in-person classes has been possible, Thompson said. "Systemwide, we are now delivering 80% of our undergraduate classes in person – which exceeds the original target of 75%," he said.
Thompson told Regents the UW System is also delivering on its promise to refine business processes. "With the successful implementation of Procure-to-Pay (P2P) and ShopUW+, we are seeing improved oversight of transactions and increased efficiencies, which is just what we wanted," he said. Turnaround time on purchase order approvals has dropped from an average of 10 days to just a single day, Thompson said.
The recent transition of all UW employees to a single pay cycle has also proceeded smoothly, Thompson said. "Approximately 33,000 employees transitioned from monthly to biweekly pay without any incident or disruption to earnings or benefits enrollments," he said.
Finally, Thompson said the UW System is delivering on its commitment to access, through the signing last month of an historic transfer agreement with the Wisconsin Technical College System. Under the agreement – which is taking effect a full year ahead of statutory requirements – it will be easier for students to transfer up to 72 credits between the two higher education systems.
"The bottom line is this student-centered agreement will improve the quality of higher education in Wisconsin and is a win for students and our two systems," Thompson said.
Board President's Report
In his regular report, Board President Edmund Manydeeds told Regents to expect a draft Tribal Consultation Policy for review at the Board's December meeting. A number of Wisconsin's tribal leaders had previously attended the July 2021 Regent meeting to share their experiences and perspectives regarding a proposed policy, and Manydeeds said he and Regent Amy Bogost are continuing to meet with tribal leaders for further discussions.
Regent Vice President Karen Walsh provided an update on the ongoing search for the next UW System President, noting that listening sessions for feedback on the process have been held at 12 of 13 campuses to date. The application deadline is Oct. 15, she said, and applicant review will begin shortly thereafter. Semifinalists are expected to be identified and invited to interviews in late November.
President Manydeeds said he expects to finalize and announce the membership of the Special Regent Committee for the UW System Presidential Search in the coming weeks. The tentative plan is the announce finalists and hold interviews in January, he said, with the goal of bringing forward the final recommendation at the February 2022 Board meeting.
Turning to recent meetings of the Special Regent Committee on Governance Issues, Regent Tracey Klein said the group has been reviewing and discussing the current chancellor search process and has approved some recommended changes, which will be shared with campus and shared governance leaders soon before being forwarded to the Board for consideration later this year. Klein said the committee is also evaluating progress in areas related to equity, diversity, and inclusion (EDI) as well as campus climate.
UW Oshkosh Delivering on Promise
As UW Oshkosh closes out its 150th year, Chancellor Andy Leavitt highlighted historical and transformational moments that have impacted the university and the region it serves. While it was born as a teacher's college, the institution's first president George Albee and the Regents of 1871 insisted on teaching subject learning as well as pedagogy. This meant UWO has been providing a college-like experience from the beginning.
Now as a full-fledged public, regional comprehensive institution, UWO has more than 100,000 Titan alumni over its history. The university is educating more than 15,000 undergraduate, graduate, doctoral, and high school dual-enrollment students this year.
Today, nearly 90 percent of UWO graduates remain in the state after earning their diploma.
Board welcomes new colleagues
Regents welcomed their newest board member, Dr. Rodney Pasch, from the Wisconsin Technical College System board. Pasch served as Vice President of Human Resources, IT and Facilities at Moraine Park Technical College for 18 years. More recently, he was Director of Human Resources and interim IT Director for the City of Fond du Lac, and he served a six-year term as Commissioner with the Wisconsin Employment Relations Commission.
"It's an honor to be here," said Pasch, of Hillsboro, Wis. "This is a great system, it's been great to my family, and it's a pleasure so serve."
Dr. Maria Gallo, the 20th Chancellor of UW-River Falls, also was welcomed to her first Board meeting. Gallo comes to the UW System from Delaware Valley University in Doylestown, Penn., where she served as President since 2016. A plant molecular biologist, she is a fellow of the American Society of Agronomy and the Crop Science Society of America, and she is a former Fulbright Scholar.
"I am thrilled to be here and proud to be a Falcon," said Gallo, who took the helm at UW-River Falls in mid-July. "I look forward to working with students in the great state of Wisconsin."
Unconscious Bias and Assumptions
Dr. Eve Fine, Director of Curriculum Development and Implementation for UW-Madison's Women in Science & Engineering Leadership Institute, led the presentation, "Understanding and Minimizing the Influence of Unconscious Bias and Assumptions on Evaluation of Job Candidates."
Fine told Regents that most studies demonstrate we are all subject to the influence of unconscious or implicit bias, regardless of identity. She said learning about this research can increase awareness of how biases and assumptions can influence the evaluation and assessment of individuals. She also recommended several evidence-based practices and strategies for minimizing this influence.
"It requires conscious and intentional effort to examine your judgments," Fine said.
Business & Finance Committee
Sean Nelson, UW System Vice President for Finance, presented the UW System Program Revenue Balances Report for Fiscal Year (FY) 2020-21, and told the Business & Finance Committee that UW System's total unrestricted expenditures decreased by $299.4 million (6.7%) between FY 2020 and FY 2021. Federal COVID relief funds increased substantially in FY 2021, with UW System allocated $289.6 million, which is restricted to COVID-related costs and lost revenues rather than recurring general operating expenses.
Further, the State's decision to rescind its mandated lapse resulted in program revenue balances being higher than anticipated due to campus planning efforts that had already factored in the loss of state revenue. As a result, UW System's total unrestricted program revenue balance increased $189.1 million in FY 2020-21.
Nelson said this balance still represents a reduction of $133.6 million (12.2%) since the inception of balance reporting in FY 2013. Approximately 85.4% of the unrestricted balance is obligated for a specific purpose, in the final stages of planning, or designated for a specific project or program.
The report was approved by the Business & Finance Committee and will go before the full Board Friday.
In other business, the Business & Finance Committee:
Approved UW System's request for an amendment to an existing contract with BP Logix for a business process e-Workflow Management System originally furnished for UW-Milwaukee, and since made available to all UW System institutions. The contract provides for setup and implementation assistance, and additional services including training, software support, and database hosting and storage. The proposed amendment extends the contract an additional three years at an annual cost of $525,000;
Approved the collective bargaining agreement negotiated between UW System and the Building and Construction Trades Council (BTC) of South Central Wisconsin. The parties negotiated for a 1.23% increase in base wages, effective January 2, 2022;
Approved the collective bargaining agreement negotiated between UW-Madison and the Building and Construction Trades Council (BTC) of South Central Wisconsin, under terms consistent with the contract between BTC and UW System;
Approved a space use agreement between UW-Milwaukee (UWM) and US Cellular Operating Company LLC (USC) that allows the company to place its equipment on UWM's premises. Under the proposed agreement, USC will pay UWM a transaction fee and license fees that increase annually. The term of the agreement is five years, with four additional five-year renewals that bring the anticipated total value of the agreement in excess of $1,000,000;
Approved a five-year master clinical trial agreement between UW-Madison and Bristol-Myers Squibb (BMS), a global pharmaceutical company that produces drugs to treat areas including oncology, hematology, immunoscience, cardiovascular disease, and fibrosis. Over the past five years, UW-Madison has executed 19 research or clinical trial agreements with BMS at a total budgeted amount of over $2.5 million;
Approved a master clinical study agreement between UW-Madison and Alexion Pharmaceuticals, an American pharmaceutical company that focuses on the treatment of rare diseases. This proposal provides for a five-year term, and is the first master agreement between Alexion and UW-Madison, which will allow for a faster activation of studies on rare diseases;
Approved a master clinical trial agreement between UW-Madison and OM1, a Boston-based Clinical Research Office with whom UW-Madison began a collaboration in 2020. The agreement provides the opportunity for investigators from the UW-Madison School of Medicine and Public Health to work with industry sponsors on real world studies;
Approved a master research agreement between UW-Madison and Diamond V Mills, LLC, a leader in improving animal health through technology, and a subsidiary of Cargill, Inc., a global food company involved in animal nutrition. This agreement is initially intended to enable research between UW-Madison's Department of Animal and Dairy Sciences and Diamond V Mills on animal feed additives, including a project aimed at controlling Salmonella growth in poultry. The inclusion of Cargill will facilitate research sponsored by Cargill subsidiaries such as Purina, which could potentially extend to research with other units at UW-Madison;
Approved software and implementation services agreements between the UW System and Huron Consulting Services LLC for cloud-based research administration software, acquired via a request for proposals process. As a critical component of the Administrative Transformation Program, the Huron Research Suite will facilitate the research administration processes, from proposal development and pre-award requirements through post-award management and reporting, expanding UW System's capabilities and modernizing its technology to meet the ever-changing regulatory requirements and support the world-class research enterprise;
Authorized the execution of a Memorandum of Understanding with the University Research Park, Inc., (URP) to partner with UW-Madison in the development of property that furthers the mission of the institution. The MOU stems from UW-Madison's revenue innovation efforts, which include a focus on creating greater economic value through the University's real estate assets;
Approved an amendment to RPD 12-1, "Competition with the Private Sector," which establishes the criteria institutions will use to evaluate the appropriateness of University sales activities that compete with the private sector. It also requires institutions form a competition review committee that includes representatives from the University, the private sector, and the public-at-large;
Heard a presentation from UW Oshkosh Vice Chancellor for Finance and Administration Jim Fletcher on the development and execution of financial management measures to help stabilize and balance the university's financial posture;
Received the FY2020-21 Budget-to-Actuals Report which indicates the status of the UW System budget by major areas of activity in comparison to actuals for the period of July 1, 2020 through June 30, 2021. The report notes that total revenues ended the fiscal year at 99.5% of the Revised Budget, with lower unrestricted revenues as a result of the pandemic's impact on auxiliaries and higher restricted revenues as a result of federal pandemic relief funding. Total expenses ended at 94.8% of the Revised Budget, or $342.7 million less than anticipated, as a result of various factors including furloughs, travel restrictions, and reduced supply/capital purchasing imposed to meet budget reductions;
Heard a report on COVID-19-related impacts on UW System finances, including both revenue losses and expenditure increases incurred for health and safety measures and technology needs. While the overall losses from March 2020 to June 30, 2021 were $720 million, the net financial impact was a $330 million loss, after factoring in federal actions that provided relief funding both directly and through state-managed allocations. Federal funding includes aid to students;
Heard from Sean Nelson and Charles Saunders, Executive Director for the UW System Office of Trust Funds, on plans to develop a proposed investment strategy and governance model to align with strategic investment goals and an appropriate risk tolerance level. Utilizing existing statutory authority, the addition of this function would provide for increased revenue to support the academic mission of the university and to remain competitive with peer institutions;
Heard the Trust Funds Quarterly Investment report for the period ending June 30, 2021. As of that date, UW System Trust Funds assets totaled $730.7 million, comprised of $583.4 million in the Long Term (endowment) Fund and $147.3 million in the Income Cash Fund. The Fund's public equity investments increased 7.01% during the quarter, while the bond investments returned 2.44% and the inflation sensitive investments returned 4.13%. For the quarter, the Long Term Fund increased in value 8.32% (before fees), while the UW Fund Custom Benchmark increased 8.24%. The Income Cash Fund gained 0.01% for the period;
Heard the Cost-Benefit Analysis of Foundations and Other Affiliated Organizations Report for FY20, which noted that UW System institutions identified 88 foundations and associated affiliated organizations that supported their missions in fiscal year 2019-20. UW-Madison identified 43 foundations and associated affiliated organizations, the most of any UW System institution. Of the 88 reported entities, 41 organizations (46.6%) are primary fundraising foundations and alumni associations. In fiscal year 2019-20, UW System institutions received a total of $307.7 million from these organizations, while providing $13.0 million in administrative support; and
Heard a semi-annual summary report on gifts, grants, and contracts awarded to UW System institutions from July 1, 2020 through June 30, 2021. Total gifts, grants, and contracts for the period were nearly $2.3 billion, a 32.1% increase ($557.7 million) from the prior year. Federal awards increased $451.4 million (41.2%), a majority of which relates to federal funds received to address the COVID-19 pandemic. Non-federal awards also increased by nearly $106.3 million (16.6%) between fiscal years 2019-20 and 2020-21.
Education Committee
The Education Committee approved a request from UW-Parkside and Gateway Technical College (GTC) for a New Liberal Arts Transfer Program for both the Associate of Science in Liberal Arts and the Associate of Arts in Liberal Arts. This partnership with GTC demonstrates UW-Parkside's commitment to its mission, in fostering the intellectual growth and career preparation, within a liberal arts tradition, of the students of the region. Upon matriculation with an Associate of Science degree at GTC, students will be guaranteed admission to UW-Parkside as a transfer student, given that students meet the requirements.
GTC and UW-Parkside are seeking to close the attainment gap by expanding and maximizing access to postsecondary education in the Gateway District. According to the Lumina Foundation, the GTC District postsecondary credential attainment rate is 38%, while the state average is 53%.
In other business, the Education Committee:
Approved UW-Madison's request for seven degree programs in the online learning initiative planned for a Fall 2022 launch, the first six of which elevate and replace a Marketing Online submajor within existing B.B.A. degrees. The approved programs include:

Bachelor of Business Administration in Marketing. Graduates will pursue a variety of careers in the areas of recruiting, hiring, training and development, labor relations, brand/product management, marketing research/analytics, sales management, advertising, business-to-business marketing, digital and social media, and consulting.
Bachelor of Business Administration in Management. Graduates of this 120-credit, fully online B.B.A. will pursue a variety of careers in management including project manager, management consultant, retail store manager, production manager, sales manager, etc.
Bachelor of Business Administration in Human Resources. Graduates of this 120-credit, fully online B.B.A. will pursue a variety of careers in the areas of training and development, labor relations, operations management, corporate social responsibility, and recruiting, hiring, and retention.
Bachelor of Science in Human Development and Family Systems. Graduates of the program will be prepared for a wide variety of career options and for graduate or professional schools in a variety of fields, including healthcare, education, family law, counseling, occupational therapy, program evaluation, physical therapy, case management, and the child life profession.
Bachelor of Science in Consumer Marketplace Studies. The B.S. in Consumer Marketplace Studies is a 120-credit program designed for adult learners with some college-level credits earned. The program will balance the applied content in retailing with a strong mix of consumer science breadth courses in promoting well-being and ethical and global leadership.
Bachelor of Science in Consumer Finance and Financial Planning. The program, designed for adult learners with some college-level credits, will be interdisciplinary with an emphasis on financial management and the economic well-being of individuals and families. It will also emphasize consumer financial behavior, interactions between consumers and the marketplace, and financial product development and technologies.
Bachelor of Liberal Studies in Applied Social Science. This 120-credit liberal arts degree program in an online flexible format will emphasize knowledge, skills, and abilities of general interest and relevance to working adults who seek to advance in their career or switch career course. Students will select from broad areas of knowledge and UW-Madison coursework in the liberal arts and sciences and in computer, data, and information studies.

Held a second reading and approved UW-Whitewater's Revised Mission Statement. The statement, which represents an innovative and transformative institution of higher education, highlights the long-standing mission of the institution to serve students with disabilities and to underscore the institution's commitment to be an inclusive community with a commitment to access;
Held a second reading and approved UW-Stout's Revised Mission Statement, which represents its focus and identity as a polytechnic institution. The revised mission statement highlights the curriculum that combines interdisciplinary knowledge and discipline-specific technical skills with critical thinking, creative problem-solving, communication, and social and ethical reasoning skills to better the human condition;
Heard a presentation led by John Koker, UW Oshkosh Provost and Vice Chancellor for Academic Affairs, on how campus involvement in the city of Oshkosh and the surrounding region efforts has had a transformational impact. Examples include student-nurse support amid a pandemic as well as responsive academic programs collaboratively developed with regional industry and peer institutions;
Heard an update on the UW System Online Learning Initiative. The initiative was funded by a $2 million anonymous gift to help improve the quality and delivery of online teaching and learning; and
Heard an overview of the 2020-21 Counseling Impact Assessment Report. The report documents trends in counseling utilization, student issues, outcomes, satisfaction, and staffing levels (See UW System Sept. 27 news release: Student demand for UW counseling services high, key to keeping them enrolled).
Audit Committee
Associate Vice President for Information Security Katherine Mayer and Director of Risk Management Angela Ryan presented the Audit Committee with an update on Information Technology Security, focusing on the UW System's cybersecurity risk mitigation plan.
Some enterprise efforts are in process, including IT as a Service (ITaaS) and the Administrative Transformation Program (ATP).
In other business, the Audit Committee:
Approved the proposed update to the Office of Internal Audit's Charter;
Approved the Fiscal Year 2022 Budget and Resource Plan;
Heard a report from Chief Audit Executive Lori Stortz on the Fiscal Year 2022 audit plan progress to date, as well as a summary of recently issued audits.
Heard an overview of the Institute of Internal Audit's Three Lines Model, which provides a simple and common-sense approach for risk oversight and assigning responsibility for designing/managing, monitoring, and assuring;
Heard an update on Title IX initiatives including development of a case management database and a UW System policy governing high risk investigations; and
Heard a report on Purchasing Card Administration and Management, including the purchasing card program's history, existing internal controls, future control enhancements, and potential for program reductions due to the implementation of ShopUW+.
Capital Planning & Budget Committee
The Capital Planning & Budget Committee approved UW Oshkosh's request to construct the Clow Hall/Nursing Education Renovation, Phase II project to complete the remodeling and renovation of instructional labs and classrooms that are in poor condition and no longer able to support current methods of teaching.
The comprehensive renovation will correct space deficiencies and remodel and reconfigure lecture halls, classrooms, learning laboratories and offices in the Nursing/Education Building including electrical, mechanical, and technology upgrades throughout. It will also redevelop space within Swart Hall for a College of Letters and Sciences dean's suite, faculty offices, a math tutoring lab, a classroom, and a forensics lab.
In other business, the Capital Planning & Budget Committee:
Approved UW-Madison's request to accept a gift of 1.50 acres of land located north of Wisconsin Dells and adjacent to Upham Woods, a field station situated on the Wisconsin River dedicated to providing educational opportunities to youth, youth leaders, and adults through programs focused on environmental and leadership education;
Approved UW-Madison's request to enter into a Real Estate Memorandum of Understanding (MOU) with University Research Park, Incorporated (parallel motion in Business & Finance Committee). The MOU outlines the process for collaboration between UW-Madison and URP to identify parcels for development. The agreement covers parcels on and off campus and addresses transfer and reversion rights. It also includes pricing mechanisms for land sales to URP (ground lease and sale) that govern URP's control of the parcels;
Approved UW Oshkosh's request to pay a City of Oshkosh Special Assessment for a roadway improvement project on Algoma Boulevard, Vine Avenue, and Blackhawk Street. The University's share of the project will be approximately $1.4 million, which is 12% of the total project budget;
Approved UW-Stout's request to construct the South Hall Addition and Renovation project. The project will provide programmatic and infrastructure upgrades to improve functionality, efficiency, and building code compliance in South Hall, which was constructed in 1967 and has not been upgraded since;
Approved UW System's request for authority to construct three Minor Facilities Renewal projects:

The installation of four new sets of conductors between the Athletic Operations and Dayton Street switching stations and a new electrical ductbank from the Walnut Street substation to a utility pit within the campus utility corridor on Observatory Drive at UW-Madison. The continued growth of the west campus has resulted in a critical need to provide more individual 15 kV circuits to additional buildings and building expansions;
The replacement of elevators in seven UW-Madison facilities (Babcock Hall, Bascom Hall, Below Alumni Center, Elvehjem Museum of Art, Ingraham Hall, Lathrop Hall, and Memorial Library). All elevators and controls in this project are at the end of their useful life and many do not connect to the campus automated building system;
Removal of the 1970 dust collection systems for laboratories 157, 158, and 170 at UW-Stout's Jarvis Hall Tech Wing. The current system is undersized, doesn't include fire protection and lacks modern safety features;

Approved UW System's request for authority to construct four All Agency Maintenance and Repair projects:

Repaving the deteriorated Kress Center and Studio Arts parking lots, two pedestrian walkways near the Kress Center at UW-Green Bay, and several campus sections of roadway;
Increasing UW-Madison's budget for the WHA Transmitter Utility and Boardwalk Replacement project to accept recent bids. This project replaces the wooden boardwalk with its associated electrical and telecommunications lines integrated into the boardwalk construction;
Replacing the 60-year-old water main in the southeast quad at UW-Milwaukee that supplies domestic and fire protection water to several buildings including Curtin Hall, Garland Hall, Golda Meir Library, Pearse Hall, and Vogel Hall;
Installing a new telecommunications ductbank at UW-Stout to serve as a backup internet and wide area network connection, installs additional conduit capacity for future use, and provides a more direct pathway for the building automation system connections for buildings north of Sorenson Hall;

Approved rescission of RPD 19-1, "Prorating Costs for Heating/Chilling Plants," and RPD 19-8, "Funding of University Facilities Capital Costs," and updates and consolidation of provisions to create a new policy, "University Facilities, Space, and Physical Development Capital Funding and Costs;"
Heard a host campus presentation by John Koker, Provost and Vice Chancellor for Academic Affairs, and Sarah Neises, Director of Polk Library, on UW Oshkosh efforts to modernize and reshape its traditional library into a research and study center. Although the Board of Regents supported funds to further the design work necessary to advance this renovation project, that funding was not approved in the state's 2021-23 Biennial Budget; and
Heard a report from Senior Associate Vice President Alex Roe including a summary of recent Building Commission actions and a 2021-23 Capital Budget update.
Research, Economic Development & Innovation Committee
Tom Erickson, founding director of UW-Madison's School of Computer, Data & Information Sciences (CDIS), and other university and industry presenters, told the REDI Committee that UW-Madison's approach is unique across the nation, joining three top-ranked programs in a manner that offers unmatched breadth and opportunities for collaboration in medicine, engineering, life sciences, nursing, education, and more. The Computer Sciences curriculum at UW-Madison represents the university's most popular undergraduate major, with more than 3,700 students pursuing programs offered by Computer Sciences, Statistics, and the iSchool.
UW-Madison recently announced a $175 million private investment to establish a new, state-of-art facility to house CDIS on the Madison campus.
In other business, the REDI Committee:
Heard a presentation from UW Oshkosh Vice Chancellor Bob Roberts and Brian Langolf, Director of the UWO Biogas Program: "UW Oshkosh: Building a Better Talent Pipeline through Undergraduate Research, Economic Engagement, and Business Outreach." UWO continues to collaborate with partners in two highly innovative digester sites, each leveraging different technology as it furthers the university's academic mission and providing hands-on laboratories; and
Heard a panel discussion with several Northeastern Wisconsin employers and innovators on building more effective pathways for talent attraction, retention, and development. Panelists included Dan Ariens, CEO of Ariens Company, and UW Oshkosh alumni David Richter, VP of Silver Star Brands (formerly Miles Kimball), and Rebecca Timmins, founder of Celebrate Neurodiversity, a Fox Cities-based childcare and autism respite and resource center.
Photos by Patrick Flood/UW Oshkosh – Click on each thumbnail for a larger image

---
The University of Wisconsin System Board of Regents meeting will resume on Friday, October 8, 2021, at UW Oshkosh.