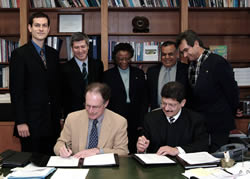 Cultural Exchange: UW System President Kevin P. Reilly (seated, left) and Lic. Carlos Briseño, Secretary General, University of Guadalajara System (seated, right) sign a joint agreement between the University of Wisconsin System and the University of Guadalajara. The agreement, known as the Jalisco-Wisconsin Consortium, will facilitate exchange, contacts, and research opportunities among students, faculty and administrators.
They were joined for the signing by (standing, left to right), Dr. Mario Salguero, Visiting Professor; Vladimir Escobar, U.S. Department of Agriculture; Cora Marrett, UW System Senior Vice President for Academic Affairs; Dr. Armando Macías, Chancellor, University of Guadalajara CUALTOS Campus; and Dr. Othón Reynoso, Dean of Biological Sciences, University of Guadalajara.
Wisconsin Gov. Jim Doyle will also sign the agreement on March 9 as part of a trade mission to Mexico.
Photo Credit: James Gill, UW System