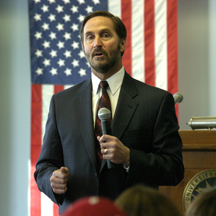 MADISON-Donald Betz, provost and vice president for academic affairs at the University of Central Oklahoma, Edmond, Okla., has been recommended as the next chancellor of the University of Wisconsin-River Falls.
UW System President Kevin P. Reilly and the Board of Regents' Special Committee for the UW-RiverFalls Chancellor Search announced the recommendation of Betz on Friday (Feb. 11). The full board will act on the recommendation at a Friday afternoon session.
"I am confident that Dr. Don Betz's diverse background will energize UW-River Falls' faculty, staff and students; encourage continued dialogue with the River Falls community; and invigorate the campus' commitment to excellence," Reilly said. "I look forward to having Don as part of the UW System leadership team as we continue to improve this university's quality, access, efficiency and effectiveness."
Betz previously held several administrative positions, including provost and vice president of academic affairs at Palmer College of Chiropractic, as well as positions at Northeastern State University in Tahlequah, Okla., including vice president of university relations, dean of continuing studies, assistant to the president, director of university relations, and executive director of the educational foundation.
"It is with enthusiasm and a clear sense of service that I accept the offer to join UW-River Falls and the other members of the UW System," Betz said. "I look forward to becoming a member of the community and university at UW-River Falls, and to building leadership teams to help students learn so that they can become productive, creative, ethical and engaged citizens."
"I thank the campus search committee members, and the Regent selection committee, for their expression of confidence in me to provide service leadership at UW-RF," Betz said.
Betz's administrative accomplishments include the founding of the University of Central Oklahoma Center for Undergraduate Research and the establishment of the annual statewide Undergraduate Research Day; the establishment of a Faculty Enhancement Center; co-founding of the Oklahoma Center for Arts Education; serving on the original implementation committee of the American Association of State Colleges and Universities' American Democracy Project; and initiating the Center for Tribal Studies at Northeastern State University.
Betz, who has also served as a board member and regular presenter for the Oklahoma Educators' Leadership Academy, has made leadership development among faculty, staff and students an integral part of his administrative accomplishments. He has significant fundraising experience and is a co-founder of the University of Central Oklahoma Alliance for Institutional Advancement, an innovative campus-wide collaboration for the advancement of the institution.
"I am delighted to hear that Dr. Betz will be the next Chancellor of  the University of Wisconsin-River Falls, said UW-RF Professor Terry Brown, who chaired the campus and community search committee. "Dr. Betz brings the personal qualities, experience and skills necessary to lead this university to a place of national prominence in public higher education.
"Dr. Betz was warmly received by our students, faculty and staff, as well as the larger community, when he visited us during the selection process. I know that the Regents' endorsement will be greeted with great enthusiasm on the campus as well as in the community and region."
Dr. Betz also has considerable international experience, having worked at the United Nations on the Question of Palestine, one of his areas of expertise, and having served as an Assistant Foreign Editor for the Daily Star in Beirut, Lebanon, during the 1970s. He is the author of numerous final declarations, and statements and communiqués adopted at United Nations conferences.
He has given presentations on leadership, globalization, civic engagement and higher education and is an international affairs analyst for regional media.
Betz earned his M.A. and Ph.D. in international relations from the University of Denver. He has held the position of Professor of Political Science at University of Central Oklahoma and Northeastern State University and has awards for excellence in service and teaching.
"My fellow selection committee Regents and I are delighted that Dr. Betz has accepted our invitation to join the UW System and to lead the UW-River Falls campus," said Regent Charles Pruitt of Shorewood, chair of the Board of Regents Special Committee for the UW-RF Chancellor Search. "His experience and leadership will compliment the excellence and energy that is alive and well at UW-River Falls. We look forward to his arrival on campus."
"I am thrilled for Don and I am happy for the UW-River Falls students and community," said Roger Webb, President of the University of Central Oklahoma. "We will miss Don terribly, but we are fortunate to have had him here since 1999. He is a rare find."
Betz was one of five finalists for the UW-River Falls chancellor position recommended by a UW-RF campus search-and-screen committee. The other finalists were Kendall Blanchard, professor of Business and Anthropology, and former President of Fort Lewis College, Durango, Colo.; Sharon Hoffman, Provost and Vice President for Academic Affairs, Clayton State College and University, Morrow, Ga.; Robert Kennedy, Interim President, University of Maine, Orono, Maine; and Judith Ramaley, Visiting Senior Scientist, National Academy of Sciences.
The Board of Regents' Special Committee for the UW-River Falls Chancellor Search was chaired by Pruitt, and included Regents Eileen Connolly-Keesler of Oshkosh, Danae D. Davis of Milwaukee, Jesus Salas of Milwaukee, and Brent Smith of La Crosse.
Betz will be joined in Wisconsin by his wife, Susanne. His expected start date is July 1.
#####
UW-River Falls is a comprehensive university located in west-central Wisconsin, and is part of the metropolitan area of Minneapolis/St. Paul. Founded in 1874, it enrolls some 5,800 undergraduate and graduate students in more than 40 academic majors and professional programs in education, business, the sciences, liberal arts and agriculture. More information is available on the UW-River Falls website.