Report by President Ray Cross to the Board of Regents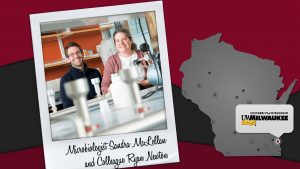 A UW-Milwaukee microbiologist, Sandra McLellan, is helping an area Lake Michigan beach – Bradford Beach – enjoy a new day in the sun after aggressive cleanup and naturalization efforts improved water quality and boosted overall beach health. Just in time for summer!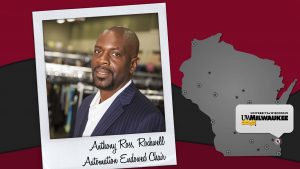 UW-Milwaukee's Lubar School of Business is celebrating its 50th anniversary. To meet challenges introduced by global markets, the recently reaccredited school dramatically expanded and improved how it teaches supply chain management, collaborating with Rockwell Automation, the world's largest company devoted exclusively to industrial automation products and software.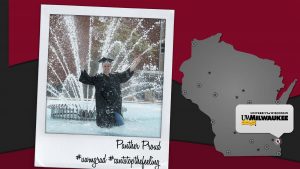 The big news on campus, however, is UW-Milwaukee's graduation video, set to the tune of Justin Timberlake's new hit song. You may have heard the media splash when JT himself shared UWM's video on Facebook and Twitter. It's the most popular video UWM has produced with about 150,000 hits and counting. Congratulations, all around. Those were some impressive moves, Chancellor Mone.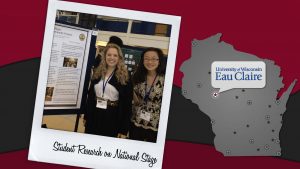 Forty UW-Eau Claire students recently presented research at the National Conference on Undergraduate Research at the University of North Carolina. Students presented research in chemistry, communication sciences and disorders, mathematics, nursing, psychology, social work, and more. At UW-Eau Claire, 46 percent of undergraduate students work on at least one research or scholarly creative project with a faculty mentor.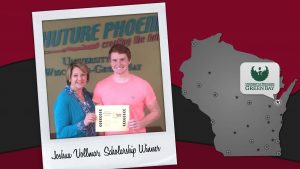 UW-Green Bay's Phuture Phoenix program is slated to award scholarships to 40 students, totaling nearly $70,000, for the 2016-17 academic year. This figure includes the inaugural awarding of the John M. and Meredith B. Rose Phuture Phoenix Scholarship, worth more than $8,600 and renewable annually, to Joshua Vollmar, a Human Biology major who attended the Phuture Phoenix fifth-grade field trip as an elementary school student in 2007. Nearly 200 current UW-Green Bay students have participated in Phuture Phoenix programming and are on track for graduation over the next four years, with nearly 40 more freshmen planning to attend UWGB in Fall 2016. Well done, Chancellor Miller.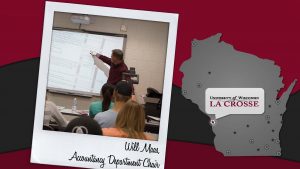 UW-La Crosse College of Business Administration students have once again achieved one of the highest pass rates in the nation. Students in the Accountancy program had the highest first-time pass rate in the United States on the Certified Public Accountant exam among undergraduate-only programs in the large program category — schools with more than 60 exam candidates. Among the 270 schools in that category, both undergraduate and graduate programs, UWL was in the top 10 percent at No. 22 overall.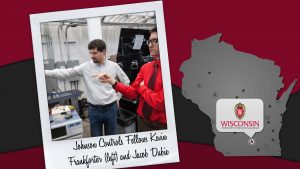 Johnson Controls is partnering with UW-Madison's College of Engineering and UW-Milwaukee on two multi-year research projects aimed at enhancing the vehicle fuel efficiency. UW-Madison graduate students Jacob Dubie and Kevin Frankforter, the first recipients of Johnson Controls Distinguished Graduate Fellowships, will carry out the projects. The projects are two of several technology collaborations between Johnson Controls and UW-Madison focused on optimizing battery system performance and interactions with a vehicle's powertrain and electrical architecture and on developing future stationary energy application.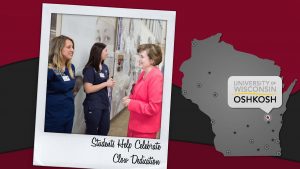 In May, UW-Oshkosh celebrated the grand opening of its newly modernized academic building—Clow Social Science Center. The extensive renovation of the Clow complex represents UW Oshkosh's commitment to providing quality nursing education to help students meet 21st-century challenges. Congratulations Chancellor Leavitt. This advancement helps students and faculty and supplies a high-demand field.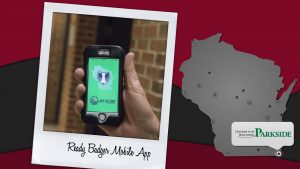 Emergency managers from across southeastern Wisconsin were on hand April 12 at UW-Parkside for the debut of a mobile app designed to speed the process of gathering and sharing emergency information. Working with county emergency managers, the App Factory at UW-Parkside developed the Ready Badger emergency information mobile app.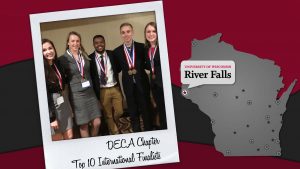 Amid more than 1,300 competitors, five students from UW-River Falls' DECA chapter placed as top 10 international finalists.  DECA is an international association of students and teachers in business, finance, hospitality, and marketing.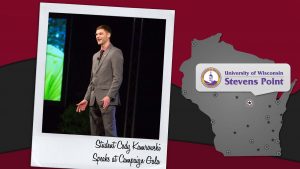 UW-Stevens Point launched its first-ever capital campaign April 30, with a goal of raising $30 million by June 2019. Already, more than $17 million in commitments and gifts have been made toward this goal, including a $4-million donation from Sentry Insurance as the cornerstone gift. Lon Roberts, a 1970 graduate of UW-Stevens Point and president of the UWSP Foundation Board, is the campaign chair. He and his wife, Mary, announced recently they would provide a deferred estate gift sufficient to endow a faculty position in the School of Business and Economics at UWSP. The couple also are providing a gift now to establish an endowed scholarship in memory of Mary Robert's nephew who graduated from UW-Stevens Point in 2008 and worked as a medical technician at Marshfield Clinic. He died in 2014.  Roberts said, "UW System is a jewel in the crown of the state. Any success we've had in our lives traces back to the university."
Photo: College of Natural Resources student Cody Kamrowski talks of the importance of scholarships during an April 30 event kicking off UW-Stevens Point's $30 million capital campaign. A Melrose native with a major in natural resource planning-policy, Kamrowski graduated debt-free in May.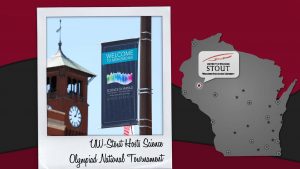 Officials at UW-Stout weren't the only ones who prepared for a large influx of visitors in May at the Science Olympiad National Tournament. Menomonie-area businesses saw a surge of about 5,000 people, including 3,000 high school and middle school competitors, from 49 states. The event swelled Menomonie's population of about 16,000 by almost a third! A recent report on the national tournament indicated that the economic impact on the host city is $1.5 million.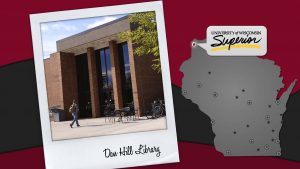 UW-Superior's Jim Dan Hill Library recently received the Governor's Award for Archival Achievement for the preservation of the Fraser Shipyards papers and technical drawings. The collection include working design documents and blueprints of such well-known vessels as the Edmund Fitzgerald. An official award ceremony will be held at UW-Superior in October. Congratulations, Chancellor Wachter.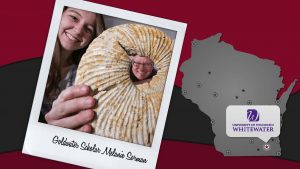 A UW-Whitewater geology major, Melanie Sorman, is garnering recognition and awards for her research work and academic achievements. Last year, she won a scholarship and grant from the NASA-funded Wisconsin Space Grant Consortium. And this year, she is a Barry M. Goldwater Scholar. The prestigious national scholarship is awarded annually to students pursuing research-oriented careers in mathematics, the natural sciences and engineering. The scholarships provide up to $7,500 per year for up to two years of undergraduate study. Melanie is the third Warhawk to win this honor. Congratulations, Chancellor Kopper.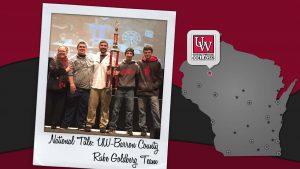 UW-Barron County's Future Engineers won the Division III national title in the 2016 Rube Goldberg Contest in Columbus, Ohio, beating prestigious universities like Purdue and Penn State. Their goal was to complete a simple task— opening an umbrella—using an overly complex device. The four team members are all majoring in engineering, and plan to transfer to other UW schools after they complete their education at UW-Barron County.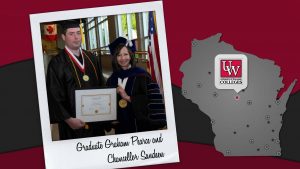 UW-Marshfield/Wood County graduate Graham Pearce was named a Jack Kent Cooke Foundation Undergraduate Transfer Scholar. Pearce will receive up to $40,000 per year toward tuition and expenses when he continues his studies at UW-Madison this fall. Pearce is one of only 75 scholars nationally – and the only one from Wisconsin – selected to receive this year's scholarships. Pearce has tutored students, co-edited the campus newspaper and been active in student government during his time at UW-Marshfield/Wood County. He's also the first UW Colleges student to receive the award. Congratulations, Chancellor Sandeen.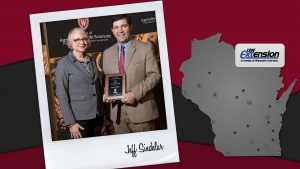 Jeff Sindelar, UW-Madison associate professor and UW-Extension meat specialist, received the 2016 Pound Extension award from UW-Madison's College of Agriculture and Life Sciences. Jeff's research and knowledge of the meat industry is extensive, with his collective research efforts garnering almost $1.2 million in funding. In 2012 he created the Master Meat Crafter Program, the first of its kind in the nation, and since then the program has graduated 62 people and generated $500,000 in support and $270,000 in program revenue. Congratulations, Chancellor Blank and Chancellor Sandeen.
UW-Extension debuted the "Wisconsin Remembers: A Face for Every Name" exhibit on Memorial Day Weekend.  With the support of Wisconsin Public Radio, Wisconsin Public Television, and the Wisconsin Veterans Museum, this traveling exhibit features a photo for each of the 1,161 Wisconsinites officially listed on the Vietnam Veterans Memorial in Washington, D.C. The Wisconsin Veterans Museum will make the exhibit – which consists of 17 portable display banners – available to community spaces throughout the state starting this summer.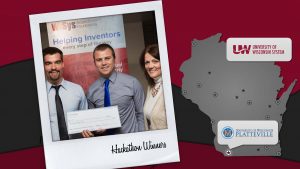 With WiSys as a partner, the first UW-Platteville Prototype Hackathon challenged students to build solutions to real-world problems. Eleven UW-Platteville student teams were given 16 hours and a seemingly simple mission: create an original prototype to solve an everyday problem. Students Jonathan Geissler and Dawson Nemmers took first place with their novel design to adapt dispensing mechanisms of soap, shampoo and conditioner to control quantities and allow variability in the amount dispensed. The team won a $1,000 cash prize from the Platteville Regional Chamber and their project was accepted into WiSys' portfolio, which includes support for protecting the intellectual property and developing the technology. WiSys Executive Director Arjun Sanga said he would like to see the Prototype Hackathon become an annual event that could be scaled to include other UW System campuses. Well done! (Pictured from left: Winning students Jonathan Geissler and Dawson Nemmers, with Kathy Kopp, Executive Director of the Platteville Area Chamber of Commerce of Tourism Committee.)