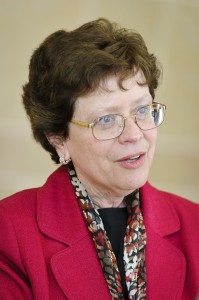 MADISON, Wis. – Dr. Rebecca M. Blank, Acting U.S. Secretary of Commerce, has been recommended as the next Chancellor of the University of Wisconsin-Madison.
UW System President Kevin P. Reilly and a special committee of the UW System Board of Regents announced their recommendation today.  Following action by the full board, scheduled for April 5, Blank plans to step into her new leadership role in July.
Blank has been with the U.S. Department of Commerce since 2009, serving first as Under Secretary for Economic Affairs, then as Deputy Secretary and Acting Secretary. Prior to joining Commerce, she served as a fellow at the Brookings Institution. From 1999-2008, Blank was Dean of the Gerald R. Ford School of Public Policy at the University of Michigan, where she also worked as a Professor of Public Policy and of Economics. Before Michigan, she was a faculty member at Northwestern University and served as a member of the President's Council of Economic Advisors from 1997-99.
"Dr. Blank is uniquely prepared to lead UW-Madison, coming to us with broad national and international experience in roles where big science and big research intersect with job creation and commercialization. She also has a strong track record of educational innovation, having created interdisciplinary graduate programs, and a new undergraduate public policy major, at the University of Michigan," Reilly said.
"At a time when Governor Walker's budget would reinvest in the UW System, putting our institutions in a position to step up in areas of workforce development and economic growth, Dr. Blank's impressive skill set will be an invaluable addition to UW-Madison," Reilly said.
Blank holds a Ph.D. in Economics from the Massachusetts Institute of Technology. She earned her undergraduate degree, also in Economics, from the University of Minnesota.
"I am honored and delighted to be offered the job of Chancellor at UW-Madison. This is a world-class school, and I have been continually impressed by the caliber, dedication and enthusiasm of its students, faculty and staff," Blank said.
"Together we will continue to build on the school's long history of excellence. Wisconsin is one of the foremost public universities, demonstrating that a top research institution can also provide educational access to students from all backgrounds. One of the many attractions of this job is the school's strong commitment to the Wisconsin Idea of engaging the state and its communities. The University is integral to the economic future of the state and must continue to be a strong partner in the effort to create jobs and stimulate economic growth," Blank said.
"Dr. Blank brings to the Chancellor position a broad and varied array of experience managing complex organizations, along with a record of academic leadership. Add to that a brilliant mind and Midwestern roots, and you get someone who understands UW-Madison's extraordinary potential and knows how to achieve that potential through strong, collaborative leadership. She is committed to upholding the finest traditions of the Wisconsin Idea in ways that benefit all state citizens," said Regent Charles Pruitt, who chaired the Special Regent Committee that interviewed Blank and other candidates.
Other members of the Special Regent Committee include Regent Regina Millner of Madison, Regent President Brent Smith of La Crosse, Regent David Walsh of Madison, and Student Regent Katherine Pointer of UW-Madison.
David McDonald, the UW-Madison professor of history who headed the 25-member search and screen committee, says Blank's experience of leading a large and complex federal agency will be a tremendous asset for the University. Blank has the reputation as a professional who has worked with, and earned the respect of, people on both sides of the political aisle, and she is someone who will achieve results, McDonald says.
"Dr. Blank's time in the Department of Commerce will serve her and by extension the University very well in terms of how to lead a very complex operation," McDonald says. "She has the skills one needs to manage a very diverse entity with varied missions. The fact that she emerged as the Regents' choice from what my colleagues on the committee felt was a very strong field for this position speaks volumes.
"The search committee members were particularly impressed by her commitment both to 'big science' and to the liberal arts as equally essential components in the education of citizens for 21st-century America."
If confirmed by the full board, Blank will succeed UW-Madison Interim Chancellor David Ward, who has served since July 2011.
Blank is currently in Brazil to co-chair the 8th meeting of the U.S.-Brazil CEO Forum with Deputy National Security Advisor for International Economic Affairs Michael Froman and senior officials from the Brazilian government. During the trip, she will also deliver remarks to the just-launched Columbia University Global Center in Rio de Janeiro, one of a network of centers designed to enhance collaboration among scholars and students around the world.
UW-Madison, the oldest and largest campus in the UW System, enrolls more than 42,000 students in 157 undergraduate majors, and conducts more than $1 billion worth of research annually.
# # #
Resources
Media Contacts:
David Giroux
UW System
608-262-4464
Amy Toburen
UW-Madison
(608) 262-0925