MADISON ― The University of Wisconsin System, in partnership with Alliant Energy, presented the 2007 Alliant Energy Underkofler Excellence in Teaching Awards to four of the university's remarkable teaching faculty. The annual awards honor teachers from UW institutions within Alliant Energy's Wisconsin service area who demonstrate commitment to student success both in their teaching and beyond the classroom.
UW System President Kevin P. Reilly presented this year's awards on Friday (Sept. 28) at a special ceremony in Van Hise Hall on the UW-Madison campus. The following people were honored:
Tom L. Neal, assistant professor of chemistry, UW-Baraboo/Sauk County.
Louis I. Nzegwu, professor of marketing, UW-Platteville.
Harold Scheub, professor of African Languages and Literature, UW-Madison.
Suzanne Scott, professor of environment, textiles, and design, UW-Madison.
"Today, we present these worthy faculty members with the Underkofler Awards to recognize their remarkable commitment to students and learning," Reilly said.  "These faculty members epitomize the excellence at the core of this university – undergraduate education."
This marks the 15th year anniversary of the partnership between the UW System and the Alliant Energy Foundation. The awards are given as a tribute to long-time senior Wisconsin Power and Light executive, James R. Underkofler, and his commitment to promoting excellence in undergraduate teaching.
The UW System's Office of Professional and Instructional Development administers the award program. A committee of faculty and staff members selects the finalists from candidates who are nominated by eligible institutions.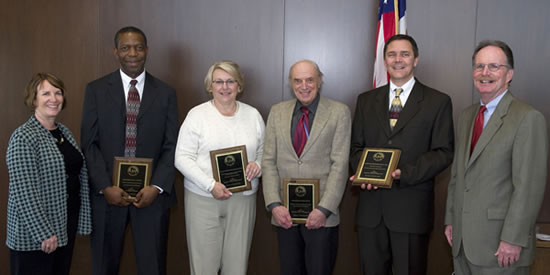 Pictured (from left) are Barbara Swan, executive vice president and general counsel, Alliant Energy; Underkofler award winners Louis I. Nzegwu, professor of marketing, UW-Platteville; Suzanne Scott, professor of environment, textiles, and design, UW-Madison; Harold Scheub, professor of African Languages and Literature, UW-Madison; Tom L. Neal, assistant professor of chemistry, UW-Baraboo/Sauk County; along with Kevin Reilly, UW System president, who presented the awards to the winners.
(Photo credit: James Gill)