Tania Limón Ramirez never imagined living in the jungles of Costa Rica, with bats nesting above her cabin's doorway and the low-pitched roar of howler monkeys jarring her awake in the morning.
That's how the summer of 2023 began for the University of Wisconsin-Whitewater student, who participated in the Organization for Tropical Studies' Research Experience for Undergraduates program along with fellow Warhawks Miles McIntosh and Mireia Hernandez Justicia.
"We'd walk out the door, and bats would fly around over our heads. It freaked me out at first, but they were pretty high up," Limón Ramirez said. "It was a beautiful experience — and scary, at times."
"Small lizards were always walking around," said McIntosh, adding that praying mantises, ants and cockroaches scuttled about too.
Rainforest birds entranced Hernandez Justicia. "Sometimes we would wake up at 5 a.m. to see the birds. I loved watching the toucans. One day, we saw about 30 species of birds," she said.
The three-week Research Experience for Undergraduates program is based at La Selva Biological Station, a conservation area in northeastern Costa Rica, and operated by the Organization for Tropical Studies, a consortium of universities and research institutions. REU's field trips focus on underrepresented students; the National Science Foundation pays for their travel, housing and meals and gives them a stipend.
Limón Ramirez, McIntosh, and Hernandez Justicia were among nine students chosen from applicants throughout the U.S. and its territories. The other students came from American Samoa, Puerto Rico, University of California, Berkeley, Humboldt State University and Howard University.
"I think this is the first time any students from UW-Whitewater attended," said Andrea Romero, associate professor of biology, environmental science, and women's and gender studies. "It was pretty special to have two UW-Whitewater faculty members and three students as part of the program."
Romero and her husband, Brian O'Neill, associate professor of biology, were among seven mentors who guided the students.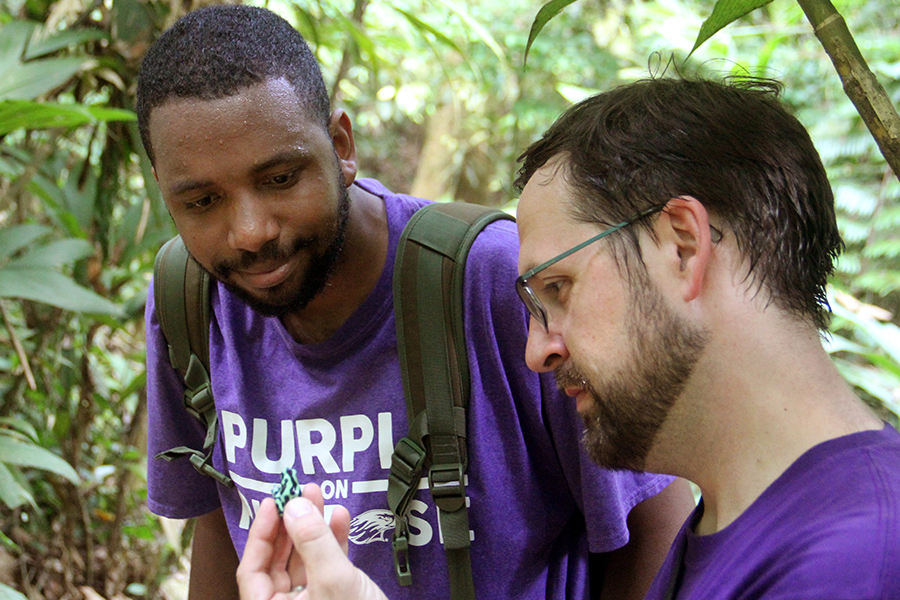 From beetles to bridges
Limón Ramirez, a senior majoring in biology with an emphasis on cell physiology, was born in Jalisco, Mexico. Her family moved to the U.S. when she was four years old, and she grew up in Lake Geneva and attended Badger High School. She studied scavenging beetles as part of Romero's research team.
"We set out dead, frozen mice every 50 meters. We would tie dental floss around them, and see how long it took for something to eat them or take them. More than 50% were taken by beetles and buried, and we measured the depth," she said.
McIntosh, a junior majoring in geography with an emphasis on geology, worked on O'Neill's team, which studied animal movement to see if they used natural bridges, such as trees, or human-made bridges to cross rivers.
"We set up 17 trail cameras on man-made bridges," McIntosh said. "Every day, we went out to check the cameras, look for photos of animals and mark them on a list. There was a good variety of predators and prey, big and small."
The rainforest provided a living laboratory teeming with inhabitants that the students never expected to see in their natural surroundings. Howler monkeys, spider monkeys, and white-faced capuchins populated the forest trails.
"They were swinging above us or just sitting there, eating. It was mind-blowing," Limón Ramirez said. "We got to see a sloth — my favorite animal. It was hanging on a tree next to a bridge, and we saw it really close up. It was amazing."
Lizards and amphibians abounded, including colorful poison dart frogs and yellow viper snakes that wind around tree branches. REU program leaders prepared the students well.
"We had to be careful walking through trees," said Limón Ramirez. "Before we were anywhere near the forest, they taught us how to stay safe."
McIntosh, who was born in Pittsburgh and grew up in Gurnee, Illinois, says adjusting to the rainforest climate took some time.
"Every day, it was 90 degrees or higher, with 100% humidity," he said.
The farther into the forest, the more animals appeared. And the field cameras captured some surprises.
"A puma showed up on two cameras. We also saw squirrels, skunks, porcupines, opossums, monkeys, ocelots, and tayras (from the weasel family)," McIntosh said.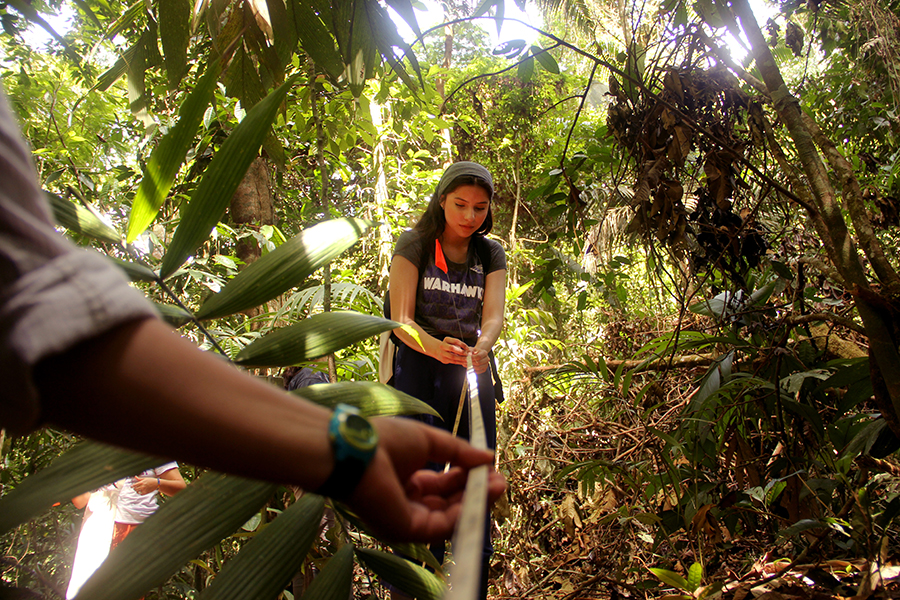 Scientific tools
Andrea Romero, second from left, directs the research activities of students Miles McIntosh, Mireia Hernandez Justicia and Tania Limón Ramirez. Romero, an associate professor of biology, environmental science and women's and gender studies at UW-Whitewater, was one of seven faculty mentors who guided the students on the project.
Programs like REU immerse students in real science, O'Neill said. After two weeks of field research, the third week teaches students what to do with the data they've collected — how to generate statistics, analyze the results, write scientific papers and publicize them via social media.
"Some of my students have applied for grants to present their research, and we're planning to get the results published in a scientific journal," he said.
O'Neill says the goal is to teach scientific reasoning and procedures.
"From start to finish, you think of an idea, figure out how to answer your question, and deal with the realities of doing field work in a rainforest."
Students also learn to improvise and deal with the tools they have.
"You have to troubleshoot," said Romero. "What you thought about in an air-conditioned lab at UW-Whitewater may not apply. You don't have Walmart or Amazon to order things from. It's about how to be savvy: Science is not necessarily a straight line."
Romero has participated in the REU program for many years.
"When I was an undergrad (at Carleton College in Northfield, Minnesota), I went on this program the second year it was offered. Now, as a faculty member, it's very rewarding to be on the other side, mentoring students. Without that program, I wouldn't be doing what I do today," Romero says.
Beyond science
The students came home with more than scientific knowledge.
"Overall, it was being in a new country and taking in a new culture that's completely different from Wisconsin," Limón Ramirez said. "I am a first-generation college student; my parents never finished high school. Going to college was a completely new experience for me — I didn't imagine programs like this existed."
Meeting other program participants and research station staff also expanded their horizons. McIntosh's Samoan roommate wanted to teach Samoa and showed people Samoan dances.
The 2023 spring semester was McIntosh's first term at UW-Whitewater, as a junior. He had attended Illinois State University, then earned an associate degree at a community college.
"I'm glad I got this opportunity. I'm not sure I would have gotten it elsewhere," he said.
Hernandez Justicia, a junior at UW-Whitewater, grew up in Barcelona, Spain, and moved to Beloit with her family when she was 17. A biology major with an emphasis on marine biology, she says she felt energized by the program.
"It was magical to wake up and hear the monkeys. Every day, we'd see a new animal. You feel like you are in touch with nature," she said. "It was one of the best life experiences I've had."
---
Written by Judy Newman
Link to original story: https://www.uww.edu/news/archive/2023-07-costa-rica-trip