Thomas "TC" Hamilton has had the kind of college experience that many students dream about.
A senior psychology major at the University of Wisconsin-Whitewater, he's studied abroad, he's been a Warhawk Ambassador, he's received a college scholarship, he's held an on-campus job related to his major, and he's participated in the kinds of off-campus internships and employment sure to catch the attention of future employers.
But that rich college experience was never guaranteed for Hamilton, who grew up in Gillett, Wisconsin — population 1,300 — a town in Oconto County near Green Bay.
Hamilton has dyslexia. As a child, his reading level was zero until he was in 7th grade. He was fortunate to have a mom who is a special education teacher to support and encourage him: by the time he was a freshman in high school, he could read at a middle school level and he eventually graduated high school in the top 15 percent of his class.
Along the way he had another lucky break: his high school special education teacher was Brian Grill, a 2005 UW-Whitewater special education graduate who brought Thomas and some of his classmates to campus for a special tour for students with disabilities, called Opening Horizons, at UW-Whitewater.
"Being an alum, I was aware of the Horizons program," said Grill. " I wanted to show my students that, if they wanted a four-year degree, it is possible — there are supports that can make it happen. We took two vans full of students to campus, and there were two or three of the students who said 'I can go here? I can do this?"' Thomas was one of them."
As he considered college, Hamilton looked at other campuses, and was even recruited by some given his high school success as a track and field athlete specializing in the shot put.
"But I knew this was the place for me when I toured campus," said Hamilton.
When the Center for Students with Disabilities at UW-Whitewater reviewed his application, they recommended he be conditionally admitted, pending his successful participation in the Summer Transition Program, a program designed to both give students an early and thorough orientation to campus and to bolster their academic skills.
Hamilton did the month-long program, living in Starin Hall with about 50 other incoming students in July before his freshman year. The students completed classes together, packing six credit's worth of learning into four intensive weeks.
Soon after starting classes in the fall, he started working at the Center for Students with Disabilities, eventually holding various jobs including working at the desk and driving the service vans for students who need a lift.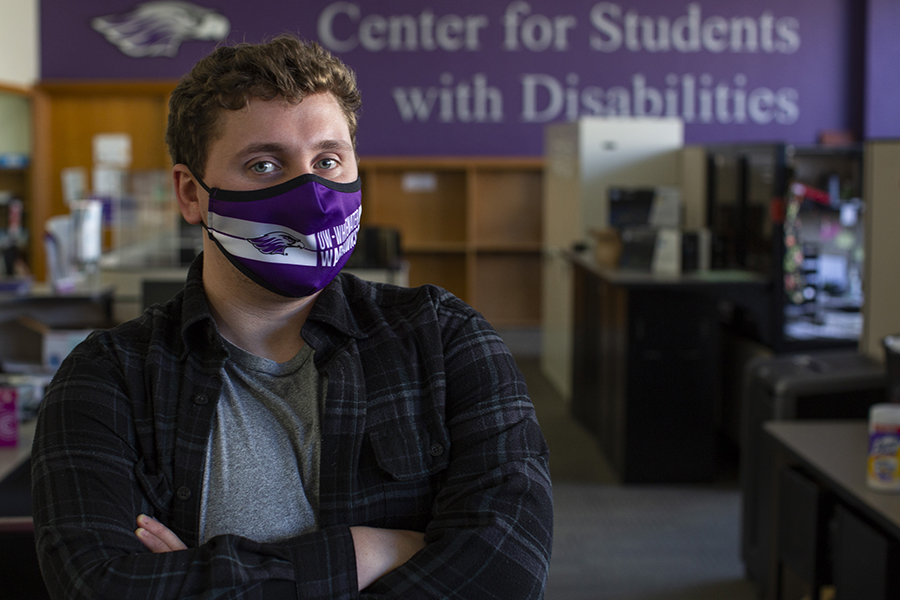 "TC is the salt of the earth," said Betsy Brandt, disability services coordinator at the CSD. "He's served in a number of positions in our office. Often when we hire students who also use our services, a lot of the times they want to stay in their comfort zones. I love that TC reached outside of his comfort zone, like becoming a Warhawk Ambassador and studying abroad."
Hamilton studied for a semester at the University of Limerick in Limerick, Ireland. And he's also been a peer mentor in the same pre-college program he participated in, helping students learn how to write papers and how to deal with roommate problems.
"He follows through on every single thing he needs to do," said Graciela Colin-Dealca, a senior counselor at the CSD. "He's extremely responsible and proactive — always checking in with me to see how he's doing. I've seen him take advantage of every opportunity that comes his way, from jobs to service opportunities."
"He's a very caring person," she added. "When we moved our CSD application online, Thomas learned how to use the program so he could navigate it, to be able to help students who run into problems using it. Because of his own experiences here, he wants to help others. He's going to go very far in life with that attitude."
One of the ways Hamilton has put his desire to help others into practice is through Employment Connections, a program under the Center for Inclusive Transition, Education and Employment at UW-Whitewater that serves as a provider for the Division of Vocational Rehabilitation of the State Department of Workforce Development. As part of Employment Connections, which collaborates with campus and community partners in assisting students with disabilities to prepare for their career goals, Hamilton coaches workers in the field, with the goal of helping them to achieve independence on the job.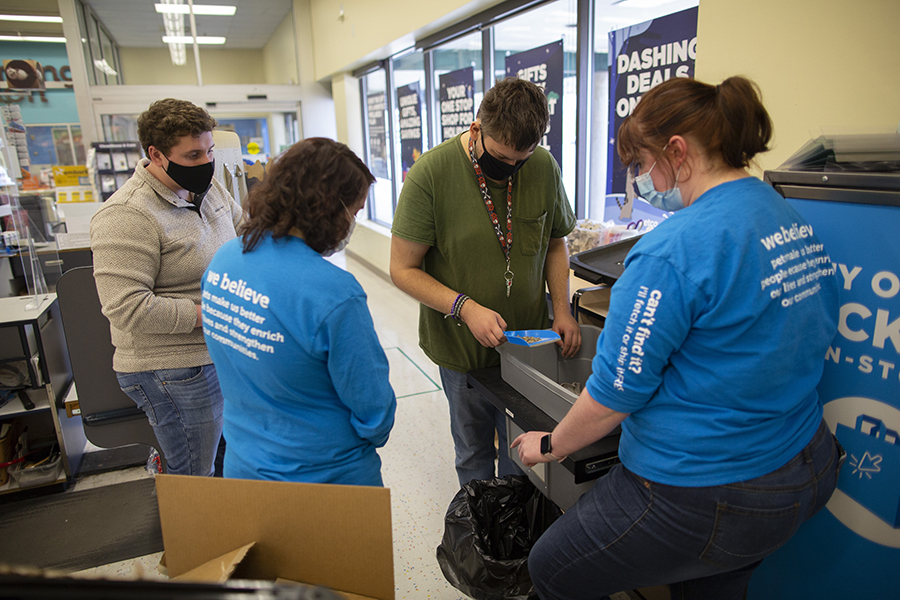 In one such job helping a young man with a seizure disorder at a Petco in Delafield in fall 2020, Hamilton observed the worker stocking shelves and interacting with store management.
"Having worked so many different jobs in the CSD, I believe Employment Connections has been one of my most educational. I have had the opportunity to work with a really diverse group of individuals. Some were just out of high school and others are older and looking for a new opportunity. Every day I get to learn new skills that I will be able to apply to my future employment."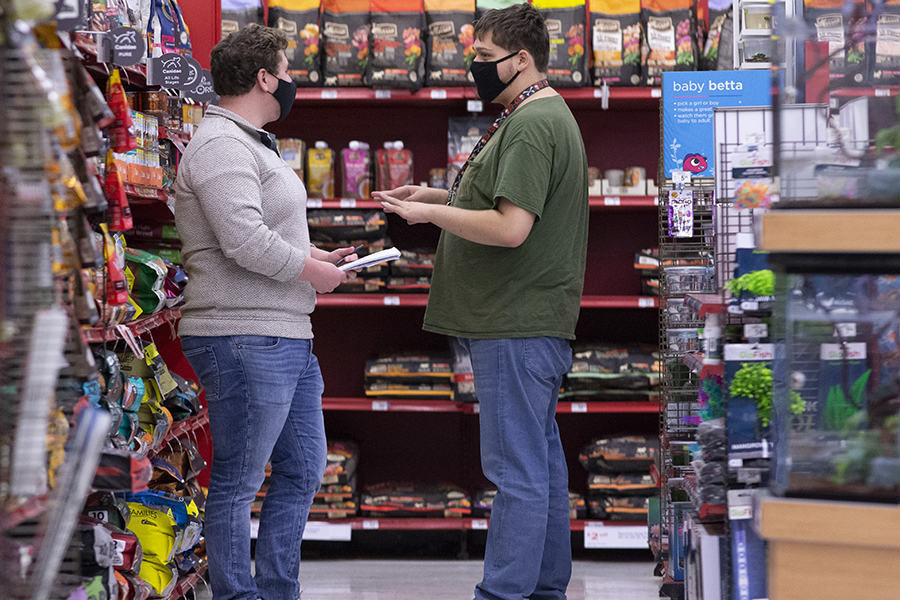 As his time at UW-Whitewater was nearing an end, Hamilton thought about providing more opportunities for students who use CSD such as himself. He spoke to the UW-Whitewater Foundation, Inc. about how to set up a scholarship for students who use the services of CSD who are also interested in a career helping students with disabilities. They helped him set up a foundation account for the Warhawk Inspired Scholarship, and he became the first Warhawk ever to set up such a scholarship — to benefit students using the CSD — while still a student.
"The scholarship can be used for tuition, or it can be used for things like CSD services, assistive devices, and tools," said Hamilton.
The first scholarship was awarded in April to Jacquelyn Bays, a special education major from Poplar Grove, Illinois.
"The staff here donated enough this year to start giving out an award for fall 2021. We donated in honor of Pam Albert, our beloved financial specialist of 13 years who we lost to a health condition this past fall," said Debbie Reuter, director of the CSD.
Hamilton's dream is to go to graduate school for higher education counseling and eventually work in a CSD-like environment, advising and mentoring students such as himself.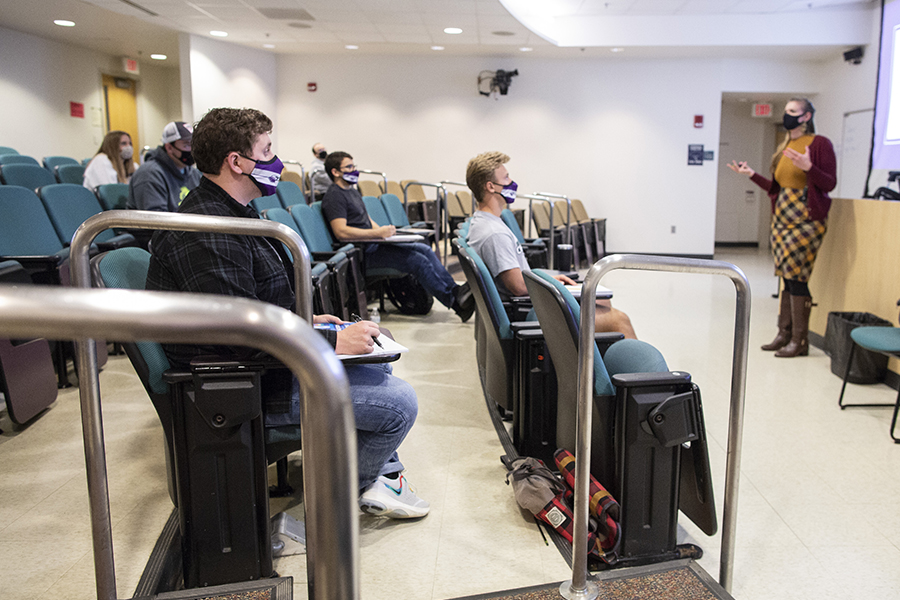 "I want to help students further their education, to help them push the limits of what they think they can do and what they want to do," said Hamilton, who graduates in May 2021 with a Bachelor of Science.
"We try to give each student a springboard," said Brandt of the CSD. "It's great to see TC's growth and development. His story isn't any different than that of other students, and at the same time, as a student with a disability, it is different. And he's going to go out into the world and be able to do some great things."
"Knowing him, I knew he had the drive to succeed in college, but for him to go above and beyond and do all these things? He's surpassed my expectations," said Grill, his high school teacher. "Holy cow, to see all this? To see how involved he's been?"
"I told him 'I'm proud to have you as a Warhawk alum. You've done so much for that university and been such a part of it.'"
Those interested in contributing to the Warhawks Inspired Scholarship should visit the Give Now page on the UW-Whitewater Foundation, Inc. website and select "Warhawk Inspired Scholarship" on the drop-down menu. For questions or assistance with the online form, please contact the UW-Whitewater Foundation, Inc. at 262-472-1105 or send an email to foundation@uww.edu.