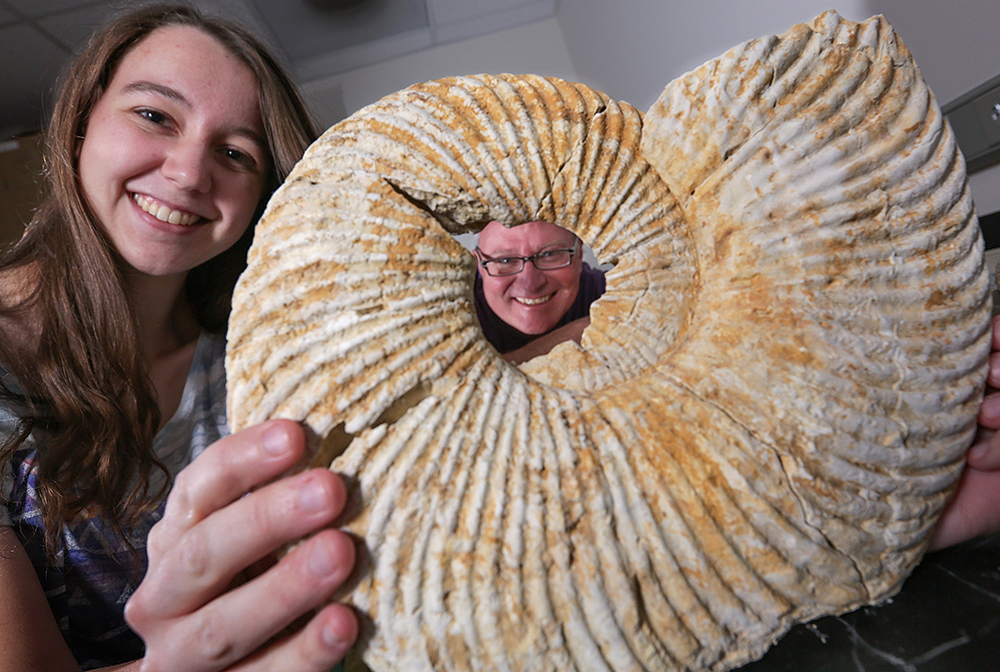 UW-Whitewater senior and Goldwater Scholar Melanie Sorman, left, and her faculty adviser, Associate Professor Rex Hanger are shown with a 120 million-year-old ammonite fossil in a geology lab at UW-Whitewater on Tuesday, April 5, 2016. Sorman has been working with a gamma ray spectrometer, which measures natural radioactivity in rocks and tells the oxygen level of ancient oceans. Hanger described the ammonite as an octopus-like creature stuffed into a coiled shell. Photo by Craig Schreiner.
---
In the vast expanses of Texas, Nebraska and Nevada — where outcroppings of rock and sediment reveal the petrified remains of creatures millions of years old — Melanie Sorman is digging up fossils.
Snails. Clams. Oysters. Brachiopods. Even shark teeth are hiding in these remote areas covered eons ago by a vast ocean.
Though she's a young paleontologist, the process is purely instinctual by now for the University of Wisconsin-Whitewater student.
"When we're out the field, we're searching for anything organic-looking. You look for markings, from lines to curves, to try to identify the fossil," Sorman said. "It's so cool to dig something out of the ground that's been there for millions of years. Sometimes we actually discover new species."
Sorman, a geology major from Hoffman Estates, Illinois, is already garnering recognition and awards for her research work and academic achievements. Last year, she won a scholarship and grant from the NASA-funded Wisconsin Space Grant Consortium.
And this year, she is a Barry M. Goldwater Scholar. The prestigious national scholarship is awarded annually to students pursuing research-oriented careers in mathematics, the natural sciences and engineering. The scholarships provide up to $7,500 per year for up to two years of undergraduate study.
Sorman is the third Warhawk to win this honor. Chemistry majors Marie Nider and Andrew Phillips won in 2012 and 2014, respectively.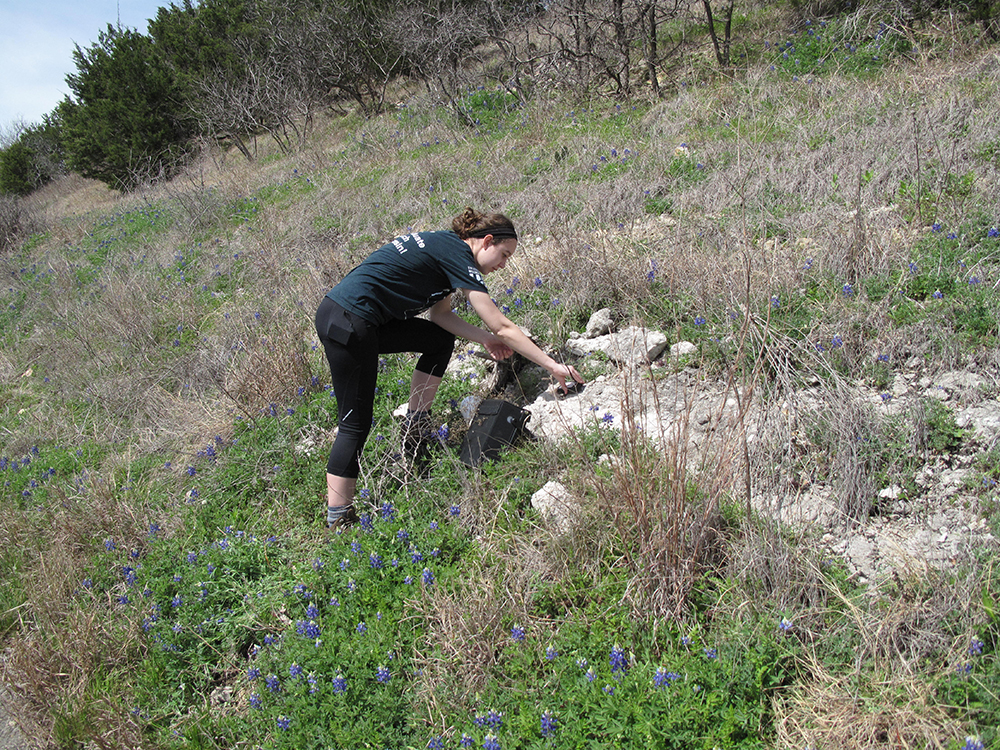 Sorman searches a hillside in Gatesville, Texas. Photo submitted.
---
"Melanie is very effective at incorporating multiple disciplines like geology and physics into her work," said Rex Hanger, Sorman's mentor. "You can't be a silo anymore. The best advances come from cross-pollination of the sciences."
Hanger, an associate professor in the Department of Geography, Geology and Environmental Science, is adamant about immersing his students in out-of-the-classroom experiences.
"The best geologists are the ones who have seen the most rocks. It's not just about lab work. You need to go places."
Over the last 16 years, he's taken hundreds of students on paleontological digs, securing support from NASA and other sources to fund them. The research revolves around fossils — those abundant and useful artifacts for learning about everything from earth history to evolution to plate tectonics — found in ancient oceans.
Students use instruments like gamma ray spectrometers to sample rocks for radioactivity while investigating oxygen conditions in ancient oceans.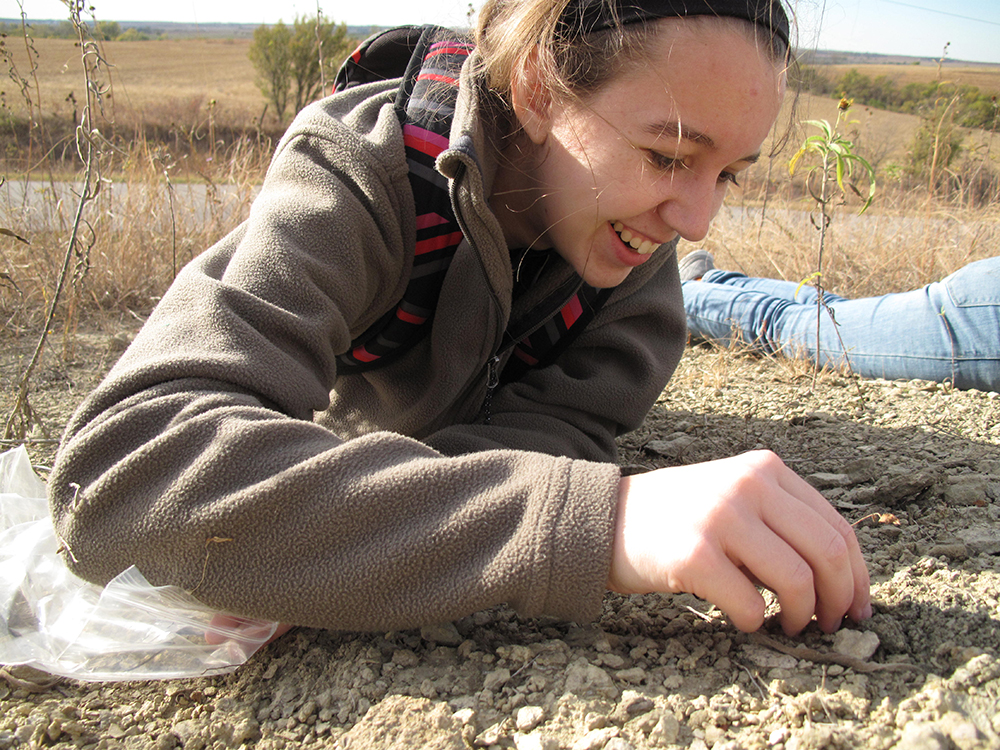 Sorman searching for fossils in Falls City, Nebraska. Photo submitted.
---
It's the kind of experience that gets UW-Whitewater students noticed by the Smithsonian Institution. This summer, Sorman will become the fourth Warhawk to head to Washington, D.C., and participate in the museum's Natural History Research Experiences. Since 2007, only the University of California, Berkeley has sent as many students to this coveted internship.
"The program's acceptance rate (3.45%) is lower than the record-low acceptance rate for Harvard University (5.9%)," said Hanger.
Sorman won't be staying put after her return from the nation's capital. This fall, she will follow Hanger overseas to learn in the Wisconsin in Scotland program.
"It's an opportunity to see where geology was born," Sorman said, referring to James Hutton, the Edinburgh scientist known as the father of modern geology. She's excited to stay in historic Dalkeith Palace and explore one of the region's dormant volcanoes. She's amazed at the path she's forged as a UW-Whitewater student.
"I remember seeing Sue, the famous Tyrannosaurus rex at the Field Museum of Natural History in Chicago. I had no idea my interest in paleontology as a kid would lead me here."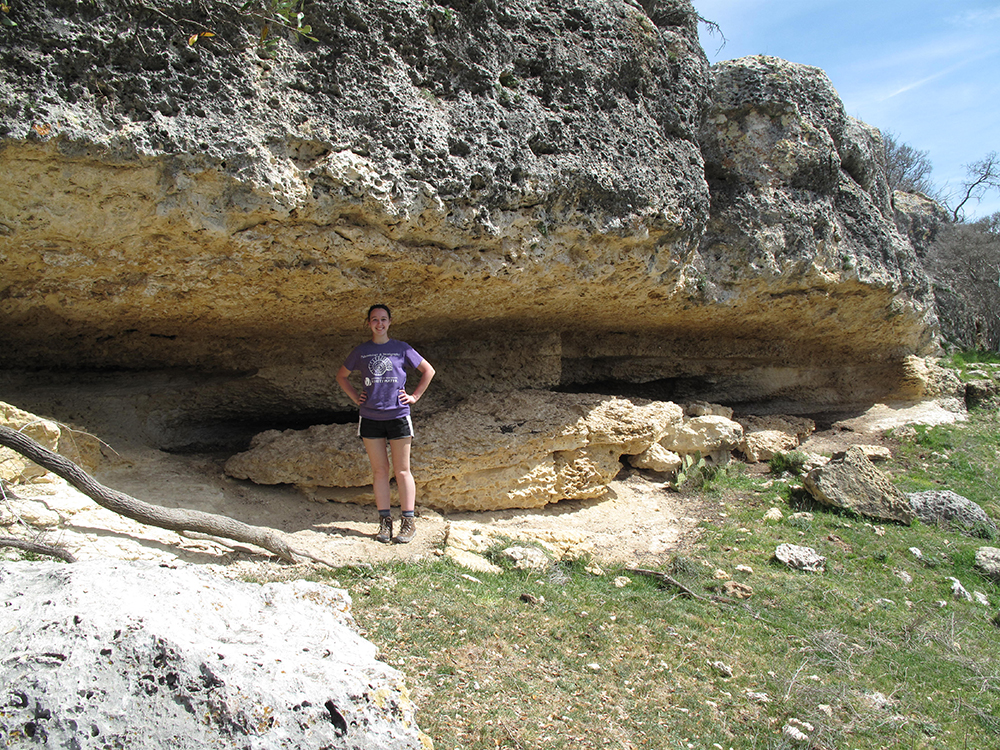 Sorman on a research trip in Coryell County, Texas. Photo submitted.
See more at: http://www.uww.edu/news/archive/2016-04-goldwater