One UW-Whitewater graduating senior will go on to a NASA-sponsored research program this summer in Colorado and then to graduate school in California. But she will always remember that it began at the university in her own back yard.
"I'm a (Whitewater) native," said Shaundra "Shaunie" Rasmussen. "I actually didn't intend to go on to school when I graduated from high school. I enlisted in the military and I ended up getting hurt, so I wasn't able to do it. I took a year to figure out what I was doing and I thought why not go to school here. There's a school in my back yard."
Rasmussen's goal evolved after enrolling at UW-Whitewater as a biology major. She changed her major to international studies and then to geography. When she took a required course on human geography, Rasmussen said, "I felt like this was where I was meant to be."
Her two-year journey in undergraduate research began one day in 2016 when Assistant Professor Rocio Duchesne visited Rasmussen's introduction to geography class to talk about the science of remote sensing and to invite students who might want to participate in a project. Rasmussen was intrigued.
"Remote sensing is gathering information without physically being present," Rasmussen said. "So satellites are an example of that. Technically your eyes are an example of that because you're getting data without actually touching anything. There are so many applications for it."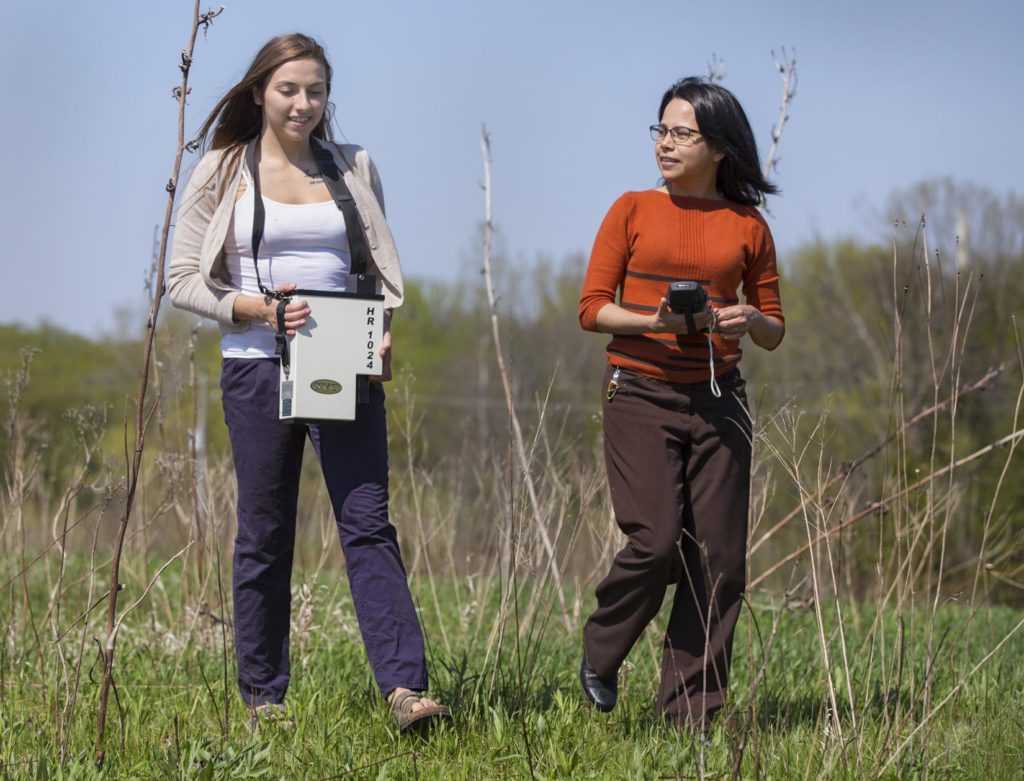 Duchesne and her student researchers decided on a study of plant productivity using crops on a farm in the township of Cold Spring northwest of Whitewater. Rasmussen recounts dodging bees and other insects in the summer heat and carefully walking the fields of young plants with remote sensing equipment to take reflectivity readings from the leaves of the plants.
"We looked at spring wheat, alfalfa and oats through the growing season to account for the different stages of the crops," Rasmussen said. "And once fall came, everything was harvested and then (the work) was coming up with a model to best predict leaf area index. It was a long process of trying to organize the information."
And it was a process which will serve her well in the months ahead, first as a member of a research team for NASA Develop for ten weeks this summer in Fort Collins, Colorado, and then as a graduate student in geography at San Diego State University in the fall. In California, she hopes to do research on watershed science.
Rasmussen said her research team in the NASA Develop program will study Grand Canyon water resources. Rasmussen said she expects to gain more experience with remote sensing, which she will use in her graduate studies later on.
"New algorithms to model what we observe on the planet are being developed constantly," she said. "So it's an emerging technology even though it's been out there for quite a few decades now. It is considered an art and a science."