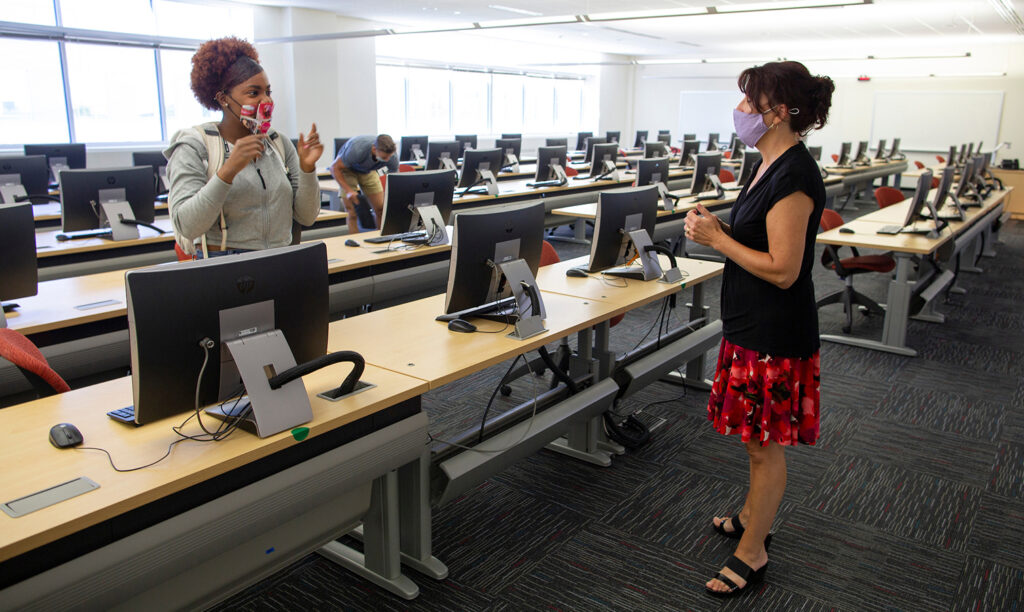 The University of Wisconsin-Whitewater has received the Program of Study Validation from the National Centers of Academic Excellence in Cybersecurity. This recognition extends to the Bachelor of Business Administration in Information Technology with a Networking and Security emphasis offered by the College of Business and Economics.
"It is an honor to earn this designation from the National Security Agency," said Roger Yin, professor of information technology and co-director of the Cybersecurity Center for Business at UW-Whitewater. "This is one of the most difficult designations to receive, as the university is assessed on its research, program offerings, multidisciplinary approach, performance in cyber competitions and other factors."
"Our IT major with an emphasis in Networking and Security delivers hands-on, practical instruction with heavy engagement and involvement with community and corporate partners," said Andy Ciganek, department chair of information technology and supply chain management. "The NSA designation validates the high-quality instruction delivered by our professors and establishes UW-Whitewater as a first-choice destination and leader in cybersecurity education in the Midwest."
Students graduating from the program can receive a certificate to show that they have completed the requirements of a CAE Program of Study. Though graduates will be entering a high-demand field, the credential will further enhance their professional prospects.
Government officials and industry leaders have raised the urgency of their cybersecurity efforts in the wake of attacks against critical infrastructure and businesses. However, the demand for trained workers is reaching a crisis level, and the current talent shortfall was estimated at 500,000 workers in a recent presentation to a congressional subcommittee. In an effort to close the skills gap, the CAE-CD program sets standards for cybersecurity curriculum and academic excellence and encourages integration across academic disciplines.
The CAE-CD program also prioritizes community outreach and leadership. Collaboration with a business center that provides community services and business outreach is integral to a successful application. The Cybersecurity Center for Business at UW-Whitewater is hosted by the College of Business and Economics. The CCB provides cybersecurity education and training for businesses, local governments, and educational institutions throughout Wisconsin and portions of Illinois.
"Our application received high marks, along with praise for the Cybersecurity Center for Business," said Yin. "The reviewers stated that the university and the CCB set a new standard for other aspiring institutions to emulate."
"I applaud the effort and persistence by our staff in the information technology and supply chain management department," said Paul Ambrose, interim dean of the College of Business and Economics. "This achievement helps highlight the college's commitment to meeting the ever-evolving needs of Wisconsin's businesses and workforce through relevant, innovative curriculum and state-of-the-art resources."
Students graduating as early as December 2021 can obtain the certificate for completing a CAE-CD Program of Study. The program validation will be effective through August 2026 and can be renewed upon review.
For more information, contact Roger Yin at 262-472-5473 or yinl@uww.edu.
Written by Dana Krems | Photo by Craig Schreiner