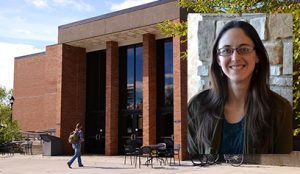 The University of Wisconsin-Superior's Jim Dan Hill Library recently received the Governor's Award for Archival Achievement for the preservation of the Fraser Shipyards papers and technical drawings.
"To me, this award honors not just the archive staff, but everyone who has been involved with this collection," said Shana Aue, UW-Superior Special Collections and Archives Librarian. "From the staff at Fraser Shipyards who have been so supportive of our work with their records, to the maritime historians who have volunteered their time to help interpret these materials, to the student employees and interns who helped re-box files when we first received the collection – this award also recognizes the historic value of this collection, and the great contribution that it makes to maritime history research and culture in our region."
The Fraser Shipyard Collection was acquired by the UW-Superior Special Collections in the fall of 2013 in cooperation with Fraser Shipyards, located in Superior.
"The Fraser Shipyards Collection arrived at UW-Superior about a month before I started working here," said Aue. "I think the most overwhelming moment for me was when I was faced with all those untouched boxes of records on my first day at the job. It was a huge, unprocessed collection, and I had no idea how I was going to deal with it."
The collection include working design documents and blueprints of such well-known vessels as the Edmund Fitzgerald, the Mackinaw, the Leon Fraser and others. The blueprints and ship plans have been of interest to academic researchers and Great Lakes history buffs alike. Some of the drawings in the Fraser Collection are of ships still in operation, making the collection of particular interest to shipping companies and engineers. A $50,000 National Maritime Heritage Grant allowed hundreds of the historic technical drawings to be preserved.
"Our panel of judges was wholly impressed by the nomination packet and, of course, by archivist Shana Aue's fine stewardship of the Fraser Shipyard's historical records," said Matthew Blessing, State Archivist and member of the Wisconsin Historical Records Advisory Board.
Members of the judging panel commented that the UW-Superior archives "preserved records valuable to the community and a local business, built upon the existing strength of the archives' holdings, and enhanced public awareness of the archives," and that it "has successfully created access to a previously 'hidden' collection that would have been parceled to private collectors had the UW-Superior archives not stepped in to preserve the collection."
An official award ceremony will be held at UW-Superior in October to coincide with Archives Month. UW-Superior's Jim Dan Hill Library also received this award in 2004.