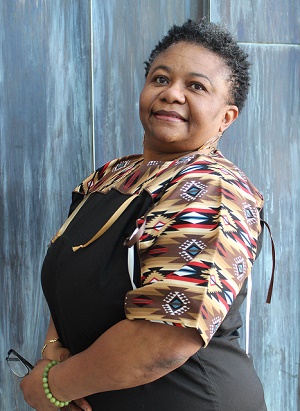 It has been a long journey to becoming an artist for Karen Drewry – one that took her to three institutions of higher education, through a military career, across several states and countries, and finally, on a path to finding art as a way to cope with post-traumatic stress disorder (PTSD) and share her life experiences with others.
Last weekend the nontraditional student graduated from UW-Stevens Point with a Bachelor of Fine Arts degree with three emphases – graphic design, 2-D art and 3-D art, earned over the last four years.
Drewry has found her purpose through art.
"Art in general is therapeutic for me," she said. "I can express myself in terms of my life experiences. It helps me see my life through different angles and gives me balance."
A Virginia native, Drewry began her educational journey at Hampton Institute in her home state. Although she loved art, she didn't see many women of color with art as a career, so she earned a degree in mathematics and computer science. She also joined the ROTC program, and after college served five years in the U.S. Army and two years in the Army Reserve, earning the rank of captain with tours in Korea and the Middle East.
Following active duty, she taught high school mathematics and was a computer programmer. In 2007, while working as a therapy aide, Drewry was diagnosed with PTSD as a result of experiences in Operation Desert Storm. She then worked as a vocational rehabilitation specialist at a VA hospital in Coatesville, Pa., helping veterans secure gainful employment and become integrated into the community. Career setbacks then led her to move in with her son, Marcus, in Virginia. She credits him with motivating and inspiring her to go back to school for art – what he recognizes as 'her first love' .
"Art kept drawing me in," she said. She began taking graphic design classes at Tidewater Community College, but during that time she realized she needed more help to cope with her PTSD. She applied to several VA therapy programs and the one that responded first was the Tomah, Wis., VA Medical Center. With the encouragement of a friend and veteran in Nekoosa, she moved to Wisconsin.
That friend was attending classes at UW-Stevens Point and encouraged Drewry to check it out. During her first visit to campus, she met Arts Management Associate Professor Jim O'Connell, who lent her a book from his own collection. She decided to enroll in graphic design.
Classes in her major led to other types of art courses. Her professors, including Diana Hoover, Kristin Thielking and JinMan Jo, encouraged her to grow as a designer, discover who she was as a female artist and to use glass, wood, metal and found objects to create concepts using her life experiences. She recalls Jo told her, "Pour all of who you are into your art, because that is what makes it meaningful." Professor Rob Stolzer helped strengthen her confidence to illustrate and graphically narrate her work, "something I dreamed about as a child," she said.
She became involved in public art while taking a class with Thielking, and as a result she collaborated with fellow classmates to design and install a mural on Main Street in downtown Stevens Point. In addition to her instructors, she found support from UW-Stevens Point Veteran's Coordinator Ann Whipp and her VocRehab counselor, Anne Sobota.
These various opportunities led her to extending her time at UW-Stevens Point to include the three art emphases.
"All of my professors inspired, motivated and pushed me to excel and expand," she said. "They stretched my boundaries and got me out of my comfort zone. That's been life changing for me."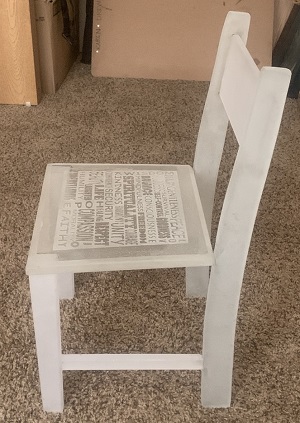 Her varied artworks reflect her struggles with PTSD, racism, sexism, classism and other issues. While working at home during the COVID-19 pandemic, she created more than 100 molds of her own head, one black, the others white. She created a glass chair with words such as humility, compassion, unity and kindness on the seat, demonstrating their fragility.
"My art gives me a voice, a platform," she said. "It's primarily educational, to make others aware and to open minds to real issues."
Since enrolling at UW-Stevens Point, Drewry has won numerous awards for her artwork, including three Best of Show, an Excellence in Glass and Honorable Mention for the 2020 Outstanding Student Achievement in Contemporary Sculpture Award.
Last fall, Drewry's glass chair won first place in the Veteran's Creative Arts Festival. She also won first place for a logo design and second place for a self-portrait. She has taken part in several virtual art shows and recently showed work at the Riverfront Arts Center in Stevens Point where she also received an award for her work.
Drewry's future plans include earning a master's degree in fine art with the goal of post-secondary teaching as well as writing and illustrating children's books.
She will continue creating art, working with her UW-Stevens Point mentors and drawing inspiration from her grandchildren.
"I'm grateful," she said. "I just like learning. The other side of it is sharing what you have learned. That is how I've grown, with others sharing their knowledge with me. I hope to do the same.
"Everything I've been through, all of that has been my education," she said. "As human beings with different experiences, we build on those life experiences, and we make something positive from it. I have found my purpose in this world and I continually work on perfecting it."