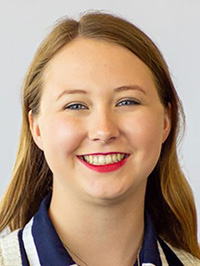 University of Wisconsin-River Falls senior Sophie Ackerman is the recipient of a $4,000 Ambassador Grant by the WiSys organization to research loneliness and isolation.
Ackerman's research, "Combating the Effects of Isolation During Quarantine," will evaluate strategies that lessen the negative effects of loneliness and isolation during a national quarantine. The research may also have uses among the elderly and correctional facility inmates. Assistant Psychology Professor James Cortright is Ackerman's faculty mentor.
Ambassador grants help WiSys Ambassadors advance their knowledge and skills as young researchers through summer research programs. The grants may be used for implementation and completion of short-term projects or to advance long-term projects the ambassador undertook with the guidance of a faculty mentor.
Ackerman, of Marshfield, was selected to serve as a WiSys Ambassador during the 2019-20 academic year, enhancing the connection between WiSys and the UW-River Falls research community.
To learn more about the WiSys Ambassador Program and WiSys ambassador grants, visit wisys.org/about-us/ambassador-program.
WiSys is a nonprofit organization that works with faculty, staff, students, and alumni of the UW System to facilitate cutting-edge research programs, develop and commercialize discoveries and foster a spirit of innovative and entrepreneurial thinking across the state.