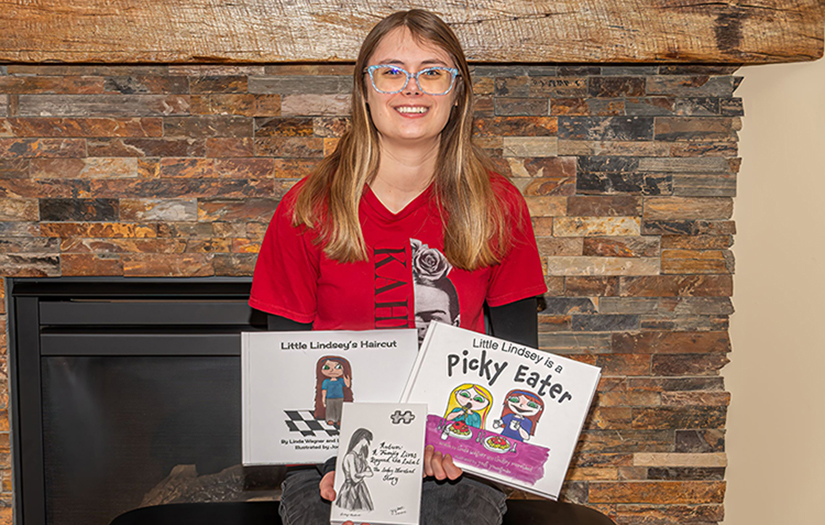 At 28 months of age, University of Wisconsin-River Falls alum Lindsey Moreland was diagnosed with autism after showing classic signs including not responding to her name and banging her head into walls.
"It was devastating," Lindsey's mom, Lauri Moreland, recalled. "We called it the death sentence. There was nothing good to read about autism. We were told by a social worker that Lindsey would probably live in an institution. Everything was what she was not going to do."
Now 28, Lindsey has come to appreciate how autism has shaped her.
"Autism is my superpower," Lindsey often notes. April is recognized as Autism Awareness Month.
In 2011, Lindsey's junior year in high school, she saw Temple Grandin speak at UWRF. Grandin is an author, professor and public speaker on both autism and animal behavior.
From there, her family decided it was time to tell Lindsey's story by using Grandin's example and finding acceptance of herself.
"We don't always know why some therapies work for Lindsey and not for someone else," Lauri said. "Don't judge people. You never know what a family is facing. Now we know life is better with autism."
Lindsey, who lives independently in River Falls, is an author, motivational speaker and artist.
Her most recent children's book, which she co-authored with her aunt, Linda Wagner, "Little Lindsey is a Picky Eater," is available at Target.com. Lindsey, who earned her associate degree from UWRF in December, works as a guest advocate at the Hudson Target.
"I love to shop there," Lindsey said. "My co-workers are really friendly and very accepting of who I am. Target accepts differences and also is inclusive."
At speaking engagements, Lauri, Lindsey and Lindsey's sister, Brittany Moreland, share their stories. Brittany has been diagnosed with epilepsy, mental health concerns and a learning disability.
"By sharing our family story of living with autism and mental health concerns, I hope to inspire others to live, survive and thrive in today's society," Lindsey said. "I also am on a mission to spread awareness about bullying and to accept differences. Understanding each other better is a great way to share acceptance."
The three will be speaking at UWRF from 6 to 7:30 p.m. on Wednesday, April 27, in North Hall Auditorium on "Autism: A Family Lives Beyond the Label." The event is free and open to all. It is hosted by the Disability Rights Education Activism Mentoring.
The first book the family published was in 2017. "Autism: A Family Lives Beyond the Label the Lindsey Moreland Story" has chapters written from different family members' perspectives. Lindsey writes of first learning she had autism, Britany, Lauri and Lindsey's father, Todd Moreland, grandma, Ida Feyereisen, and Wagner.
Wagner, a 1993 UWRF alum with a bachelor's degree in elementary education and a teaching certificate in elementary Spanish instruction, teaches 3rd grade in Hudson.
Wagner said she witnessed the challenges Lindsey's family faced as Lindsey grew up.
"As a mother, teacher and aunt, I searched for books that could help families with autism," Wagner said. "I found very little and knew there was a need for more information in the autism world. Lindsey has worked hard to become a successful adult in a world that does not always understand the special needs of people with learning differences. The support she received along the way was tremendous from family, friends, therapists, teachers and even strangers."
Lauri asked Wagner to help tell their family story. The goal was to write it for the purpose of giving others hope and sharing their family's struggles along the way. Lindsey volunteered in Wagner's classroom several years ago, and in one of Lindsey's classes at UWRF, she made a children's book about having autism.
"My students at the time loved it and were very curious," Wagner said. "They wondered why there weren't more books about children with autism, specifically children's stories. As a result, the idea for the Little Lindsey series was born. Lindsey helps me as a writer to understand how hard it was for her with certain day-to-day experiences. I test the books out on my students and family before we make final decisions."
Lindsey also has another children's book "Little Lindsey Gets a Haircut." All the books are illustrated by Jodi Youngman, an artist from North Hudson.
"I thought the children's books would be educational and more from the standpoint if there was a child with special needs, it would help other children understand," Lindsey said.
The family is planning a third children's book at the end of this year where little Lindsey makes a friend.
Lindsey also creates graphic pencil, pen and ink, colored pencil and acrylic paint art.
"Being an artist is my gifted talent," Lindsey said. "I began to develop my talent around 13 years old. Unlike other children my age who were selling lemonade on the street corner, I tried selling my art. Although it didn't go as well as I hoped, I continued to pursue my art in middle school, high school, and beyond. The inspiration for my drawings comes from my passions. I am fascinated with the details of the Titanic, still life drawings, famous celebrities and animals. Depending on the topic, subject matter and my mood, these drawings help me communicate with the world."
To learn more about Lindsey's story, view her artwork and learn more about her books, go to autismlm.com.
---
Written by UW-River Falls University Communications and Marketing
Link to original story: https://www.uwrf.edu/News/AlumschildrensbooksshareautismjourneyfamilytospeakoncampusApril27.cfm