PLATTEVILLE, Wis.­­­ — The University of Wisconsin-Platteville Women in Engineering, Mathematics and Science Mentor Center was recently recognized as one of the top mentoring EMS programs for women in the country, according to a report released by NerdScholar. The report highlighted six nationwide programs that cultivate mentorship for women entering the science, technology, engineering and mathematics fields.
The UW-Platteville Women in EMS Mentor Center was created in 2003 to provide female EMS students with a consistent location for formal or informal meetings, a library of professional literature and resources, a place for daily study and tutoring, and a relaxed environment for socializing and networking.
"Students form a support community when they come to the center, and that community is really strong," said Tammy Salmon-Stephens, director of the Women in EMS program at UW-Platteville. "The center creates an environment of students wanting to help other women. We have a pay-it-forward mentality."
According to Salmon-Stephens, the center provides important mentoring opportunities that benefit everyone involved. Being a mentor gives students the chance to heighten the self-esteem of others, and at the same time build their own confidence, through serving as a role model.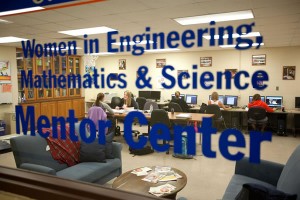 "Women in EMS fields can feel isolated. In the classroom setting it can be very intimidating to be one of the only females, and women sometimes doubt themselves in STEM fields," said Salmon-Stephens. "The center provides infrastructure to not only impact the students personally and socially, but also impact their learning as well."
Approximately 40-60 students participated in mentoring in the center last year. Salmon-Stephens said she expects to see this number grow, in part due to a recent grant from the National Science Foundation. The grant will aid in efforts to build additional capacity and infrastructure within the program, allowing the center to connect existing high impact practices and expand those practices to more women.
The first living-learning community for UW-Platteville began last fall for women in STEM fields in a collaborative effort between Residence Life and the Women in EMS program. The living-learning community provides an extended support network and enhanced academic and social opportunities for students. There are 37 freshmen and 19 sophomores registered for two WiSTEM LLCs this fall. According to Salmon-Stephens, the addition of the WiSTEM LLCs, and the increased capacity and infrastructure for the Women in EMS Mentor program, will impact women students in the College of EMS significantly.
Salmon-Stephens said that the recognition of UW-Platteville's Women in EMS program is good validation of the work the program has been doing. "It shows we are serious about what we are doing here," said Salmon-Stephens. "We read research about what works and we work hard to implement high impact practices so that we can make a difference."
Visit http://www.nerdwallet.com/blog/nerdscholar/2013/stem-programs-for-women/ to see the full article from NerdScholar.
Contact: Tammy Salmon-Stephens, director of Women in EMS, (608) 342-1563, salmont@uwplatt.edu
Written by: Alison Parkins, UW-Platteville University Information and Communications, (608) 342-1526, parkinsal@uwplatt.edu