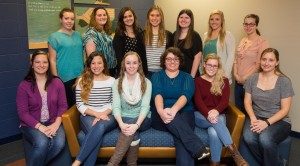 PLATTEVILLE, Wis.­­­ — The Society of Women Engineers (SWE) will host the Region H Conference Feb. 26–28, 2016. UW-Platteville will welcome over 700 collegiate members and professionals to campus who will have the opportunity to network and learn through breakout sessions, keynote speakers and much more.
Since 2010, the number of women in engineering majors at UW-Platteville has doubled, and this event will be an opportunity to celebrate the growth the department has seen.
SWE Director of Community Relations Hannah Ihlenfeldt explained how special being selected as the host is to the organization. "Platteville is pretty centered in the region, so we're a good location to host it," she said. "We met with the chamber in Platteville, and they said that the city of Platteville has never hosted a conference of this size, so the fact that our SWE section gets to put on this big of a conference for the first time ever in Platteville is pretty cool as well."
This conference has previously been hosted at Notre Dame, UW-Madison, Michigan Tech and the University of Minnesota, among others.
The first night of the conference will be focused on attendees socializing with other members of the region. There will be a dinner and movie night as well as a few companies hosting game tables for the women to network with. On Saturday, there will be keynote speakers for breakfast and dinner, breakout sessions for professional development, a career fair and tours of John Deere and Epic. To end the night, there will be a performance by the Midwest Dueling Pianos for attendees to enjoy.
Ihlenfeldt explained that the planning process for the conference has been a learning experience and that she hopes that attendees walk away as empowered as she felt after the last SWE Region H conference.
"We meet every week, and it's teaching us a lot of time management and responsibility," she said. "I went to the conference last year, and it was a great overall experience. It was cool to see all of these women in engineering with the same interests and to hear speakers talk about concerns you have. It was really empowering, and I hope that conference attendees this year can experience the same things and be more confident in their career choice and realize that there's all of these other people in the same situation as them that they can connect with and learn from."
SWE is still accepting sponsorships as well as volunteers. For more information about sponsorship, volunteering or the conference, visit the SWE webpage at www.uwplatt.edu/ems-success/swe-region-h-conference
Written by: Emalydia Flenory, UW-Platteville University Information and Communications,
608-342-1194, flenorye@uwplatt.edu