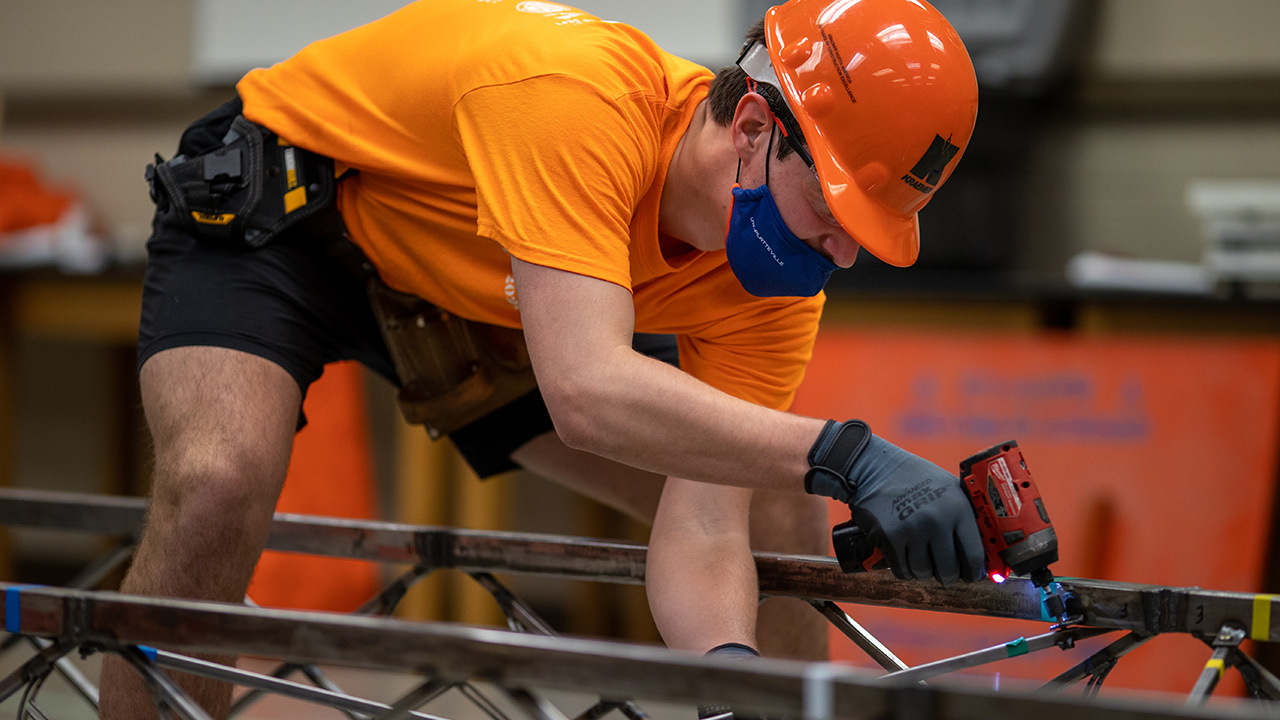 A group of University of Wisconsin-Platteville students from the Department of Civil and Environmental Engineering ranked among the top teams, nationwide, in the recent Student Steel Bridge Competition, sponsored by the American Institute of Steel Construction. Twenty-five teams competed in this year's event. The UW-Platteville team ranked eighth overall and achieved a second-place ranking in the efficiency category and third place in the lightness category.
The UW-Platteville team, which advanced to nationals after winning the Midwest regional competition in April, included civil engineering majors Ryan Mai, a junior from Eleva, Wisconsin; Spencer Reinecke, a senior from Reedsburg, Wisconsin; Eli Trast, a senior from Green Bay, Wisconsin; Hunter Lund, a senior from Annandale, Minnesota; Justin Vande Hei, a sophomore from Seymour, Wisconsin; Gabe Weaver, a junior from La Crosse, Wisconsin; Ben Piechowski, a junior from Redgranite, Wisconsin; Austin Cooper, a sophomore from Sun Prairie, Wisconsin; and Dylan Ruechel, a freshman from Pulaski, Wisconsin.
AISC's annual competition challenges students to develop a scale-model of a steel bridge. The team is timed as they build the bridge at the competition. Bridges are then load tested and weighed, and must span approximately 20 feet and carry 2,500 pounds. Due to COVID-19 restrictions, teams competed from their individual campuses this year.
"This was a very unique year for our steel bridge team," said Lund, who was one of the team's co-captains. "With last year's competition cancelled, we were able to use last year's bridge to compete this year. Having 90% of the bridge fabricated going into the school year, we were then able to focus the majority of our time on practicing for competition.  When it came to the competition, rather than traveling to North Dakota for regionals and Virginia for nationals, all teams had to compete from campus and submit videos. Lea Ljumanovic acted as our on-campus judge for both competitions and was a great help when it came to the competition. Our advisor, Dr. Amr El Ragaby, was also a great help to the team this year. Dr. El Ragaby worked with last year's captains to finalize the bridge design and then worked closely with this year's captains to ensure the competition ran smoothly."
The team's bridge was just over 20 feet long, weighed 163 pounds and supported a load of 2,500 pounds, with an approximate aggregate deflection of 0.75 inches. During competition, it was assembled by five team members in 4 minutes and 46 seconds.
"As this year's bridge was a continuation of the 2019-2020 season, due to COVID, getting eighth at nationals was a great honor, because it was not just a win for those who are currently on the team, but also those who graduated in 2020 and played a major role in the bridge's construction," said Lund.