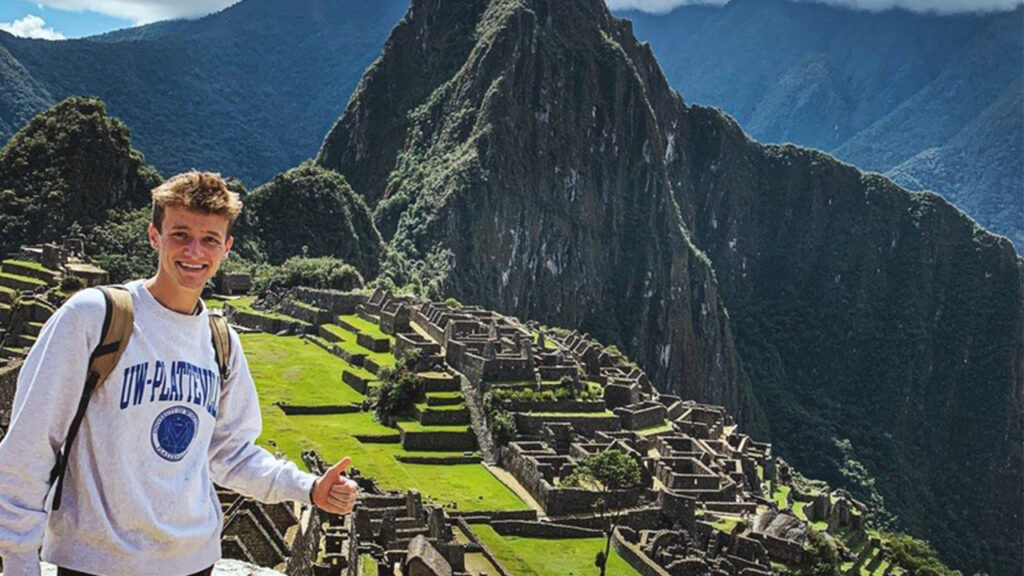 Spencer Butterfield had a summer internship experience like few others. Combining his double majors in sustainability and renewable energy systems and Spanish, the University of Wisconsin-Platteville senior from Shawnee, Kansas, spent two months in the Amazon Rainforest, conducting research on solar panel policy in the rural community of Monterey, Peru.
After his initial internship for summer of 2021 was cancelled due to COVID-19, Butterfield found a nonprofit organization called Alliance for a Sustainable Amazon (ASA), which hired him as one of its summer interns. Being located in Spanish-speaking Peru was the perfect fit for Butterfield, giving him the opportunity to also fulfill his internship requirement for his Spanish major.
"I approached Professor Schulenburg [Professor of Spanish] to see if it would work for my Spanish major internship, and he said 'absolutely.' I gave a few presentations in Spanish and kept a daily journal in Spanish."
ASA established a research site in the middle of the Amazon Rainforest to do some in-house research projects. Most of the research site is utilized by scientists and researchers from around the world doing their own research. Many of the in-house research projects ASA conducts are done by interns like Butterfield.
"They do their own in-house projects," Butterfield said. "They hire interns, like myself, from all over the country and world. There were interns from Columbia, Yale, Indiana and University of Toronto, just to name a few. There was a good mix."
Butterfield's research involved studying a project started by the Peruvian government in 2013. Known as the programa massivo, the goal was to distribute 150,000 85-watt solar panels to extremely rural communities that struggle with stable electrical supply.
"I got the opportunity to do my own individual research project," Butterfield said. "The Peru government gave solar panels to rural areas, and some of these panels were not working or the people didn't know how to use them. My research focused on the policy and doing interviews with the users to see if they were satisfied. I ended up doing 10 total interviews, eight with users and two panel experts within the region."
All 10 interviews were done completely in Spanish, something that was nerve-racking at first for Butterfield. However, he drew on his leadership skills as a member of the Pioneer soccer team and president of the Pioneer Student-Athlete Advisory Committee (PSAAC) to help him through his project.
Being PSAAC president gave him the confidence, not only to complete the research but to build relationships and friendships with the other interns.
"When we arrived, we got introduced to people from all over the world," he said. "We needed to communicate in a mix of Spanish and English. Being PSAAC president gave me the confidence to go up to people and speak with them, tell them about myself, the campus and what we do on campus."
His research required him to visit the homes of the locals with solar panels and introduce himself. Soccer played a big role in getting the interview started.
"Soccer is a universal sport and big in Peru," Butterfield said. "All my interviews were cold interviews. I would walk up to a house that they lived in and needed to knock on the door to conduct the interview. A lot of times, kids would be out in the front yard kicking a soccer ball around and I would join them. The parents would come out and it was a good intro to them by playing soccer with the kids."
Butterfield credits his professors for preparing him for the internship as well.
"I have taken most of my Spanish classes with Professor Schulenburg," he said. "Having taken his classes and having conversations with him helped prepare me to have a full conversation in Spanish in Peru."
Butterfield's advisor from SRES is Dr. Pamela Tas, assistant professor and SRES coordinator. He credits her for preparing him for the internship with the knowledge she provided in policy.
"Dr. Tas's energy classes were very helpful. She explained different policy on solar panels and the effects it can have on people," he said.
The two months Butterfield spent in the Amazon Rainforest wasn't all work. He had the opportunity to explore Peru and made an 11-hour bus ride to Machu Picchu.
"The week in Machu Picchu was amazing, and I would highly recommend visiting it," he said. "Anybody that has a thought or desire to travel to South America absolutely should do it. I don't want to say it is an unknown part of the world, but it is not a very touristy part of the world. If they go, they won't regret it."
Butterfield said he felt safe in Peru, even though they were warned about the wildlife in the Amazon Rainforest.
"We were warned about the wildlife, especially jaguars, but we never encountered them. Typically, what we fear are also scared of us," said Butterfield, who added that, realistically, hygiene – especially during the pandemic – and bug bites were the biggest threats.
The location of Butterfield's research site required that he make some adjustments that typical 22-year-old college students didn't have to over the summer.
"I didn't realize how close to the equator we were going to be," he said. "There were 12 hours of light and 12 hours of darkness, so it was strange when I did have WiFi access to see my friends' Snapchats and to see them out at 9 p.m. and it still be light out. I was in bed by 8 p.m. most nights. As a 22-year-old, seeing your friends out in the states having fun, it was different."
Butterfield also explained having electricity every day was not guaranteed.
"All our electricity was powered through solar panels," he said. "If it was a cloudy day, we wouldn't have electricity that day, we couldn't charge anything, and no lights at night. We used a lot of headlamps to get around at night."
Set to graduate in May 2022, Butterfield now knows exactly what he wants to do.
"I want to find a job that was just like my internship," he said. "Work in sustainability energy in a Spanish-speaking country, being able to use both of my majors."