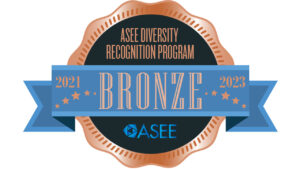 The University of Wisconsin-Platteville's College of Engineering, Mathematics and Science is being celebrated for its commitment to diversity and inclusion. The American Society of Engineering Education (ASEE) recently recognized the college with the Bronze Level Award for the ASEE Diversity Program – the highest-level award issued this cycle.
"We are so pleased to take the next step with other engineering colleges across the nation that are committed to inclusive excellence," said Dr. Molly Gribb, dean of the College of EMS. "One of my first actions, upon joining UW-Platteville as dean in 2015, was to join over 100 other engineering deans in signing the ASEE's Engineering Deans' Diversity Pledge. The College of EMS remains committed to providing increased opportunities to pursue engineering careers to women and other underrepresented groups."
UW-Platteville offers a number of initiatives that work toward advancing this commitment. The university's robust, nationally-recognized Women in STEM program serves approximately 1,000 students, in addition to offering outreach programs for girls in K-12. Last year, the college launched the new D. Joanne Wilson Women in STEM Scholars and Leadership Program, which offers a four-year renewable scholarship and leadership development programming for women in STEM. The College of EMS also collaborates with the Division of Diversity, Equity and Inclusion to offer STEM Discovery – a one-week residential precollege outreach program designed to support exploring STEM careers for underrepresented minority students. Faculty also collaboratively engage in UW-Platteville's SUCCEED bridge program – a three-week opportunity that gives incoming students a head start on the beginning of their first year of college.
UW-Platteville's past recognition for its efforts related to improving gender equity in engineering include the 2016 Claire L. Felbinger Award for Diversity and Inclusion from ABET, the international accrediting body for engineering.
This fall marks the third year of ASEE's recognition program, and only the bronze level is issued at this time. UW-Platteville is designated as a bronze level status for three years, after which the university can apply for the silver-level recognition, allowing for an opportunity for continuous evaluation and improvement of its diversity initiatives.
"While this is an important step, we know that we have much work to do to so that all students, faculty and staff feel welcome and achieve their aspirations," said Gribb. "We look forward to continuing to work with campus partners to achieve institutional diversity, equity and inclusion goals."
UW-Platteville has been educating engineers for more than 100 years and offers seven engineering programs accredited by the Engineering Accreditation Commission of ABET. UW-Platteville awarded the most mechanical and civil engineering bachelor's degrees and the second-highest total number of engineering bachelor's degrees in Wisconsin in 2019. For more information, visit www.uwplatt.edu.