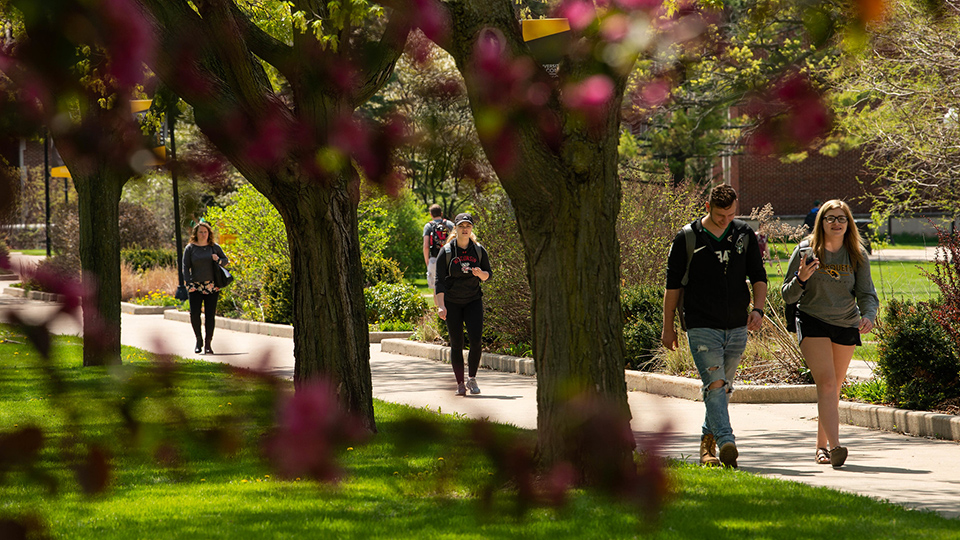 Like so many students before her, University of Wisconsin Oshkosh senior Lauren Blume's life has changed for the better because of the Ronald E. McNair Postbaccalaureate Achievement Program.
"The McNair Scholars Program allowed me to flourish into a college student who knew she could achieve her dreams," said Blume, a psychology major from Waukesha. "It's allowed me to become not only more social, but also has forced me to step outside my comfort zone, something that used to be very difficult for me.
"I have learned so many new skills to not only become a better learner and researcher, but a better person as well."
Earlier this month UW Oshkosh learned more students like Blume will get access to the opportunities provided by the prestigious program. The University was one of the 187 schools nationwide to be awarded funding from the U.S. Department of Education to continue the program.
Like other TRIO programs, McNair Scholars Program grants are awarded in five-year cycles. This marks the fourth successful grant application for UWO, which first welcomed McNair during the 2007-08 school year.
"The McNair experience is truly transformational for the first-generation and low-income students we support," said Cordelia Bowlus, UWO's McNair outreach program manager. "Quite simply, they are exposed to a world they did not even know existed, a world McNair staff helps them make sense of through academic and career counseling."
The McNair program serves between 25 and 30 scholars in a given year, typically accepting 12-13 new students per year. The cornerstone of the program, a paid summer research internship, provides participants with the opportunity to explore a research question in depth.
"It is through the intense research experience that scholars have the opportunity to build a strong relationship with their faculty mentor that typically translates into compelling graduate school recommendations, research assistantships in graduate school, opportunities to present at conferences and sometimes even publications," Bowlus said.
The successful grant application means UWO can continue to assist high-achieving students from underrepresented backgrounds, including racial minorities, first-generation college and low-income students, prepare for graduate studies.
Blume, for instance, will finish her bachelor's degree this year and is now applying for graduate schools. She hopes to begin a master's program in occupational therapy next fall.
McNair scholars at UWO will gather Sept. 15 at the Culver Family Welcome Center on the Oshkosh campus for a fall research showcase. From 4 to 6 p.m., students present their work and the public is welcome.
Blume will be at the showcase discussing her ongoing project with assistant kinesiology professor Brian Wallace focused on the association between physical characteristics of athletes and injuries in high school dance competitors.
"I was a dancer throughout high school, so I knew I wanted to do research in that area that I loved," she said. "I was very injury prone and I wanted my focus to be on injuries in dancers and how to prevent them."
Learn more:
---
Written by Shane Nyman
Link to original story: https://uwosh.edu/today/107562/uw-oshkosh-awarded-5-year-grant-to-continue-truly-transformational-mcnair-scholars-program/