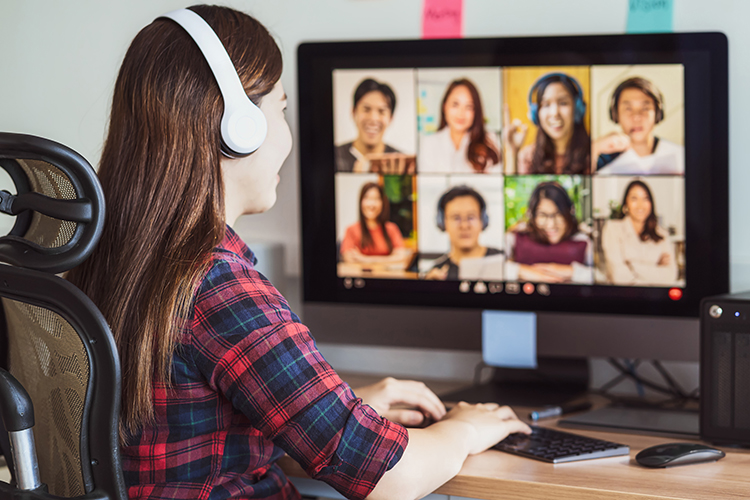 Most students anticipate gradually putting their knowledge to work after they leave the university.
However, four students who graduated in May from the School of Education's Adult, Continuing, and Higher Education Administration (ACHEA) program found they needed to use everything they learned about online learning, leading and advising immediately. They all earned the Support Services for Online Students Certificate offered through ACHEA. As the coronavirus pandemic spread this spring, they found their skills vital as they pivoted to working with students virtually.
The four alumni are: Sarah Kocken, an application/evaluation specialist in the admissions office at UW-Eau Claire; Carly Weckwerth, a college and career planning assistant at Milwaukee Public Schools; Mallory Cramer, an advisor in the TRIO/Precollege programs office who works with Veterans Upward Bound, and Stephanie Dooge, a program assistant for student organizations and fraternity/sorority life at Carroll University.
At Eau Claire, Kocken has responsibility for admissions for first-year and transfer students, and for evaluating their residency status. She's been doing staff and committee meetings virtually, and was right in the middle of a search and screen committee assignment when the pandemic hit. "We were asked to stay safer at home, so we transitioned our search and screen to all online."
"This last semester, I took a class with Simone (Conceição, professor and coordinator of the program) that talked about the practical applications using a lot of the different programs like Zoom and Blue Jeans and Webex and Blackboard Collaborate," said Kocken. "For me, using those platforms and getting the real-time practice in using asynchronous platforms made me really confident in using those with students."
Stephanie Dooge started her job at Carroll a year into her program at UWM, and graduated in May 2020. Her job involves working with student organizations and programs. She's been able to put the skills she learned at UWM to work quickly to help transition the fun and social activities that are a vital part of the college experience to a virtual environment.
"We're in a global pandemic, so it's a great time for me to practice those skills that I was already using. We were already trying to increase our online presence, but when our university shut down and we all had to go remote, I was able to go into the redesign and refocus of our programs without much anxiety."
Carly Weckwerth works for Milwaukee Public Schools as a planning assistant with the College and Career Center. She's based at South Division High School, and works primarily with students to make the transition from high school to a career or college.
While dealing with the pandemic is challenging, the ACHEA program really helped her become comfortable with technology, she said.
"Pre-COVID-19, I had two years of experience of doing my classwork and engaging in discussion and real in-depth critiques of literature online. So once this hit, I was so used to jumping on my computer and communicating with people so that wasn't a huge transition. It wasn't as much of a shock to my system."
She already had a Facebook page to connect with her students after they graduated, but when the pandemic hit, she opened it to all the students she was working with. One of her students helped her set up a chat room to help everyone keep in touch. Being able to work with alternative technologies is vital for anyone working with teens, she added. "If it's not on Facebook or an Instagram group, they might miss it. They're mostly not turning on (TV for news) and seeing what's going on."
Cramer found the online transition challenging for the students she works with because most are first-generation college students and/or low income. They have to overcome the digital divide – a lack of computers, iPads, software and internet access.
"We're working to overcome that gap," she said. Cramer has a real passion for the work, she added, and the master's degree program has helped prepare her to deal with the new issues caused by the pandemic.
Graduates like Cramer and Weckwerth said what they learned has helped them both with advising and with projects as complex as filling out FAFSA (financial aid) forms. Weckwerth added that the leadership skills she learned through the Administrative Leadership program also helped with the transition – she generally could move ahead without waiting for precise instructions on what to do. "It groomed all of us to be proactive, to be creative, to be goal-oriented and solutions-oriented and be strategic planners."
This past summer, she worked with students to help avoid "summer melt" of skills and knowledge, and planning for the continuing challenge of working virtually through the fall. But she felt prepared, Weckwerth said.
"I know that I'm absolutely more prepared with the skills and knowledge I got out of the ACHEA program. I don't think I'd be as solid with my foundation and where I'm at with my career if I didn't have the most current knowledge."
For more information about the program, visit the Support Services for Online Students in Higher Education webpage.