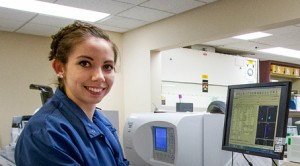 UW-La Crosse Senior Kayla Kuhn recently accepted a position at St. Nicholas Hospital in Sheboygan, Wisconsin. The career prospects for someone in her field — Clinical Laboratory Science — are good, she says. And, as a soon-to-be graduate of UW-L's program, the outlook is even better.
"Classes at UW-L are tough, but they're tough for a reason," notes Kuhn. "UW-L's program has a very strong reputation of preparing students extremely well, so that alone has a significant impact in my career outlook."
UW-L's Clinical Laboratory Science undergraduate program prepares students for careers dedicated to helping physicians diagnose, monitor health and treat disease. While these professionals often work behind the scenes at clinics and hospitals, the information they provide is responsible for an estimated 70 percent of all medical decisions made by physicians.
Demand for these professionals is strong. Of the 32 students who completed UW-L's program in 2014, all found employment before or immediately after graduation.
UW-L's program, completed in partnership with hospitals in Wisconsin and Minnesota, as well as through the University of North Dakota, is growing to meet a high demand for lab professionals nationwide. The program had four students in 2000 compared to 30 today. Because of limited clinical sites where students spend their final year, the program is limited to 30 students, making the program very competitive.
While the program has grown in numbers, so has its reputation. UW-L students' pass rate on the national certification exam for the American Society of Clinical Pathology well exceeds the national average. In 2013, UW-L students' first time pass rate was 95 percent compared to a 78 percent nationwide pass rate. All graduates in the program's history have passed the certification exam.
Students attending a Wisconsin clinical site also take a Medical Technology Pre-Clinical Comprehensive exam to gauge their preparation for the internship at the beginning of their clinical internship. UW-L students consistently score higher on this test than other Midwest institutions that feed these internship sites.
Students typically hear about UW-L's program word-of-mouth or while taking their first semester microbiology course, explains Michael Lazzari, the program director. The salary and job prospects look good. Students can expect to have a starting salary of about $50,000 and a job waiting for them after graduation.
The program is also attractive because of the talented microbiology, biology and chemistry faculty at UW-L, as well as instructors from hospitals who teach in their clinical program, notes Lazzari.
Kuhn was initially drawn to CLS because of her interest in microbiology. But she soon learned that the profession entails a broad spectrum of science from studying cells to gross anatomy. The variety intrigued her even more. Every patient case brings a new challenge, she says.
"I see every case as a puzzle," she says. "You get a specimen, do the test, find out what's wrong, meet with a physician and work to figure out the diagnosis and how to treat the patient."
Program is a collaborative effort
The UW-L Clinical Laboratory Science program's ability to remain strong in an ever-changing health care environment is in part because of strong ties with six clinical affiliates in Wisconsin, Minnesota and North Dakota, says Michael Lazzari, the program director. The fourth year of the program is an internship at one of these sites.