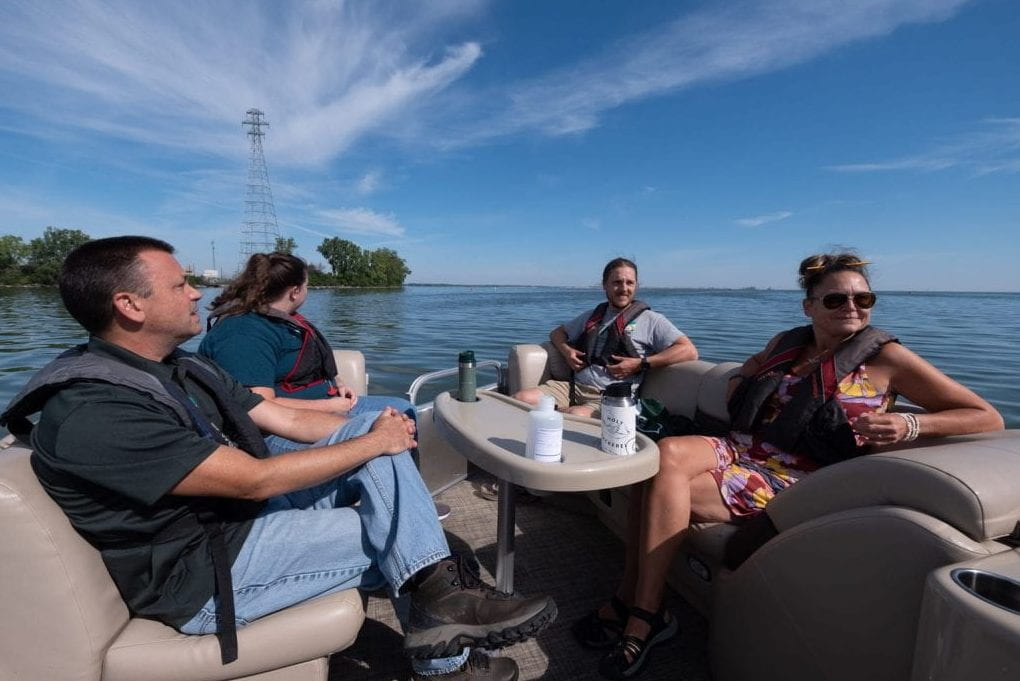 UW-Green Bay, Atlas Science Center, NEW Water and the Freshwater Collaborative of Wisconsin partnered to offer K-12 educators a half-day workshop in August that promoted freshwater education. The goals for the summer teacher workshop were to 1) inform teachers about the NERR (National Estuarine Research Reserve) while experiencing a boat ride on Green Bay, 2) allow teachers to examine transformational restoration work at Ken Euers park, and 3) connect teachers to water-related community resources in the region.Twenty educators, including two from the Maritime Museum in Manitowoc, took a boat tour of Lower Green Bay with updates on designating the Green Bay's NERR; toured the Ken Euers Nature Area, focusing on wetland restoration and park improvements; and received a sample of different STEM-related kits and activities from Atlas Science Center that are available to K-12 educators for their classrooms.
Brook Wendorf, the founder of Forest to Brook Enrichment Education Services, a local business in Abrams, Wis., discussed the enrichment opportunities provided by her business for creating accessible environmental education programming for students and adults with disabilities.
"The teacher workshop was a wonderful collaboration of UW-Green Bay campuses, community partners, and teachers from 10 school districts," says Lynn Terrien, ​K-12 outreach assistant coordinator at UW-Green Bay. "I heard engaging conversations between teachers, saw new ideas being exchanged and witnessed lots of smiles on everyone coming off the boats. Couple that with perfect weather, and I think we can say we had a highly successful day!"
The workshop was part of UW-Green Bay's "Educators and Students Rise to Freshwater Challenges" grant from the Freshwater Collaborative. The multifaceted project involves building a network of freshwater educators throughout northeast Wisconsin's coastal communities, developing freshwater field experiences for high school students and teachers to expose students to water careers and connect them to UW System researchers, and to engage community partners in water-focused STEM events.
Here's what some of the teachers had to say about participation in the workshop:
"I loved the hands on with the researchers. 1) Boat tour was excellent and a great way to interact with current research students. 2) Loved the shore hike and the information presented on invasive species. 3) Really appreciated the labs that could be used to various science classes and grades."
"I liked the opportunity to see real science being done in the bay. As teachers we sometimes lose a connection to current research and projects."
"This was an excellent amount of information, and I absolutely loved this workshop. Thank you to everyone!" 
"Favorite thing: The combined perspective of the lower bay NERR and the reclaimed wetlands on the west side of the bay. Both have potential and easy access for student projects."
---
Written by Kristin Bouchard
Link to original story: https://news.uwgb.edu/phlash/news/09/23/uw-green-bay-workshop-provides-freshwater-education-to-k-12-educators/