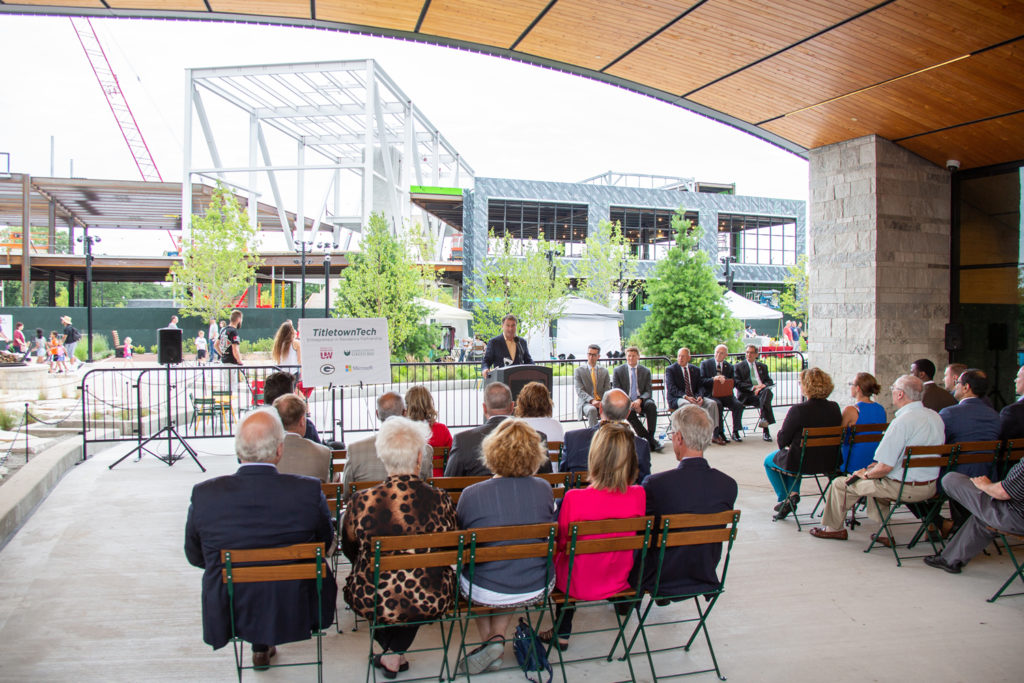 GREEN BAY – The University of Wisconsin-Green Bay and the University of Wisconsin System are teaming up with the Green Bay Packers and Microsoft in a unique partnership to help launch new companies in Wisconsin, strengthening the state's entrepreneurial ecosystem.  UW-Green Bay and the UW System will provide an "Entrepreneur-in-Residence" at TitletownTech to help connect start-up businesses with investors and promote business development and growth, particularly in the technology sectors.
"The challenges Wisconsin faces are complex, and as we hear from business leaders across the state, there is an even greater need for connections between the UW and the state's communities and businesses," says UW System President Ray Cross.  "This new position will help invigorate our economy, and enhances our partnerships with the technology sector businesses as we focus on creating a promising future for Wisconsin."
Under the partnership agreement, the UW System is making a four-year commitment to UW-Green Bay to fund the UW-Green Bay/UW System Entrepreneur-in-Residence (EIR) at TitletownTech. The new EIR will be a seasoned entrepreneur who will be an employee of UW-Green Bay and a member of the leadership group at TitletownTech, joining with a small group of highly experienced individuals to accomplish the goals of TitleTownTech. The announcement of the EIR is planned for September.
According to UW-Green Bay Chancellor Gary L. Miller, this new role will work in collaboration with the UW-Green Bay's Austin E. Cofrin School of Business to educate and provide guidance in business development and operational areas. The Entrepreneur-in-Residence will also work with the UW System's Economic Development Office to generate collaborations with all UW System institutions.
"The Green Bay Packers-Microsoft collaboration at TitletownTech is one of the most unique and exciting partnerships for entrepreneurship in the country," Miller noted. "The UW System and UW-Green Bay will join that partnership to establish an Entrepreneur-in-Residence to work with new venture companies in our community and throughout the state to grow Wisconsin's entrepreneurial ecosystem."
Last October, Microsoft and the Green Bay Packers announced their partnership to create TitletownTech, an initiative that will bring world-class digital innovation and expertise to the region and will be headquartered in Titletown, the development west of Lambeau Field.  This state-of-the-art building will feature the TitletownTech Venture Studio, TitletownTech Innovation Lab and TitletownTech Fund. The UW-Green Bay and the UW System Entrepreneur-in-Residence will work as part of the TitletownTech leadership team.
"We intended to develop Titletown as a magnet to draw world-class people. The Microsoft involvement clearly takes this to another level," said Ed Policy, Packers chief operating officer and general counsel, who oversees Titletown development. "The remainder of the century will belong to communities that can draw talented young people."
"We believe TitletownTech will boost economic activity in Wisconsin's Fox River Valley, and throughout the state, to accelerate technology innovation in the region," said Mike Egan, senior director of Microsoft TechSpark. "Entrepreneurs are key to realizing this goal and this new partnership with the University of Wisconsin System will supercharge the work of the Green Bay Packers and Microsoft to help create an economy in Northeast Wisconsin that works for everyone."
The new UW System, UW-Green Bay Entrepreneur-in-Residence will work onsite at TitletownTech in conjunction with the Packers-Microsoft management team to advance entrepreneurial opportunities in the region. This individual will also help organize and make available entrepreneurial resources on other UW campuses. The Green Bay Packers and Microsoft note that TitletownTech will help the region's emerging and existing businesses define and build new digital products, transform their operations through technology and provide capital to launch new ventures.
About TitletownTech
The two-story, 46,000-square foot facility was announced in October 2017 as part of Titletown, the 45-acre mixed-use development west of Lambeau Field.  It will house:
TitletownTech Venture Studio will work with early-stage companies to help create new digital products and services.
TitletownTech Innovation Lab will work with established businesses to co-locate teams at TitletownTech to develop new digital technology products and services.
TitletownTech Fund will underwrite operation of the Studio and Lab, and invest in companies that participate in the programs, and potentially other regional startups.
About the UW System
The University of Wisconsin System is one of the largest systems of public higher education in the country, serving more than 170,000 students each year and employing approximately 39,000 faculty and staff statewide. The System includes 13 four-year universities, 13 two-year branch campuses affiliated with seven of the four-year institutions, and a statewide Extension joined with UW-Madison and UW System Administration. Together, these institutions are a tremendous academic, cultural, and economic resource for Wisconsin, the nation and the world.
The University of Wisconsin-Green Bay is a comprehensive public institution offering undergraduate and graduate programs to 7,158 students. The University transforms lives and communities through exceptional and award-winning teaching and research, innovative learning opportunities and a problem-solving approach to education. For more information, visit www.uwgb.edu.