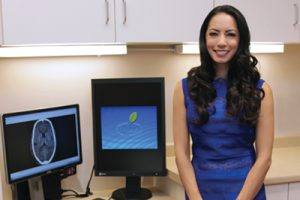 Ask Dr. Tina Sauerhammer about the seminal moments in her life, and the answer may surprise you.
She won't, as one might rightly expect, start with being part of the surgical team that performed the first-ever full face transplant in the United States in 2011. She'll gloss over the fact that she entered college at 14, graduated at 18 and completed medical school at just 22. She might mention her tenure as Miss Wisconsin, but only because it allowed her to advocate for organ donation, a cause about which she remains deeply and personally passionate. Fortuitous opportunities, she'll say. Right place, right time.
What she will point to is her May 2011 UW-Green Bay commencement speech, given just weeks after the groundbreaking transplant surgery at Boston's Brigham and Women's Hospital.
"I would say that one of the pinnacles of everything, was coming back to give that speech," says Sauerhammer. "Even more so than the face transplant, because it felt like everything I had accomplished up to that point came full circle."
If coming back to speak at commencement was one highlight, coming back for good may just be another — and not just for Sauerhammer. In June, Prevea Health announced it had hired her to become the first fellowship-trained pediatric plastic and reconstructive surgeon based in Northeastern Wisconsin. She began her practice at the end of September.
In its own way, it's a notable free-agent signing for Titletown and one of its other signature industries, health care. Sauerhammer represents a welcome influx of talent, and she will build her fan base one family, one young patient at a time. She's thrilled to be home — and eager to start making a difference.
"It's kind of indescribable," says Sauerhammer, who most recently was practicing in Washington, D.C. "I see parents who find out their child has a cleft lip and there's so much that's unknown for them. One of the most rewarding things is to be able to reassure parents and educate them about what we can do to improve their child's quality of life.
"And their son or daughter will go on to live a normal life, just like any other child. … Once you operate on a child, they're your patient for life."
Sauerhammer's pediatric plastic surgery work runs the gamut from repairing cleft lips and palates to working on dog bites, fixing congenital deformities, working with burn injuries, removing extra digits and much more. Having her back home in Green Bay is a tremendous boon for the area, says Dr. Ashok Rai, Prevea Health President and CEO.
"Dr. Sauerhammer is just one of a handful of physicians in the state to be as skilled as she is in the area of pediatric, plastic reconstructive surgery," Rai observes. "Prevea is very fortunate that she has decided to come back home to Green Bay and join a health care organization that truly cares for this town."
'She fit in perfectly'
It's a town Sauerhammer knows well, having been born and raised in Green Bay with a Midwest work ethic she still credits — along with her hardworking parents — with instilling the drive that helped her get where she is today. Sauerhammer attended Montessori school and completed her high school coursework at 14. From there, her options were to go on to regular high school, attend a preparatory school out east or head right to college. Knowing she wanted to be a doctor, and knowing how much schooling that would take, she chose the third option — attending UW-Green Bay would allow her to live at home while she navigated life as the University's youngest-ever undergrad.
Sauerhammer's enrollment raised some eyebrows — even some of her friends, she said, questioned her decision and told her she wouldn't make it. The University asked Associate Prof. Donna Ritch — now the Associate Dean of the College of Liberal Arts and Sciences — to keep an eye on Sauerhammer, and make sure she was adjusting OK.
Sitting in her office in Theatre Hall, Ritch recalls checking in on Sauerhammer while she was taking a summer biology course before her first full semester.
"She and the other students were out in the hall — they must have had a break in lab," Ritch said. "And she was just talking away to them. I went back to my office and said 'there's no worries there.' She fit in. She fit in perfectly."
That initial interaction would form the basis for a mentorship and friendship that persists today. It would be a few years before Sauerhammer had Ritch as a professor, and by that point the pair had become close friends.
"She's always there for you, motivating you and helping you attain your goals," Sauerhammer said. "She was awesome as a professor, but whenever I think about Dr. Ritch — she was my mentor and pre-med adviser.
I wouldn't be where I am today without her."
Nor, Sauerhammer said, would she be where she is without UW-Green Bay. The moderate campus size was just right for a teenager who had never even attended a traditional high school, and the relationships she formed — especially with Ritch, but also with other professors — are, for her, truly what sets the University apart.
"All of my professors… I probably remember every single one of my professors' names to this day," she said, "and I don't think a lot of people can say that about their school. I always
reference Dr. Ritch because we have such a special relationship, but that being said, every single teacher has touched me or molded me in some way."
Sauerhammer's age was never an issue, Ritch recalls — many people knew how young she was, but with her academic and social skills she was, in many ways, just like any other student. That is, until it came time to take her driver's test.
"I had a Physics quiz," Sauerhammer says, laughing. "I had to ask Dr. Fischbach if I could be excused from a Physics quiz. And he said, 'sure — but just don't take a left turn.' And I passed."
Heartbreaking loss … and a new opportunity
UW-Green Bay's youngest graduate ever in 1999, Sauerhammer enrolled in medical school at UW-Madison. On commencement day four years later, she again claimed the "youngest ever" distinction, this time at a place with a 100-year tradition.
Always focused on her goal of becoming a doctor and working with children, she did experience one change of heart. She was following a track toward general pediatrics until a surgery rotation during her third year of med school changed her mind. Sauerhammer started a general surgery residency that included a rotation in plastic surgery.
"I saw my first cleft lip repair and I just completely fell in love with it," she said. "I got to work with kids and do surgery, but these kids were for the most part healthy. And it was very technical — but the other part about pediatric plastic surgery that I loved is that not only can you help children locally, but you can go on mission trips and provide these services to children in other countries."
Sauerhammer was in Madison for about a decade before departing for the east coast. And although she had happily discovered her passion by the time she left Wisconsin, the journey was not without its challenges. When she was a fourth-year medical student, her father, Randy, died from complications of a rare autoimmune illness called Wegener's disease. He was on the wait list for a kidney transplant that could have saved his life.
She wanted to quit — but her mother, Oki, insisted she stay the course. It's what her father would have wanted, she said. So Sauerhammer finished medical school — but wasn't yet emotionally ready to continue with her training.
So she took a year off before starting her residency in general surgery — and won the title of Miss Wisconsin 2003.
"My main goal that entire year was to promote organ and tissue donation," she said, "so that's what led me to Miss Wisconsin. But that year, I grew as a person. It's made me a better physician, being able to interact with people from all walks of life, and to promote something that I felt very strongly about.
"And that has really opened so many doors, too. All of that, I attribute to my father."
A community 'that means so much to me'
Sauerhammer relished her time living and working out east, but soon, she found home was calling — both personally and professionally.
"I feel it is important to leave and get those experiences and training," she said, "and the best thing I can do is bring everything that I've learned back home, and share it with the community that means so much to me."
She's had a great time getting reacquainted with that community, spending time with her mom, hitting up the Green Bay Farmer's Market, taking in a Green Bay Packers game — and even, she says with a smile, running into people who were friends with her dad. When she sat down in her office for a September interview with UW-Green Bay's Inside magazine, she was still in the process of unpacking — and more nervous about navigating the building and learning the computer system than starting her practice and meeting her first patients. For that, she couldn't wait.
Sauerhammer's affable manner comes through immediately — despite her accomplishments, she is humble and friendly. Again, Randy and Oki get the credit.
"My dad worked at a paper mill; my mom is a seamstress," she said. "I didn't grow up with much but what little my parents had, they always wanted to make sure I had the best education.
"My mom always tells me, 'dreams are not free.' You can have goals, but you have to work hard to achieve those goals. And with my Green Bay upbringing — that's why I am the way I am. I wasn't given everything and I appreciate the hard work it takes to achieve those goals."
Her goal now? To give back — and to ensure that for the first time, children in Northeastern Wisconsin have access to the kind of care she can provide. And to reconnect with the places that gave Sauerhammer her start.
"I owe everything I have to this day (to) my education at UWGB," she said. "I literally would not be where I am today without it.
"I owe so much — and I just want to give back, not only to the community of Green Bay, but also to UWGB." — Kelly Moore