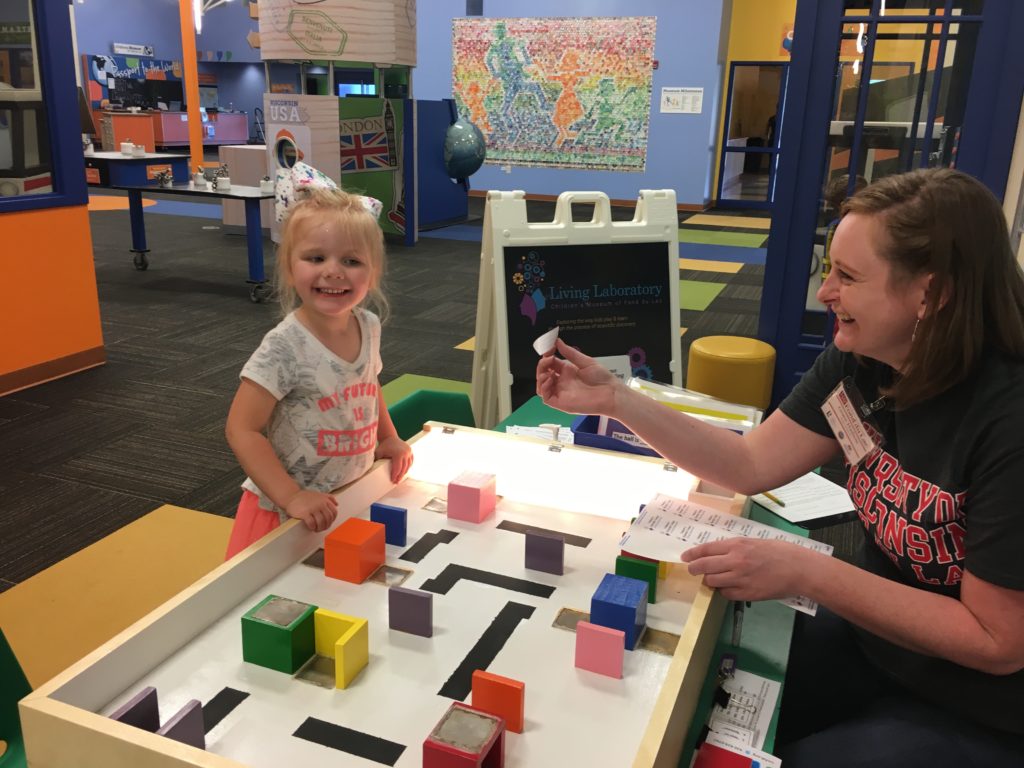 Eyes sparkle and small hands clap in delight after moving the ball across a board to successfully make a series of lights turn on. There is pride in comprehension and completion for this young child as she learns through play at the Children's Museum of Fond du Lac.
Her learning is both personal and broadly significant: The game she is playing was created by University of Wisconsin-Fond du Lac sophomore Grace Hudson, who is researching young children's use of prepositions—the words that express relationship and position. The research is part of a special campus-museum collaboration giving undergraduate psychology students research opportunities in a program with national status and funding from the National Science Foundation. Opportunities like this are usually reserved for students in upper level programs. UW-Fond du Lac Assistant Professor of Psychology Kayoung Kim, Ph.D., is the link connecting dozens of students each year to the Living Laboratory initiative site at the Children's Museum of Fond du Lac.
The Living Laboratory aims to educate the public about child development by immersing museum visitors in the process of scientific discovery. It was developed at the Museum of Science in Boston in 2005, where Kim worked on the project earlier in her career. The Living Laboratory's educational model has scientists recruit participants and conduct their studies within interactive exhibits at local museums.
Families visiting the museum are invited to participate in ongoing research projects and to engage in one-on-one conversations with scientists. The Children's Museum of Fond du Lac became an affiliated Living Laboratory site in 2014.  When UW-Fond du Lac's Regional Executive Officer and Dean Martin Rudd learned of Kim's history with the program, he introduced her to museum executive director Andrea Welsch.
"Kayoung is a true gem and she effortlessly and passionately lights a spark for learning within the college students and young museum visitors," Welsch said. "It is an honor to work with her on staff in our UW system, right here in Fond du Lac. Without her past experiences in university research, this partnership would not be as impactful as it has been."
Rare Student Research
Kim's encouragement regularly brings more than 30 of her first- and second-year students into the museum for research activities. Students apply for the positions, interview and complete training before participating.*
"Even though research experience is a highly sought-out, desired experience, the opportunities are very limited and very scarce especially for students in their freshmen and sophomore years," Kim said. "By providing this research opportunity from the first years of their academic training, students are able to learn about research firsthand, to practice psychological science outside of the classroom, and to acquire research experience that will serve as a pathway to their future academic attempts."
Two recent sophomores have each designed and continue to conduct their own research projects, with such success that they had the highly unusual experience of presenting their findings with Kim at an Association for Psychological Science (APS) conference in San Francisco, May 23-27, 2018.
"I have not seen a lot of sophomore students who are first authors on their project; most of these student researchers are presenting as part of their advisors' research team, not as the main investigator," Kim said. "Being invited for presentation at such a big conference at such an early time in their academic training is a very important achievement to be celebrated. They also got to attend workshops, seminars, and presentations from world-leading researchers in psychology, which is beyond any academic preparations they could get solely from their undergraduate education."
Student-designed Projects
Hudson, of North Fond du Lac, began her research on preposition use in fall 2016. Sam Ritger, of Fond du Lac, served as a research assistant for Hudson, then developed his own project on haptic cognition—the active exploration of objects—in fall 2017. After completing their studies at UW-Fond du Lac, both Hudson and Ritger are now transferring to UW Oshkosh to complete their bachelor's degree. UW-Fond du Lac is a campus of UW Oshkosh.
"Some of the most important things I've learned so far about conducting research, especially with children, is that it doesn't always go how you pictured it," said Hudson. Her interactive project has children move a small metal ball along a path according to six directions represented by prepositions (such as "move the ball on the green block"); correct placement of the ball illuminates a light on the board. "I knew that…it would be best to keep the study itself short, informative for the parents, and fun for the children."
The research is ongoing. "It's one thing reading about the development of children, but in working with them I've been given the chance to see them learn," said Hudson, who credits Kim for her decision to pursue a career in psychology. "Some children have come back and wanted to play with the materials again and it was fun to see them not only enjoying the research materials, but enjoying that it seemed to help them learn."
Ritger values the ways his research project deepen his own learning. His project requires young children to first identify shapes visually, then by touch without sight, and finally by matching a two-dimensional picture to an object inside a box.
"This project has helped me to better understand my current major—psychology—by gaining further knowledge on the process in which research transpires," said Ritger. "I had to quickly make adjustments to certain aspects to get the best possible result of my study. Overall, this process has been very eye-opening for me. My undergraduate research will help me immensely as I transition into a four-year university and take more advanced level psychology classes."
Local Connections
"I was very fortunate to have come across such bright, brilliant, and passionate minds on my campus," Kim said. "This was very early in their training, and they needed to acquire a lot of the skills necessary to successfully engage in such complex research designs. Both of them developed their research projects during the semester when they were taking a statistics course with me. Statistical knowledge is not only the key to understanding the collected data, but as students in my statistics course learn and practice research design, both of them were able to acquire an enhanced understanding of fundamental experimental research designs."
Kim cites the importance of the collaboration between UW-Fond du Lac and the Children's Museum of Fond du Lac for her students' learning and success.
"We are immensely grateful to have an ongoing collaboration with the museum," she said. "I greatly look forward to developing more student-led research projects to be run at the museum, and my student researchers and I will continue to present our findings to the discipline in the form of presentations and publications."
Story by Monica M. Walk
Photos by Laurie Krasin
*NOTE: Researchers in the Living Laboratory (LL) become part of the exhibit in the museum, where all are welcome to interact and experience what is offered. The research process is thoroughly explained to parents who provide written consent to use their children's performance as data. Any child that wishes to withdraw, or any parent that does not consent to the experiment, is still welcome to play with research props, but their performance is not recorded. Care is taken to respect the museum's regulations and policies in interacting with parents/children, and all student staff, including Dr. Kim, receive museum training each semester.