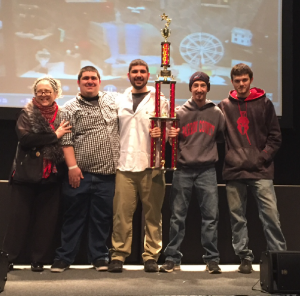 In its third trip in as many years, the University of Wisconsin-Barron County's (UW-BC) Future Engineers Rube Goldberg team walked away with the Division III National Title and the Best Presentation Award at the 2016 Rube Goldberg Contest on April 9 in Columbus, Ohio. The team finished fourth in last year's contest and earned a Legacy Award. Goldberg (1884-1970) was a Pulitzer Prize winning cartoonist best known for his wacky inventions.
The competition included three teams from Purdue University (Purdue Society of Professional Engineers (2ndPlace), Association of Mechanical & Electrical Technologists of Purdue University & American Society of Mechanical Engineers (ASME) Rube Goldberg Team), University of Illinois at Urbana – Champaign Rube Goldberg Team (3rd Place), ASME Penn State University – Harrisburg, Engineering Leadership Penn State University – State College, Rube Goldberg Club Arizona State University, ASME University of Texas – Austin, Newton's Minions University of Tennessee – Chattanooga, and Santiago Canyon College STEM Club – Orange County California.
UW-BC's Team members are:
Captain Dru Galetka, New Auburn, majoring in mechanical engineering and plans to transfer to UW-Platteville;
Mathew Dentinger, Cushing, majoring in electrical engineering and plans to transfer to UW-Platteville;
Jacob Saxinger, Dyer, Ind., majoring in plastics engineering/business management and plans to transfer to UW-Stout and then UW-Madison;
Zachary Metza, Bloomer, majoring in mechanical engineering and plans to transfer to UW-Stout.
The goal of the annual contest, which began in 1988, is to conceptualize and build an overly complex contraption designed to accomplish a simple task. This year's task: open an umbrella.
The UW-BC team began working on its machine in September and completed it two days before the competition.
The students built their machine to pay homage to Nikola Tesla, an inventor, electrical engineer, mechanical engineer and physicist, who designed the modern alternating current (AC) electricity supply system. They incorporated many of Tesla's engineering ideas and inventions into their design, including an AC motor, hydraulic power, an x-ray machine and remote control cars and boats that functioned as a Ferris wheel.
During Saturday's competition at the Center for Science and Industry, competitors had three minutes to explain their inventions in a team skit. They then had two opportunities to demonstrate their devices. The UW-BC design, which included 45 steps, was the only one to have two flawless runs with no interventions.
"I am so proud of these young men. They demonstrated all of the skills that we strive to teach as educators: teamwork, perseverance, positive attitudes, creative thinking and problem solving," said Christa James-Byrnes, UW-BC engineering professor and team advisor. "They also did a great job in demonstrating the machine to interested people and networking with other teams and advisors. It was beyond anything I can explain to see how they went up against big name engineering schools with teams of 10-15 people and corporate sponsors and win."
While the UW-BC team didn't have any corporate sponsors, a number of area people and businesses supported its efforts to compete at this year's competition. "We'd really like to thank the faculty, staff and students at UW-BC for their support, especially the Student Government Association," James-Byrnes said. Other key supporters were James Skuban, New Auburn High School; Brian Adler, Rice Lake; Tactical Escape 1-1, Rice Lake; B&B Electric, Eau Claire; B&D Associates, Cushing; Terry Wiesner, UW-BC; Dan Ware, Minneapolis, Minn., and Mike Byrnes, Sarona.
UW-Barron County, located in Rice Lake, Wis., is one of 13 two-year UW College campuses in Wisconsin.  It serves approximately 600 students. The UW Colleges are the freshman-sophomore campuses of the UW-System and prepare students for transfer to four-year UW System schools as well as provide the foundation of a liberal arts education.  The UW Colleges has approximately 900 students as declared engineering majors of which 25 attend UW-BC.
For more information about the UW-Barron County Future Engineering Rube Goldberg team and the 2016 Rube Goldberg Contest, contact Christa James-Byrnes at 715-234-8176, ext. 5483, orchrista.jamesbyrnes@uwc.edu.