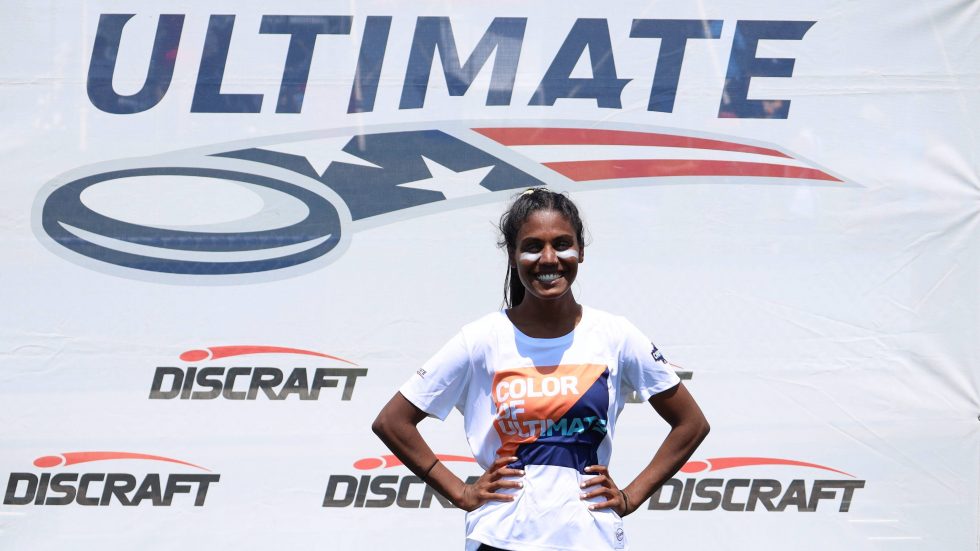 University of Wisconsin Oshkosh senior Natalie Walker never dreamed being part of a new ultimate Frisbee team on campus would lead her to fun and rewarding connections with other Ultimate Frisbee college players from around the U.S.
The Color of Ultimate all-star game recently in Milwaukee provided an opportunity for players of color to come together and show off their abilities to friends, family, teammates and fans.
"The opportunity to play in the Color of Ultimate game was something I never imagined to be my lived experience," said Walker, a native of Oregon, Wisconsin, who is double majoring in social work and Spanish. "Coming from a relatively new Ultimate Frisbee organization, I did not expect my application to be accepted. From the moment I met the rest of the players involved in this showcase game, I felt comfortable and surrounded by a welcoming and safe environment."
Tony Dirth, associate director of UWO Student Recreation, said Walker is president of the UWO women's Ultimate club, which is relatively new to campus. She is one of two 2022-23 Aviatrix Women's Ultimate Frisbee club sport team captains at UWO.
"I couldn't be more excited to be walking into my senior year with a co-captain like Heather Hagedorn and other exec members Maddie Sgarlata and Grace Kiesau leading the charge," Walker said. "Having Heather and Maddie make it out to watch the game was a testament to the strong ties formed while playing for Aviatrix together during the 2021-22 academic years."
Ultimate Frisbee is typically played on a soccer field with two teams of at least seven players. During play, a team must throw the Frisbee to their own players to move it up the field. While in possession of the disc, a player cannot run with it; they must stop and look to pass the disc to another player from their team. When the disc reaches the end zone and is caught by the offensive team, a point is scored.
What, no refs?
Walker said a unique feature of Ultimate Frisbee is what they call "Spirit of the Game."
Ultimate Frisbee is a self-officiated sport, meaning there are no referees. In higher stakes games, she said, observers may be present to help players come to agreements and make final rulings when needed.
The Color of Ultimate All-Star game was played at Uihlein Field in Milwaukee on the last day of the College National Championships for Ultimate Frisbee. About two hours of practice helped build chemistry among the 20 players from a wide variety of teams. She described it as a "safe environment" that allowed players to feel comfortable and know their teammates had their backs and grow their skills as they played with higher caliber players.
"Overall, being part of this game allowed me to remind people of color, especially children, that anything is possible and that no matter what, you do have a community and a family backing you—whether you (all) play for the same team, in the same region or just for the same large-scale organization." Walker said.
Learn more:
---
Written by Laurie Schlosser
Link to original story: https://uwosh.edu/today/106144/ultimate-frisbee-uwo-student-says-color-of-ultimate-all-star-game-showed-her-anything-is-possible/