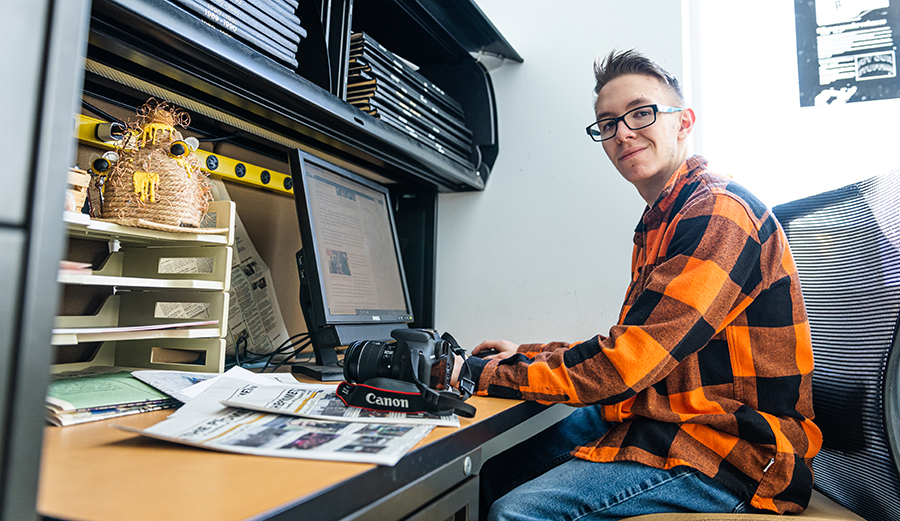 For Drew Kerner, who is originally from the tiny town of Radisson, Wisconsin (population: 240), attending the University of Wisconsin-Superior is akin to life in the big city.
"Superior and Duluth are beautiful. I just love it here," Kerner shared. "It's like the perfect blend of the city lifestyle I want with the country life I'm used to. It's the best of both worlds."
While Kerner spent plenty of time doing "outdoorsy" activities with his stepbrother, David Gordon, in his youth, he also displayed an early interest in media and technology. "I was always watching the TV news and interested in how media worked," he noted. "And I enjoyed tinkering with electronics and trying to re-code my computer."
Kerner is currently pursuing a double-major in communicating arts (with a focus on multimedia journalism), and digital filmmaking. This busy student is currently taking 18 course credits and juggling three jobs – plus freelance gigs. "I find it hard to not be busy," he said with a chuckle.
A Natural Choice
While attending Winter High School, Kerner had the opportunity to earn college credits by taking university-level courses – through UW-Superior. "Through this experience, I learned that there was a lot to offer at UWS," he explained.
And, although Kerner initially thought he'd be a teacher, he ultimately had a change of heart. Kerner pivoted to studying media after taking a film and culture class, taught by UW-Superior instructor Alison Wielgus, who serves as Kerner's academic advisor.
As an incoming student, Kerner was grateful to earn a UW-Superior Foundation scholarship, which was renewed for a second year. He is technically a college sophomore; however, due to his early participation in college courses, Kerner is considered a junior through credits.
Staying Busy
As noted, Kerner enjoys staying busy. In addition to his 18 course credits, he has several jobs. His "primary" job is as a production assistant (and occasional on-air reporter) at KQDS Fox21 TV. Here, he works between 25-40 hours per week.
Kerner is also a campus equipment manager at UWS, where he rents out production equipment for filmmaking classes, and as a freelance production assistant for the Upper Midwest Film Office (UMFO). There, he was involved in making the movie "Absolution," which was filmed in Hibbing, Minnesota.
Additionally, he is the editor-in-chief for the Promethean, UWS' campus newspaper. "It's an eight-page newspaper, and we have a staff of usually five or six people – all volunteers," Kerner said. "I handle copy editing, layout and posting stories on the website." Kerner is also a published writer, with many stories featured in the Promethean and Fox21 website.
With all of these responsibilities, Kerner has a few tips for staying organized. "I try to be good at making lists and planning things out on a calendar," he said.
Kerner's dream job is multi-faceted. "One day, I'd like to be a reporter for one of the local stations, maybe even Fox21," he noted. "It would also be cool to make commercials or do research that would tell stories about the history of the Twin Ports area, like some of the old buildings."
Diverse Perspective
Kerner is a unique individual with a unique view of the world. "I have autism," he shared. "For me, that means I'm willing to do things without thinking, and I'm slow to catch up on social cues. I always let people know if I didn't get a joke, and I let them know if I'm feeling overstimulated. This world isn't always accommodating, so I work hard to make it accommodating."
Kerner is also gay and says he has found a welcoming community at UW-Superior. He hopes to ultimately be more active in supporting mental health organizations and LGBTQ+ communities in the future, when he has more spare time.
UW-Superior Experience
Thus far, Kerner's UW-Superior experience has been very positive. "It's a small university with great professors and fellow students," he said. "It's been easy to get doors to open – either one at a time or all at once.
"For instance, one of my communicating arts professors, Tom Hansen, encouraged me to apply at Fox21. And another Promethean staff member encouraged me to apply for the UMFO workshop. It's been an amazing experience."
---
Written by UW-Superior
Link to original story: https://www.uwsuper.edu/newscenter/three-jobs-two-majors-and-one-goal_news5297550