On July 2 of this year, University of Wisconsin-Stevens Point 2018 alumnus Zachary Finnegan found himself on the grounds of Waddesdon Manor in Buckinghamshire, England, playing trumpet for a crowd of 11,000. It was raining, but as the first song began, the clouds parted and a full a rainbow appeared above the crowd.
It was his first show as a band member for the first leg of singer Michael Bublé's "Higher" tour, with 17 shows in 30 days, all held at castles, manors, stately homes and cricket grounds in the United Kingdom.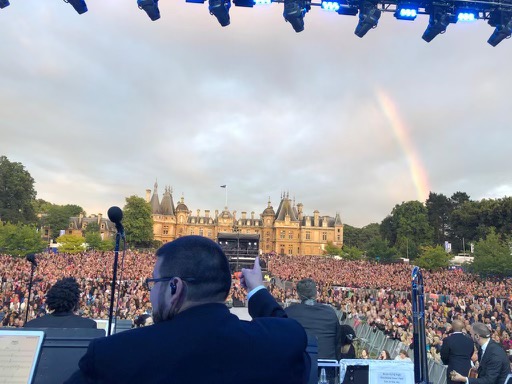 "That it was overwhelming is an understatement," Finnegan, a Weston native, said of the experience. "I lead the band out on stage and I walk out to 11,000 fans screaming. It was so emotional; I couldn't believe it. It was a dream come true."
As part of the horn section of Bublé's 37-member band, Finnegan went on to perform for crowds from 9,000 to 26,000 during the U.K. tour and at a number of U.S. venues, including Madison Square Garden in New York City.
How he got the gig takes him back to his days at UW-Stevens Point, and the advice of his mentors, music faculty members Mathew Buchman and Brent Turney.
"It's all about the relationships you build," Finnegan said. After his junior year, the jazz studies and music education major was encouraged by Buchman and Turney to apply for the Brevard Music Center Summer Institute. At the time, he couldn't afford the prestigious opportunity for musicians held annually in Brevard, North Carolina, so Buchman helped him secure funding through an OSCAR Travel Grant.
"I spent two weeks playing music in the woods in North Carolina, and met lots of people there. Many of these folks are some of my closest friends today. We have stayed in touch over the years," said Finnegan. "Music has a way of continuously bringing people back together."
From his connections made many years ago at the Brevard Jazz Institute, one of Finnegan's colleagues is now in the Bublé band. When the band was in need of a trumpet player, he recommended his friend and within a week, Finnegan got a call, sent in an audition and was hired to join Bublé and his band for his upcoming world tour.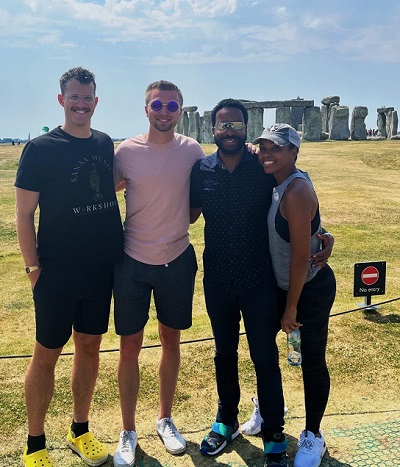 "I really owe my friend a lot," said Finnegan, "as well as those who pushed me in that direction."
"Zach was the president of the Jazz Society for two years and he always took direction and suggestions to heart," said Buchman. "When I introduced him to the OSCAR grant program and explained how the funding could be used, he did the rest. In addition to that, he cultivated the relationships he formed through that experience, and that's what made the difference. It's not what you know, but who you know, as the saying goes. We are so incredibly proud of Zach."
"Zach was an amazing student and incredibly hungry to learn," said Turney, who recruited Finnegan at a high school jazz ensemble event in Madison. "He has so many soft skills in addition to his musicianship and artistry as a trumpet player. He is driven, humble, builds everyone around him up and is a joy to be around. We are so proud of Zach and will continue to champion his accomplishments in the Department of Music."
Finnegan will perform with Bublé and the band as the tour continues through the United States. Canada, South America and Australia through the end of the year, and then back to Europe in 2023.
While performing regularly with a wind instrument can be physically demanding, Finnegan is enjoying the welcoming atmosphere of his fellow band members who know how grueling tours can be. He says that Bublé is down to earth, gets to know each member of his band and is immersed in what goes into each show.
"He is good at what he does and knows what works," Finnegan said. "He really cares about everyone's experience and brings out his best each night."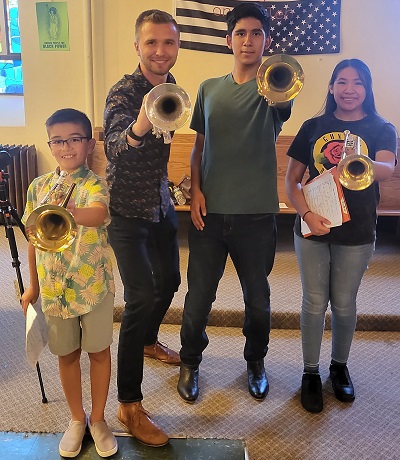 When he's not on tour, Finnegan is based in Chicago, performing across the city as well as serving as a brass teacher for PCCC Arts, a non-profit that serves students in underserved communities.
"I'm really happy to be able to pass on knowledge that way," he said. "As someone who has been privileged to be in school for so long and learn from so many esteemed educators – it feels wonderful to be able to give back to the community where I live," he said.
Since his graduation from UW-Stevens Point, Finnegan earned a master's degree in jazz studies at Indiana University, performed as a member of the hip/hop/jazz crossover group, "Clint Breeze and The Groove," and taught both privately and at high schools in the Chicago area. His future plans, outside of touring, include booking his own shows and tours, writing and recording music. Learn more at www.zacharyfinnegan.com.
"UW-Stevens Point gave me so many skills through the jazz and music education programs," Finnegan said. "Brent is one of the greatest trumpet players in the world – his name gets recognized everywhere I go. He taught me the fundamentals as well as different styles. Matt got me hooked on music and the music business. He taught me how to be a true professional. I am so grateful for the time I got to spend with each of them. I wouldn't be where I am without their guidance."
UW-Stevens Point also gave him many opportunities to perform, start his own groups, put himself out there professionally and try new things. "It focused my development and made me into a band leader. I realized if I wanted to play, I had to make it happen.
"You don't realize when you are 19 that the people you meet may help you pay your rent years down the road, and give you opportunities you many have never imagined for yourself," Finnegan said. "I had the support of the entire jazz faculty, and have such fond memories of the connections, relationships and friendships I made while at UWSP."
---
Written by UW-Stevens Point
Link to original story: https://www.uwsp.edu/news/relationships-built-at-uw-stevens-point-send-alumnus-on-a-musical-world-tour/