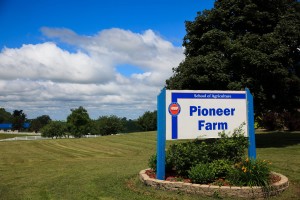 PLATTEVILLE, Wis. – The University of Wisconsin-Platteville's Pioneer Farm has long since been a source of educational opportunities for students and the university as well as community members, in particular, the Grant County 4-H Livestock Team, which competed in Kansas City, Mo. in early November at the American Royal Competition. Teams from Grant County have attended and qualified for three national competitions in the past three years. The Pioneer Farm provides students with the opportunity to view several classes of competitive livestock and get in some quality practice prior to attending some of these events.
"The participants usually end up evaluating over 10 classes of livestock including classes of sheep, swing, beef cattle and more recently goats," said Alicia Prill-Adams, assistant director of Pioneer Farm. "Team members are 4-H members of Grant County, and there are four members to a team. The improvement in the quality of our livestock at Pioneer Farm helps to prepare the students for the quality they will see at the national contests."
Jacob Adams, a freshman from Platteville majoring in agriculture business, has been a 4-H member since he was seven years old. He attended the American Royal competition in Kansas City, Mo., this year as well as the Ak-Sar-Ben competition in Omaha, Neb., in 2011.
"These competitions give you really great experiences," he said. "You get opportunities you wouldn't normally have and talk to people you wouldn't normally meet. It teaches responsibility and how to be proud of what you have accomplished."
Competitors are asked to rank each class of animal based on preferred characteristics. They then receive points based on how close their rankings were to those of the judges. Competitors must also provide oral reasons on four to six classes in which they explain why they placed the animals the way they did.
"Giving the oral reasons is one of the most grueling parts of the competition," said Prill-Adams. "That's why we give the team so much time to view the animals and practice before the actual competition. They usually come out to the farm and we set up two or three classes for them. They look at the animals, study them and take notes. Then they practice giving their reasons to the coaches."
The American Royal competition is the Grant County team's third national competition in three years. Three years ago, the team won the state contest, placed third at the competition at Louisville, Ky., which then qualified them for a chance to attend a contest in Scotland. Last year, a different Grant County team placed first in the state and attended the Ak-Sar-Ben contest.
Contact: Alicia Prill-Adams, UW-Platteville Pioneer Farm, (608) 342-1326, prillada@uwplatt.edu
Jacob Adams is from Platteville, Wis.
Written by: Angela O'Brien, UW-Platteville University Information and Communications, (608) 342-1194, obrienan@uwplatt.edu